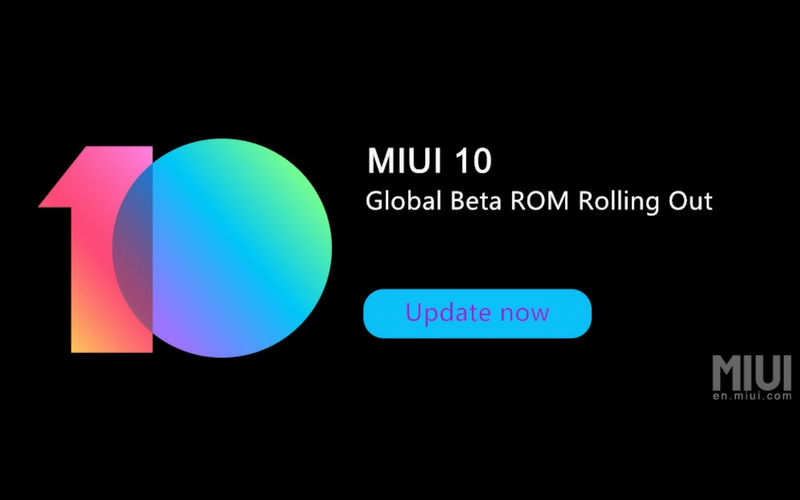 Xiaomi recently unveiled its Mi 8 series flagship smartphones at its 8th-anniversary event held in Shenzhen, China. Along with the Mi 8 series smartphones, the company also announced the latest iteration of its custom UI, dubbed MIUI 10. Xiaomi had started accepting beta testing registrations for MIUI 10 a few days back and has now announced that the MIUI 10 Global Beta ROM 8.6.14 is now rolling out for select models. However, do keep in mind that only selected beta testers will be able to test the MIUI 10 Global Beta ROM on their devices.
MIUI 10 Global Beta ROM Rolling Out: Supported Models
The MIUI 10 Global Beta ROM 8.6.14 is now available for the Mi MIX 2, Redmi S2 (launched in India as Redmi Y2), Redmi Note 5 Pro, Redmi Note 5, and the Mi MIX 2S. Xiaomi has revealed that the update for the Mi 6 has been suspended for now. We expect the rollout for the Mi 6 to be resumed within the next few days. Xiaomi developers are currently optimizing the system for other devices as well, so you can expect the list of supported models to grow very soon.
MIUI 10 Global Beta ROM: What's New?
Let's start with what's new with the MIUI Global Beta ROM that is rolling out currently. The key highlight are the changes that have been made to the Mi Browser. Xiaomi users can now enjoy World Cup on the app vault page. Other changes made to the Mi Browser app include optimizations to the start page, PWA support, and improved search. Other key changes with the current firmware include a new World Cup card added to App vault, and a localization change ("PM" shown as "AM" in Greek). Earlier today, Xiaomi also posted a video on its official Weibo page showing some of the key new MIUI 10 features in action on a Mi MIX 2S. You can view the video below to get a better idea of all the changes included with MIUI 10.
Now let's discuss some of the key highlights of MIUI 10. With the growing focus on AI-driven features in smartphones, MIUI 10 comes with a host of AI-assisted features such as AI Portrait and AI Preload. While AI Portrait will allow users to capture photos with a bokeh effect without the need of dual sensors, the AI Preload feature is said to help reduce load times for apps and other UI elements. MIUI 10 also comes with a refreshed UI design. Users can look forward to an all-new Recent apps menu with x 2×2 app list. The new Recent apps menu comes with full screen gesture support as well, allowing users to swipe to delete tasks and long press on the screen to view more options. Apart from these features, Xiaomi has also added some new features specifically for Indian users. These include the ability to scan Paytm QR codes directly from the camera app, Progressive web app support, Quick menu in messaging, and more.
MIUI 10 Global Stable ROM: Official Rollout
If you did apply to become an MIUI 10 beta tester but were not selected, you have no other option but to wait for the MIUI 10 Global Stable ROM to begin rolling out. While no specific date has been confirmed by Xiaomi yet, it did confirm that the official rollout is planned to begin in September this year. Again, we expect the first devices to receive the MIUI 10 Global Stable ROM to be the Mi MIX 2, Redmi S2, Redmi Note 5, Redmi Note 5 Pro, and the Mi MIX 2S. Owners of other Xiaomi smartphones will need to wait slightly longer to receive the same update. Some of these devices include the Mi Max 2, Mi Max, Redmi Note 5A, Note 2, Note, 5A Prime, Note 3, Note 4X, Note 4, Redmi 5, Redmi 5A, Redmi 4, Redmi 4A, Redmi 3S, Redmi Y2, Redmi Y1 Lite, Redmi Y1, Mi 5s Plus, Mi 5s, Mi 5, Mi 4, and Mi 3.