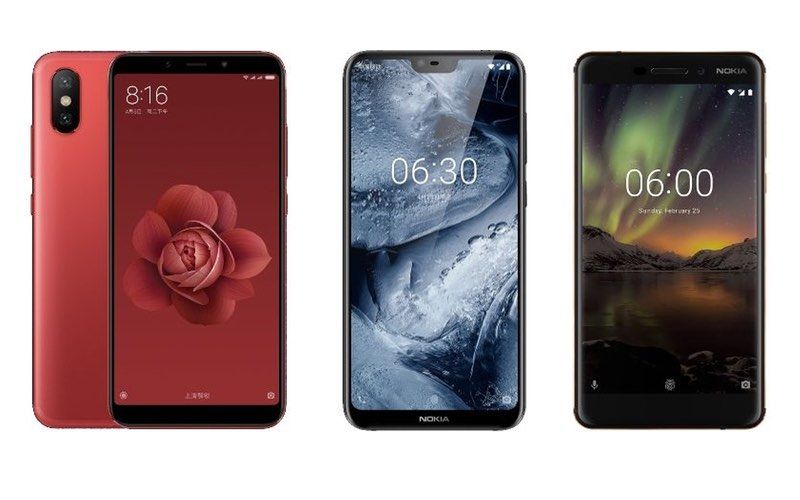 Both the Mi A2 (Mi 6X) and the Nokia X6 are devices that are yet to arrive in the Indian market. However, both phones have already released in China, and we have a pretty good idea of what to expect in terms of their respective performances. Based on their Chinese pricing, the fall pretty much in the same range as something like the Nokia 6.1 or Nokia 6 (2018) which is actually available for purchase in India right now. So let's take a look at how the upcoming smartphones contrast not just against each other, but also against a smartphone which is already available in the market at a competitive price point.
Mi A2 (Mi 6X) vs Nokia X6 vs Nokia 6.1: Price in India
The Mi A2 (Mi 6X) is expected to be the name given to the global version of the recently launched Mi 6X. In China, this phone is priced at 1,599 yuan (Rs.16,800 approx.) for the 4GB+64GB, and at 1,799 yuan (Rs.18,900 approx.) for the 6GB+64GB variant.
The Nokia 6X costs CNY 1,299 (approx. Rs. 13,800) for the 4GB+32GB variant, CNY 1,499 (approx. Rs. 16,000) for the 4GB+64GB model, and CNY 1,699 (roughly Rs. 18,100) for the 6GB+64GB model.
The Nokia 6.1 launched in India in only a 4GB RAM + 64GB storage package at a price of Rs.18,999. It might be possible to grab the phone at a lower price depending on the retailer and ongoing offers.
Mi A2 (Mi 6X) vs Nokia X6 vs Nokia 6.1: Display, Design
The Mi A2 is aesthetically reminiscent of Xiaomi's Redmi Note 5 Pro. It comes with a metal unibody design and has Corning Gorilla Glass 3 protection on the front glass. This glass is protecting a 5.99 inch, 1080 x 2160 pixel resolution, IPS screen that has an 18:9 aspect ratio and a 77.4% screen-to-body ratio.
The Nokia X6 is the most appealing handset here in terms of its looks with a glass sandwich construction around an aluminium frame. This phone also sports an attractive 5.8-inch 1080 x 2280 pixels resolution IPS panel with a 19:9 aspect ratio and an 80.3% screen-to-body ratio. This phone does have Gorilla Glass 3 protected glass as well, but does happen to be the only phone here with a notch at the top.
The Nokia 6.1 features a robust metal unibody construction with its front glass also being protected with Gorilla Glass 3. However, it offers an outdated 1080 x 1920 resolution, 16:9 aspect ratio, and 73.2% screen-to-body ratio experience on its 5.5-inch IPS display.
Mi A2 (Mi 6X) vs Nokia X6 vs Nokia 6.1: Software, Performance
All three phones come with the latest Android 8.1 Oreo version loaded by default. The Nokia handsets will provide a more stock experience while the Mi A2 comes with MIUI 9.1 skin baked on top of the OS. On the other hand, the Mi A2's quad-core Snapdragon 660 chipset is the most powerful here with a maximum frequency of 2.2 GHz. The Nokia X6's Snapdragon 636 can be said to have a slightly underclocked version of the SDM660 chipset with its maximum frequency topping out at 1.8GHz. The Nokia 6.1 comes with an older Snapdragon 630 SoC which performs at a 30% deficit when compared to the 6X's SDM 636 chipset.
Mi A2 (Mi 6X) vs Nokia X6 vs Nokia 6.1: Camera
The Mi A2 offers a 12MP primary sensor and a 20MP secondary sensor at the back, while a massive 20MP snapper is present at the front for selfies. The Nokia X6 offers a 16MP primary shooter with a 5MP secondary lens at the back, while its selfie camera is a 16MP sensor. The Nokia 6.1 has been equipped with just a single 16MP camera at the back, while the front houses an 8MP selfie shooter.
The Mi A2 offers the best overall package and is the only one here to provide 4K video recording at 30fps. The Nokia X6 comes at a close second portion while the Nokia 6.1 fall considerably behind.
Mi A2 (Mi 6X) vs Nokia X6 vs Nokia 6.1: Verdict
If the Mi A2 and Nokia X6 launch in India priced close to what we have predicted here, both will offer fantastic value for what they are worth. Comparing the common 6GB RAM + 64GB variant pricing of these phones, the Nokia 6.1 will offer the best display and build quality. For a marginally higher price, you can get proportionally higher raw performance and incredible imaging prowess with the Mi A2. The Nokia 6.1 is not a viable option for its MRP but can be considered if you can get it for a considerably discounted price.