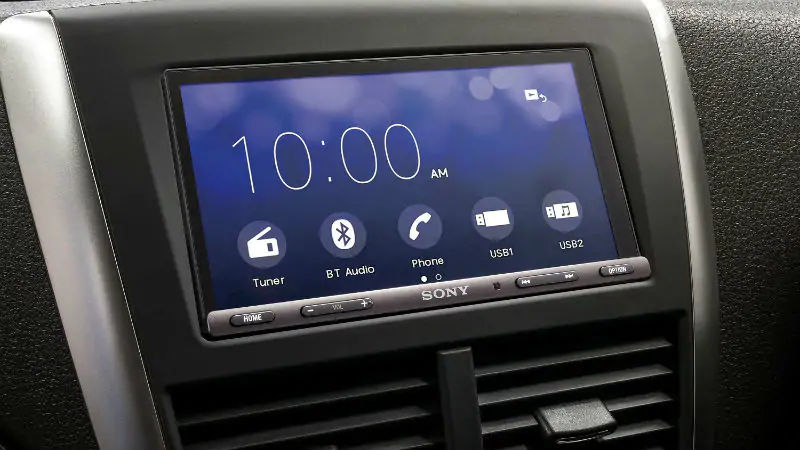 Sony India has launched a new in-car entertainment system that comes complete with Android Auto and Apple CarPlay.
The Sony XAV-AX5000 features a 6.95-inch capacitive touchscreen and comes equipped with the ability to sync with your Android or iOS device utilizing the company's respective car-optimized OS. For those unfamiliar with Android Auto or Apple CarPlay, the systems are designed to connect to your device and allow the operation of apps such as music or maps to be governed by either your voice or a touch input directly on the car stereo. The intention is to prevent interaction with your smartphone while you are driving to ensure your attention is on the road and the wheel at all times.
Originally introduced at CES 2018, the Sony XAV-AX5000 also features a 'quick wake up' design that is aimed at improving the responsiveness of the device, which Sony claims more than doubles the activation speed over previous models. The company says, "The rear chassis is designed with single-DIN dimensions that give enough room to store connected cable harnesses, steering wheel control adopter, and more." In addition, the Sony XAV-AX5000 is 'Rear Camera Ready' that will allow the unit to hook into existing camera systems on the vehicle and display the picture on the screen.
While supporting Android Auto and Apple CarPlay, there are some restrictions around the latter. Unfortunately, iPhone users won't be able to access Apple Maps via Apple CarPlay in India just yet. Sony says the CarPlay integrates the iPhone with the car audio's display and controls and users can make phone calls, access their music, send and receive messages, but maps aren't part of that yet.
As far as sound quality goes, Sony says the unit comes with Extra Bass Circuitry that claims to adapt engine noise to produce a clearer sound above your cars natural noise. It also has 2-mode boost steps that allow for both delicate and heavy boost settings. A built-in 4-channel amplifier delivers 55 watts x 4 (maximum at 4 ohms) output power with DRA2 (Dynamic Reality Amp 2) power IC.
The XAV-AX5000 has been priced at Rs. 24,990 and it is available for purchase in a Black option from car accessories shops and car showrooms across India.