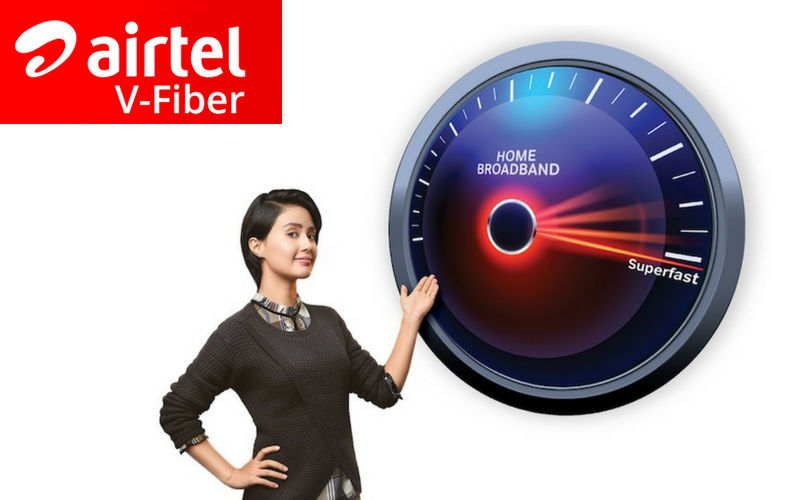 Bharti Airtel is offering new discounts on all of its various broadband V-fiber plans. Purchasing an annual package can entail a 20% discount, whereas a 15% discount is offered for a six-month package. There are additional bonus offers being provided with this subscription which makes V-fiber a compelling proposition over Jio Fiber and Act Fibernet. The new offers are valid over all Indian regions which have access to V-fiber, and you can go to this site to check the exact plan pricing for your region.
Airtel Broadband: 20% Off On V-fiber Annual Subscriptions
While the exact broadband plan and its pricing might differ from region to region, the offer of 20% off on annual plans and 15% off on six-month plans is valid for all available regions. For example, the base plan with 40 Mbps connection in Hyderabad is normally priced at Rs.700. Opting for the six-month plan reduces the monthly charge to Rs. 683 and you effectively have to pay Rs. 4100. Purchasing the same plan for the entire year will reduce the monthly fee to Rs. 641 which sums up to a Rs.7,700 payment. This same plan in Delhi costs Rs.899 and will effectively reduce the monthly charge to Rs. 766 for the six month plan, and Rs. 716 for the twelve month plan.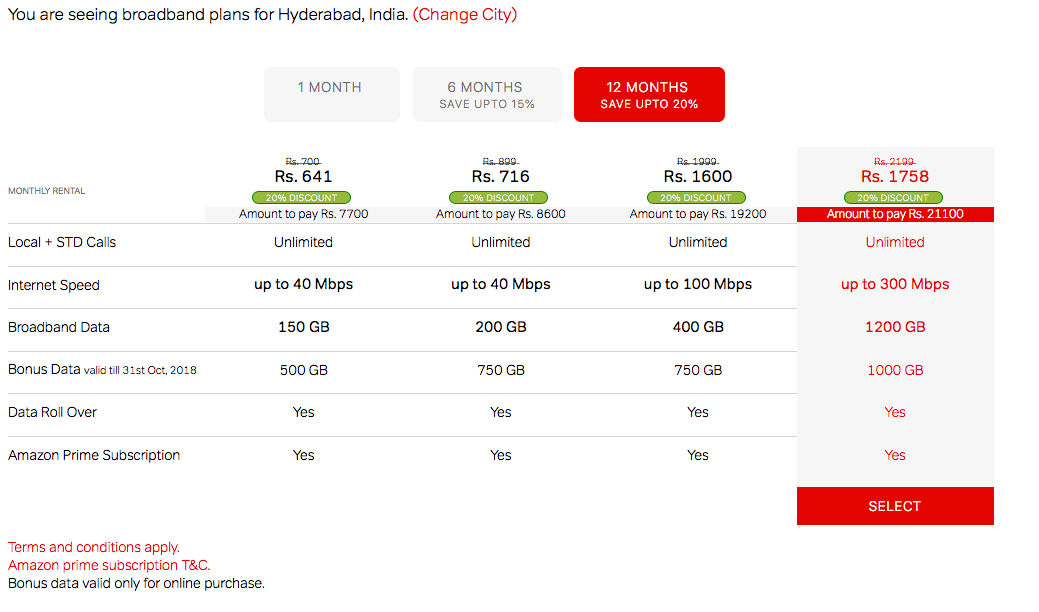 There are quite a few other offers also being bundles with the new discount. All plans will allow users to make unlimited local and STD calls. Airtel is also currently offering bonus data beyond the regular FUP on all of its broadband plans. Depending on the region and duration of the plan, customers can avail up to 1000GB of additional data. This offer is valid only for V-fiber purchases made online, and the deadline for availing this offer is 31st October, 2018.
Many V-fiber plans also offer data rollover benefits. This means that any data left over from the previous bill cycle will carry forward to the next bill cycle. Do note that the rollover data is only valid for the base plan data limits and will not carry forward for bonus data such as Smart Byte, Big Byte and so on. Depending on the plan eligibility, users are also being offered free Amazon Prime subscription. V-Fibre users get access to Amazon Prime video content for a full year, after which they will be charged Rs.999 for further annual access.
Airtel Broadband 300 Mbps Plan
Airtel also recently launched a 300 Mbps broadband plan across all regions. The benefits of this package are the same across all Indian regions, and the plan itself is also eligible for the 15% and 20% discount offers. This plan is priced at Rs. 2,199 per month. A six-month subscription will get this price down to Rs. 1,866 per month, bringing the total cost of the plan to Rs.11,200. On the other hand, an annual plan will get the price down to Rs.1,758 for a month, bringing the final price of the plan to Rs. 21,110.
The plan itself will provide 1200GB of monthly FUP data, with an additional 1000GB of data limit as long as the Bonus Data offer lasts. Data rollover benefit will certainly be offered with the plan along with a subscription for Amazon Prime.
Airtel Broadband vs ACT Fibernet
ACT is currently one of the most popular broadband ISPs in India. While the fastest Airtel's V-Fiber plan provided to average consumers is its 300Mbps plan, ACT has already started offering Gigabit speeds in select cities including Hyderabad and Bengaluru. For Rs.2,999, Airtel broadband offers its 100Mbps plan with 400GB monthly FUP in Hyderabad. For the same price, ACT is offering a 150Mbps package with 1250GB total download + upload data limits. There is also a 100 Mbps package from ACT which gives 750GB of monthly data and is priced at Rs.1,299.