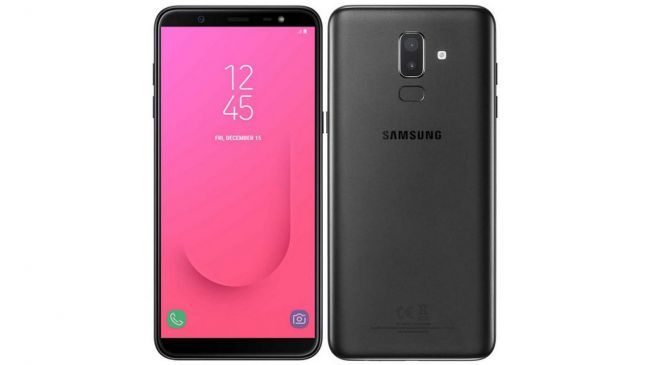 Samsung has taken the wraps off the Galaxy J6 and the Galaxy J8 in India some weeks ago, but the two devices have yet to officially go on sale. A rumor said that June 28th could be the official commencement of Galaxy J8 sales, but rumors are nothing like hearing the official word from "the horse's mouth" — or, in this case, the company's.
Samsung has officially declared June 28th to be Galaxy J8 day. While the day will not be named "Galaxy J8 Day," today is the official sales day of the J8 in India.
Galaxy J8: Specifications, Features
Before getting into surrounding details, let's take a look at what you can expect from the J8:
The Galaxy J8 sports a large 6-inch Super AMOLED Infinity Display with HD+ resolution and 18.5:9 aspect ratio. It runs on an octa-core Qualcomm Snapdragon 450 chipset, coupled with 4GB of RAM. The smartphone comes with 64GB of internal memory, which can be expanded further by up to 256GB thanks to a microSD card slot. On the back is a 16MP (f/1.7) + 5MP (f/1.9) dual camera combo, while on the front it features a 16MP selfie camera with an f/1.9 aperture and an LED flash. Keeping the lights on is a 3500mAh capacity battery. The Galaxy J8 also includes a back-mounted fingerprint sensor, Face Unlock, Samsung Mall, and Chat-Over Video features.
The Galaxy J8 features a polycarbonate plastic unibody design, so you'll have durability over "uber" premium design here. That's fine; there are a number of consumers who'd rather have durability over premium "fragility" anyway. The 18.5:9 aspect ratio is a nice touch for budget-conscious customers, seeing that Samsung debuted it on the Galaxy S8 and Galaxy S8+ announced in 2017. The 6-inch display, Infinity screen, 64GB of storage and 256GB microSD card slot, 3500mAh battery, Face Unlock, and back-mounted fingerprint sensor are all Galaxy S8+ features. In other words, the experience here is close to (though not the same as) someone who purchases the Galaxy S8+ today.
The Infinity Display provides the same software button experience that one discovers on the Galaxy S8. In other words, there is no physical home button on the J8, but rather, software buttons. The software buttons and Infinity Display combine to create a seamless user experience. The J8 will prove just as seamless.
Samsung Mall
Samsung Mall allows users to take advantage of the AI camera of the J8. This means that users can take a picture of an item and then see it on sale at various retail stores online. Samsung Mall is known as Bixby Vision in the US, for example. This feature is present on the Galaxy S8 and Galaxy S8+. J8 owners will have a premium experience in AI camera capabilities.
Chat-Over Video
Chat-Over Video allows users to chat while watching videos. The feature seems similar to Picture-in-Picture (PiP) mode that Google has baked into Android Oreo.
Galaxy J8: Surprise Dual Rear Camera Feature
The real surprise about the Galaxy J8 apart from its Galaxy S8-like specs and features (don't count the Snapdragon 450, however) is its dual rear cameras. The dual rear camera trend is one of the more famous ones in the tech world (more famous than the 18:9 aspect ratio) and gives something of a premium experience to budget-friendly customers. Not even the Galaxy S8 offers dual rear cameras — and it costs nearly 2.5 times more than the J8 (Rs. 45,900 retail price for the Galaxy S8 versus 18,990 for the J8). The regular Galaxy S9 (not the S9+) doesn't have dual rear cameras, either. That's something to think about when considering the price of the J8.
There are some software camera features Samsung is bringing to the J8, such as Portrait Backdrop, Portrait Dolly, Live Focus, and Background Blur Shape.
Galaxy J8: Battery Life
The J8's battery life will be impressive due to the combination of the HD+ resolution and the large 3500mAh battery. The Galaxy S8 features Quad HD+ resolution with a resolution adjuster so that users can tone down the resolution to HD+ in order to save battery. Having used the Galaxy S8+ and its HD+ resolution scale-down for a little over a year now, I can tell you that the battery life on the J8 will be impressive. You can expect somewhere between something around 20 hours and as high as perhaps a day and a half with battery life, depending on usage.
All in all, the J8 will prove to be a workhorse for those who need it.
Galaxy J8: Colors, Price in India, Availability, Offers
The Galaxy J8 comes in Blue, Black, and Gold colors and costs Rs. 18,990 (~$275 USD). It is available for sale in India from Samsung Shop, Paytm, Amazon, and Flipkart.
Even with the J8, there are some tempting perks for interested customers. Buyers who purchase the J8 through ICICI credit bank, debit cards, or Paytm Mall can qualify for a Rs.2,000 cash back offer. Buyers who pick up the new smartphone around and before July 31st qualify for a free one-time screen replacement from Samsung.
The Galaxy J8 is a budget-friendly Galaxy S8 with dual rear cameras. It takes the best of the Galaxy S8 and packs it into a more affordable package.
Are you interested?