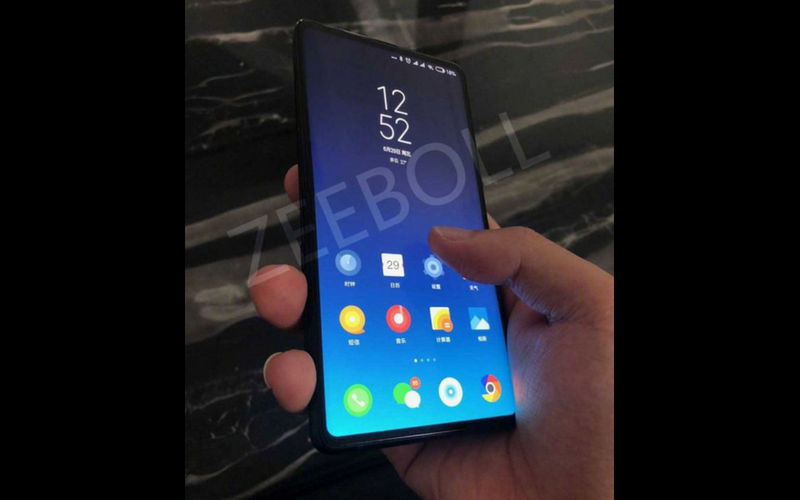 In March this year, Chinese smartphone maker Xiaomi unveiled its third Mi MIX series smartphone, the Mi MIX 2S. Barely three months after the smartphone's unveiling, an alleged live image showing the Mi MIX 3 has leaked online. The leaked image suggests the Mi MIX 3 will have a near bezel-less front, similar to the Vivo NEX and OPPO Find X series smartphones.
Mi MIX 3: True All Screen Display Likely
The leaked live image of the Mi MIX 3 prototype suggests the smartphone will arrive with a higher screen-to-body ratio than its predecessor. While the Mi MIX 2S has a slight chin at the bottom, the Mi MIX 3 appears to have a razor-thin bottom bezel. Even the top bezel on the handset appears to be nearly non-existent. This does make us wonder if the Mi MIX 3 will come with a pop-up selfie camera module similar to the Vivo NEX series. On the Mi MIX 2S, the selfie camera is placed on the bottom chin. However, we do not see a selfie camera module anywhere on the front of the Mi MIX 3. It doesn't feature a notch either.
Mi MIX 3: Expected Specifications, Features
We can expect the Mi MIX 3 to be powered by a Qualcomm Snapdragon 845 chipset, coupled with up to 8GB of RAM and 256GB of onboard storage. In the camera department, the Mi MIX 3 will likely sport a similar 12MP + 12MP dual-camera setup as the Mi 8. For selfies, the flagship smartphone might feature a 20MP resolution snapper on the front. Another feature that we think Xiaomi might add to the Mi MIX 3 is an under-display fingerprint sensor. We would also like to see Xiaomi add a slightly bigger battery to the Mi MIX 3 while retaining Qi wireless charging support.
Mi MIX 3: Expected Launch Date, Price
The Mi MIX 3 could be announced by Xiaomi at an event in China sometime in September. In September last year, Xiaomi had debuted the Mi MIX 2 in China. While Xiaomi did launch the Mi MIX 2 in India a few weeks after its launch in China, the Mi MIX 2S hasn't been launched in the Indian market so far. Depending on the kind of response the upcoming Mi 8 receives in India, Xiaomi might decide to launch the Mi MIX 3 in India before the end of the year. As for price, we can expect the Mi MIX 3 to be priced at somewhere around the Rs.40,000 mark in India. The Mi MIX 2 was launched in India at Rs.35,999 last year.