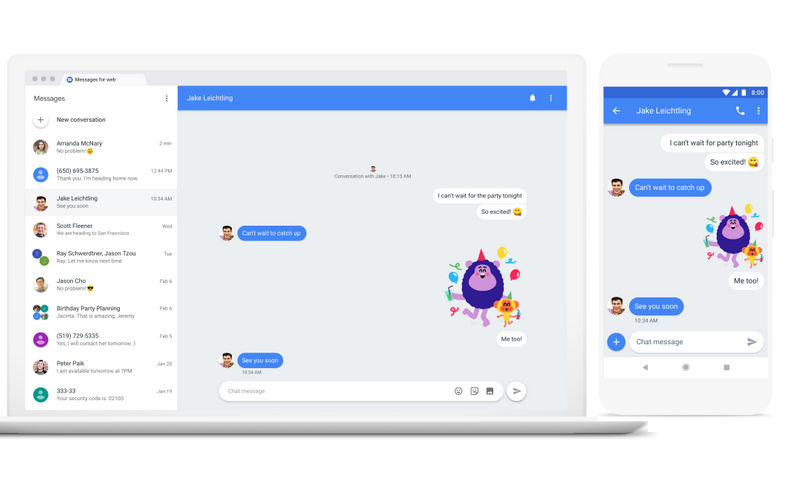 Google has deployed a web based interface for Android Messages app that users can access from any browser. The stable and secure web interface for text messages uses the same authentication technique that WhatsApp deploys.
After several months in development, the web interface for text messages that are delivered to any Android device, has gone live. Google was rolling out the browser-accessible version of Android Messages in stages. But it is now available for all Android users, and supported on all browsers.
The web interface for Android Messages will allow the user to view as well as send text messages, through the Messages app, from the computer. In other words, the web version will work only through one Messaging App or Google account. Essentially, this means the browser interface will be locked to an account. It will need authentication from the app installed on the Android device. The synchronization and authentication method is very similar to the method that WhatsApp presently uses.
Android Messages for Web is now fully deployed – make sure you have the latest Messages client, and then head over to https://t.co/diVFeAffVS to try it out!

— Justin Uberti (@juberti) June 26, 2018
How To Use Web Version Of Android Messages?
Android users, who wish to access their text messages on any computer browser, can head over to messages.Android.com. The webpage greets the user with simplistic interface and a QR code. To use the facility, users first need to update the Android Messages app on their Android smartphones. This is because the updated version has the ability to scan the QR code from within the app interface. Users can access the setting through the "More" options menu. Three vertical dots on the upper right-hand corner represent the option. The option to select is "Messages for Web," which opens up the camera interface, and allows scanning the QR code.
The Web Interface For Android Messages Is Secure, And Doesn't Store Messages
Android Messages is an app that assimilates traditional text messaging platform on any Android device, and offers advanced/fun features. The app resides on the device, and hence, acts as an archive for old messages as well. However, the web version of the text messaging app only shows recent conversations and contacts. The browser stores the messages only in temporary cache. These messages and conversation travel through an encryption to prevent eavesdropping. The web version expires and signs out automatically if the users does not use the Messaging for 14 days straight and purges any personal data .
The web version of the Android Messaging offers quite a few benefits. Users working on their computers can get quick notifications on the PC. They can also type out a quick reply, without leaving their workstations.