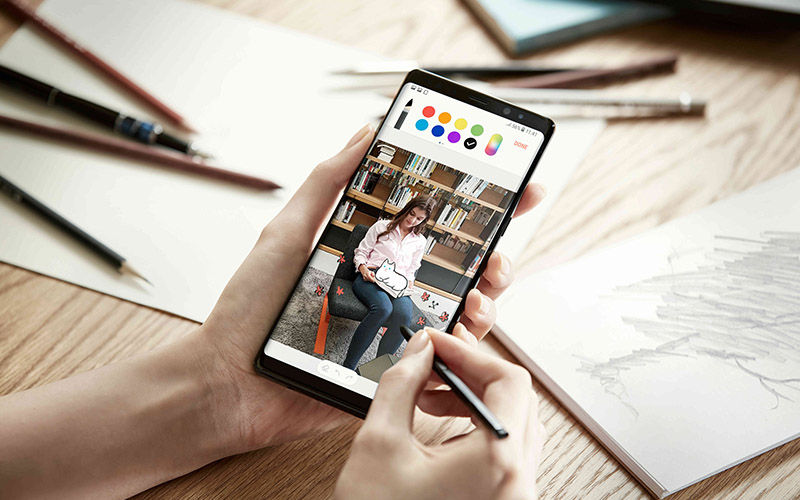 Early last month, the Samsung Galaxy Note 9 received a certification from the China Ministry of Industry and Information Technology (CMIIT), clearing a hurdle in its release. The listing had revealed its model numbers as SM-N9600 and SM-N9608. Now, the SM-N9608 has received the 3C or CCC (China Compulsory Certification) certification in China.
Samsung Galaxy Note 9: CCC Certification Clearance
The information present in the 3C certification documents reveal some information about the power output of the fast wireless charger of the Galaxy Note 9 variant. According to the certification, the Samsung Galaxy Note 9's battery supports a power input of 9V DC/1.67A or 5V DC/2A through fast wireless charging. The phone supports TD-LTE bands for cellular connectivity.
Samsung Galaxy Note 9: What We Know So Far
Going by the benchmark results, we had come know a new variant of the Galaxy Note 9 (SM-N960U) a few days ago. If the rumours are to be believed, the Galaxy Note 9 is said to be equipped with the Qualcomm Snapdragon 845 processor and run Android 8.1 Oreo out of the box. However, if Qualcomm debuts the rumoured Snapdragon 855 chipset before the launch of the Galaxy Note 9, Samsung might end up using it in the upcoming flagship smartphone. As usual, Samsung is also working on its new, in-house processing chipset: Samsung Exynos 9820. Some regions including China and the US might get the Qualcomm variant of the phablet, but most other markets like will get the variant with the Exynos chipset.
As far as the other features of the Galaxy Note 9 are to be considered, it is said to come packed with 6GB of RAM and might be made available in various storage configurations: 64GB, 128GB and 256GB. It is even being believed that Samsung will announce the 512GB variant, but since it is the first time, we think that the highest storage capacity variant will stay exclusive to the South Korean market. The phone is supposed to feature a 6.4-inch Super AMOLED display with QHD+ resolution and 18.5:9 aspect ratio. The handset is has been confirmed to come packed with a 4000mAh battery. Compared to Galaxy Note 8, the Galaxy Note 9 has revamped its fingerprint sensor placement, which is now going to be placed below the camera module, making it easier to reach.
Along with the Galaxy Note 9's announcement, Samsung has also confirmed that it will launch Bixby v2.0. The newer version of company's AI-powered voice assistant is assumed to bring in some significant changes. With the official launch being set on August 9, Samsung might start revealing some features of the phone over the next few weeks. Would you be interested in picking up the Samsung Galaxy Note 9 when it gets launched? Well, we would like to know your thoughts and the wish list of specs sheet in the comment section below.