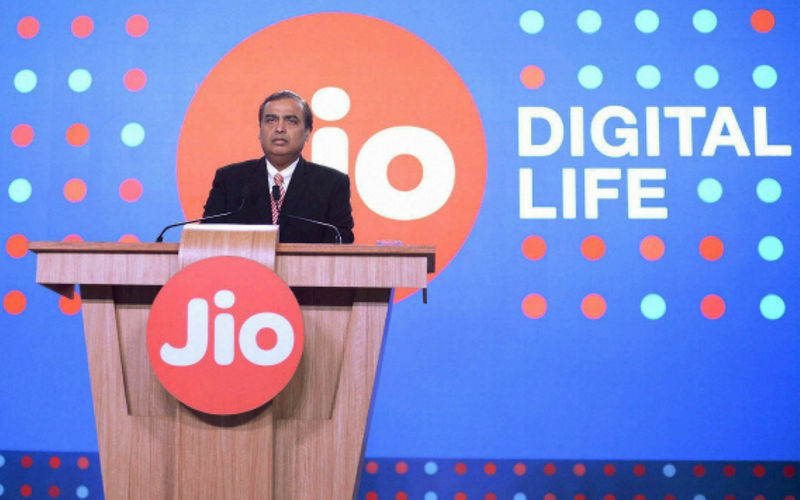 We recently covered how billionaire Mukesh Ambani is fundamentally transforming the cable market, and now the success of Reliance Jio Infocomm Ltd. is cemented by boasting the highest number of rural Indian users in April.
In April alone, the India telecom operator added 96.3 lakh subscribers in April, the highest in the last 14 months, data provided by the Telecom Regulatory Authority of India showed. What's most impressive . is that 41 percent of the new subscribers were rural, which is the highest among any Indian mobile operator showing extremely healthy growth.
Don't miss: Jio vs Airtel vs Idea vs BSNL vs Vodafone vs Docomo: More Than 2GB Daily Data Prepaid Recharge Plans Compared
Some of this success is thanks to the new 4G JioPhone that is touted as India's highest selling feature phone, according to CounterPoint Research. The device accounts for nearly 36 percent of the market and has provided a gateway to all the services Mukesh Ambani is spearheading coming bundled with various apps to stream TV and music. This is combined with rates for data that is drastically cheaper than competitors, which is enabling consumers to use their data to stream since the allowances are now higher.
Despite the success of Reliance Jio, it still isn't performing as well as the leader Bharti Airtel that is clearly in the lead.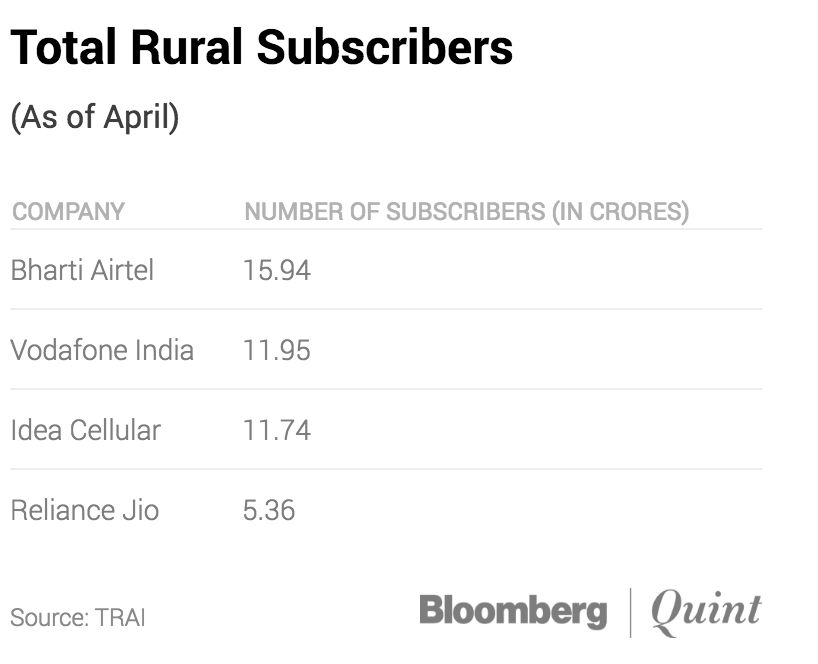 Despite the increase in rural subscribers, all small operators reported a fall in their customer base, except state-run BSNL that saw growth.
Bloomberg Quint reports:
"The combined customer base of Reliance Communications Ltd., Tata Teleservices Ltd., MTNL, and Telenor fell by 39 lakh in April. While Tata Teleservices and Telenor have stopped services, the Anil Ambani-owned RCom sold its assets and will operate as a virtual network operator. Reliance Jio's customer market share is now above 17 percent – 183 basis points away from Idea Cellular Ltd. Customer market share expanded for all the operators."
Despite that, the growth at which the operator is expanding into rural India is extremely positive. The key to which is seemingly providing a trio of services to not only offer cheaper data tariffs but also the services that utilize those data tariffs as well as devices to hook into their services.
It seems that this is just the start of plans for Reliance Jio and is set for an all-out war with other providers as the operator launches its fiber-to-the-home (FTTH) services later this year.
Economic Times reports:
"After unleashing brutal price wars in the mobile services space with its disruptive tariffs following its entry in September 2016, the Mukesh Ambani-controlled 4G carrier is now poised to stir a hornet's nest; this time in the home broadband services front by offering an attractive combo of fast broadband connectivity at initial data speeds of 100 Mbps (with huge dollops of free data thrown in), videos and unlimited voice calls through the Vo-IP (voice over internet protocol) route for around Rs 1,000-1,500 a month."
Other telecom providers in India aren't going to be caught left standing still and are planning on putting together plans of their own to protect against any initiatives to convince customers away.
Airtel is also working to put together a winning brew of offers at attractive rates to hold on to their 2.5 million-strong home broadband customer base. The company has recently offered discounts of 15% and 20% to customers opting for its home broadband packs (offering up to 300 Mbps speeds) for six months and one year, respectively.
Needless to say, the market is expected to heat up on the next year, and that can only be good for consumers to have more choice at more competitive prices. That will only drive better services not only across the telecom sector but also the wider media sector.