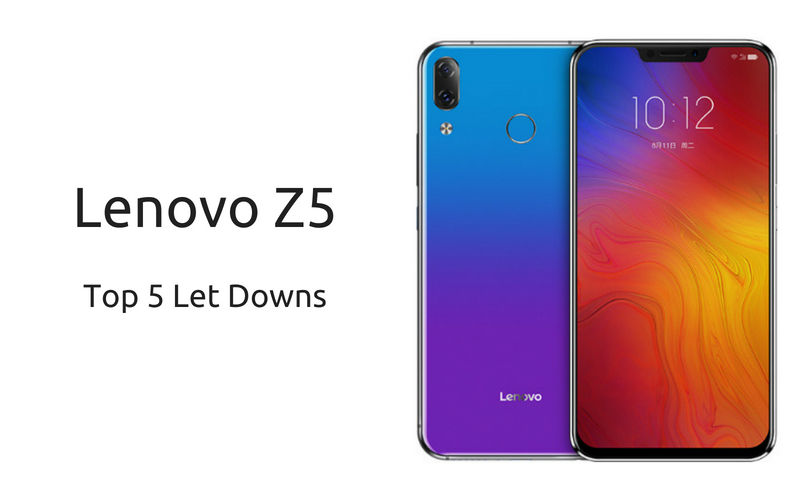 Are you feeling let down or a little angry after watching the Lenovo Z5 launch event? We are too. Lenovo let us down big time, and that is not a good thing at all. Especially after all the hype, it created around the Z5.
The VP of Lenovo himself had stated that the phone is going to be revolutionary, and it will feature 4 major breakthroughs. Well, all of that was a lie, and everyone who was excited about the Lenovo Z5 is no longer interested.
There were plenty of rumors regarding the Lenovo flagship, and most of them spread by the company itself. We're going to discuss about the features that we were told would be coming with the Z5, but didn't.
Lenovo Z5: All-screen display
According to the VP of Lenovo, Chang Cheng, the Lenovo Z5 would have a 95 percent screen-to-body ratio. He even teased images and renders that did not even show a notch. However, that turned out to be not true.
The actual Lenovo Z5, which was launched earlier today, has a 6.2-inch display with 19:9 aspect ratio. The phone has a 90 percent screen-to-body ratio and yes, a 'notch'. There is no truly-bezel less display that we were told about, and it certainly isn't anything new.
Lenovo Z5: 4TB Internal storage
Another claim that the Lenovo VP made was that the Lenovo Z5 would have a massive storage capacity. He claimed that it would come with up to 4TB of internal storage thanks to something known as 'particle technology'.
On the contrary, the phone was announced with a maximum internal storage capacity of 128GB. Yes, the company did announce a 4TB hard drive, but that wasn't inside the phone, or even made for a phone. Cheng stated that the phone would be able to hold 2000 HD videos, 150,000 music files in lossless format, and about a million photos. He forgot to mention that part where you would have to buy an extra hard drive to store all that.
Lenovo Z5: Battery with 45 days standby time
Once again, it was teased that the phone will feature an extraordinary battery. It was supposed to have up to 45 days of standby time, and give up to 30 minutes of talk-time even with 0 percent charge.
Instead, the Lenovo Z5 comes with an industry standard 3300mAh battery that supports fast charging. An 18W charger would be provided with the phone to help it charge faster. That's about it, nothing new or revolutionary as it was claimed.
Lenovo Z5: Game-changing dual-cameras with AI
This did turn out to be true, but don't expect it to be the best dual-camera setup out there. It's nothing game changing, and you are probably not going to get amazing photos with this phone.
You get a primary 16MP sensor and a secondary 8MP unit at the back. The camera includes some AI enhancements that are supposed to help in taking better low-light photos, portrait photos, improve HDR, improve selfies, and detect scenes. Nothing out of the box.
Lenovo Z5: 5G, Other let downs
It was also teased that the phone might support 5G networks, but no, that did not happen either. We were also expecting the Lenovo Z5 to be a true flagship contender. However, in terms of specifications, the phone is only a mid-ranger. It comes with a Snapdragon 636 processor, 6GB of RAM, and either 64 or 128GB of RAM. So there you go, the Lenovo Z5 has been a huge disappointment and it is the company's own fault. It hyped the phone too much and weren't able to deliver any of the said features.
Lenovo Z5: Price, Sale Date
The phone has officially been announced in China with a starting price of 1,299 yuan, which is about Rs. 13,990. You will be able to purchase it on June 12th. We are not sure when it would be available in India, but there are other alternatives that you can go for instead.