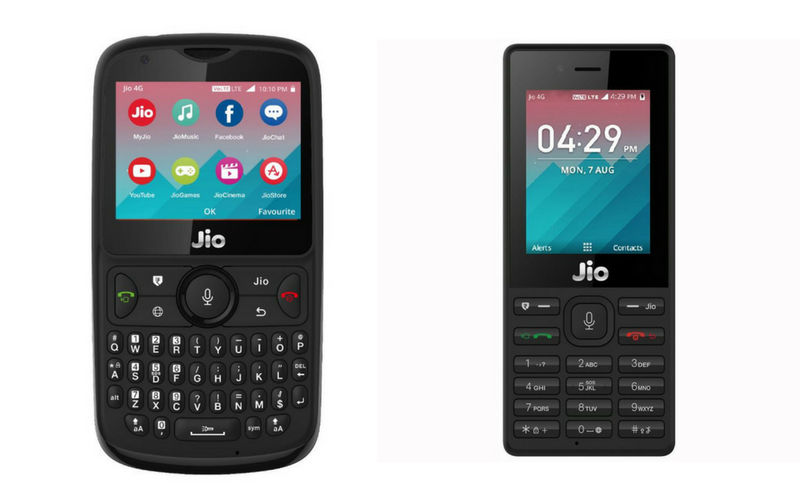 At the company's 41st Annual General Meeting (AGM) today, Reliance Industries Chairman Mukesh Ambani today announced the JioPhone 2, successor to the incredibly popular JioPhone 4G VoLTE feature phone that was launched in India last year. The new JioPhone 2 comes with a new design but not too many significant upgrades compared to its predecessor. Let's take a look at all the differences between the two "smart" feature phones from Jio.
JioPhone 2 vs Jio Phone: Design, Display
Like most other feature phones, the JioPhone comes with a candybar design that isn't particularly striking. The new JioPhone 2, however, features a QWERTY keypad with a 4-way navigation key, similar to older BlackBerry handsets. While the design of the two phones is quite different, they both feature a 2.4-inch sized display with QVGA resolution.
JioPhone 2 vs Jio Phone: Hardware Specifications, Performance
When it comes to hardware, the JioPhone is powered by either a Qualcomm Snapdragon 205 or a Spreadtrum 9820 dual-core SoC clocked at up to 1.2 GHz. It also includes 512MB of RAM and comes with 4GB of internal storage. For further expansion, the feature phone includes a microSD card slot as well. Jio hasn't revealed the complete specifications of the JioPhone 2 yet but it has confirmed that the new phone includes an identical 512MB of RAM and 4GB of internal storage. There is a microSD card slot as well for storage expansion up to 128GB.
In terms of connectivity features, the JioPhone supports Wi-Fi 802.11 b/g/n, Bluetooth 4.1 Low Energy, NFC, FM radio, and 4G VoLTE. The JioPhone 2 supports Wi-Fi, GPS, NFC, Bluetooth, FM radio, VoLTE, and VoWiFi. It comes with support for LTE Cat4 with maximum download speeds of 150 Mbps and upload speeds of up to 50 Mbps. Supported LTE bands include Band 2,5,40.
JioPhone 2 vs Jio Phone: Software, Battery Life
The JioPhone runs on the KaiOS operating system, developed by KaiOS Technologies Inc. Thanks to the popularity of the JioPhone in India, KaiOS is currently the second most popular mobile operating system in India with a 15 percent share, putting it ahead of iOS. The new JioPhone 2 also runs on the KaiOS and supports popular apps like WhatsApp, Facebook, and YouTube. While the JioPhone did not support these apps initially, Reliance Jio has confirmed that JioPhone users will be able to download the three apps from the app store starting 15th of August.
Similar to the software, the JioPhone and JioPhone 2 are identical when it comes to battery capacity as well. Both the phones pack a 2000mAh battery inside. While detailed battery life estimates are not available for the JioPhone 2, the JioPhone is claimed to offer up to 12 hours of talk time and up to 15 days of standby time.
JioPhone 2 vs Jio Phone: Camera
In the camera department, Reliance JioPhone features a 2MP rear camera with a VGA camera on the front. Its successor is no different when it comes to optics. Just like the JioPhone, the JioPhone 2 has a 2MP primary snapper and a VGA front-facing camera.
JioPhone 2 vs Jio Phone: Price in India
The JioPhone is effectively available for free, although you do need to pay a security deposit of Rs.1,500, which is fully refundable after a period of three years from the date of purchase. Its successor, the JioPhone 2 is priced at Rs.2,999 and will be available for purchase starting August 15th. As part of the Jio Phone Monsoon Hungama offer, Reliance Jio has announced that customers will be able to exchange their old phone and get the JioPhone for just Rs.501. The offer is set to start from July 21.
JioPhone 2 vs Jio Phone: Conclusion
Quite clearly, the new JioPhone 2 does not offer many upgrades when compared to the JioPhone, with the exception of a revamped design. Even the new software features like support for apps like WhatsApp and YouTube will be available on the JioPhone starting next month. If you already have the JioPhone, we don't see too many reasons why you would want to switch to the JioPhone 2, except for the more trendy design.