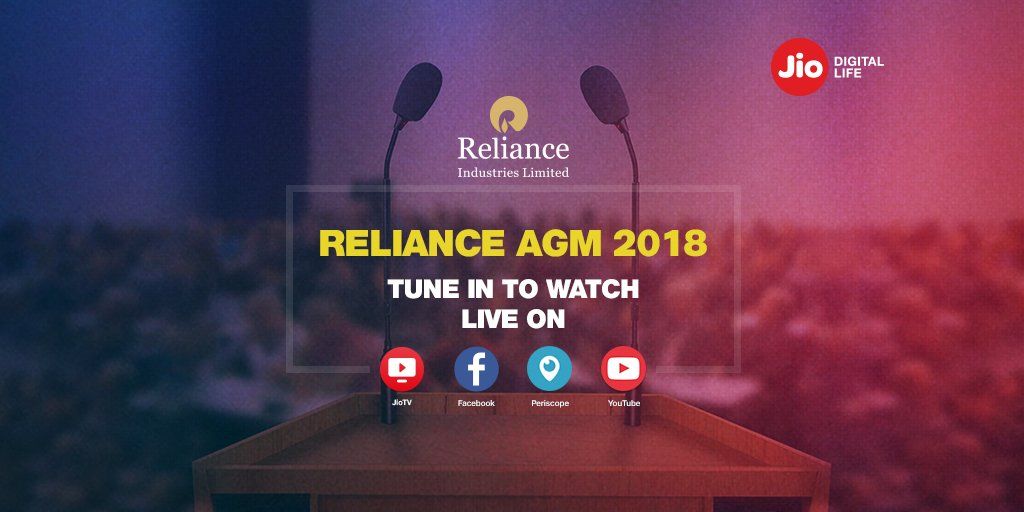 Reliance Industries Ltd (RIL) has seen its fair share of success this past year thanks to its attractive Jio mobile network plans and the widespread adoption of the Jio Phone. The Jio TV app for streaming media over the internet has also been quite a success especially with its live coverage of football and cricket matches. We have known for a while now about the company's recent endeavours in the broadband scene. Leaked hands-on images of the JioFiber high capacity router also emerged recently which makes us believe that the company plans to unveil this service at today's MGM.
Reliance AGM: Watch Live Streaming, Live Updates
The RIL 41st AGM event is scheduled to begin at 11:00 AM IST in Mumbai. Like last time, the live stream of the event is going to be broadcast on YouTube. You can watch the live event here and follow along with our live coverage below as well.
Reliance AGM: Live Updates
Reliance AGM: JioFiber Might Be Unveiled
Images of the set-top-box-like unit surfaced online just yesterday. The box not only works as a Wi-Fi router but is also intended to be a complete solution for smart home entertainment. The unit is actually an Optical Network Termination (ONT) which is expected to provide five main functionalities: Internet, Cable TV, Landline, Home automation, and Home surveillance. The leaked images also showcased a remote control which is claimed to have voice search functionality. The launch of such a device would not only present a challenge for mainstream broadband service providers in India but also shake the cable TV network sector.
Reliance's JioFiber fiber-to-the-home (FTTH) broadband services have been in the testing phase since 2016. It was initially intended to be released by the end of last year. It looks like Jio was not able to meet satisfactory results as the service was only able to reach 10 percent of the population in cities where it was being tested. Sources now claim that RIL might be ready to take the leap forward and deploy the service nationwide by the end of this year. Initial rollout would start with Tier-I and Tier-II cities such as Mumbai and Delhi, while other regions would follow soon after.
There still isn't precise confirmation on what all features will be included in a JioFiber connection and what it might be priced at. However, there has been confirmation of a preview offer being provided to new customers where they will receive 100Mbps internet connection free for 90 days. Sources claim that an initial security deposit of Rs. 4,500 will be needed. Apparently, the ONT unit costs Jio Rs.8,000, and this is the justification for the security deposit. We will have to wait and see how Reliance will present the pricing of this service.
Reliance Industries Ltd (RIL) Share Prices Up by 2%
Just a day before this year's RIL AGM, Financial Express reported a 2.1 percent hike in the oil-to-retail-to-telecom conglomerate's share value. This would be an intra-day high of Rs. 992 on the BSE (Bombay Stock Exchange). This is a respectable increase from the opening price of Rs 974.80 per share on the BSE. AT closing, Reliance Industries Ltd's market capitalisation stood at Rs 6,27,335.18 crore according to BSE data. The company has earned a total revenue of Rs 4,08,265 crore and the highest-ever consolidated net profit of Rs 36,080 crore for the financial year ended 31 March 2018.