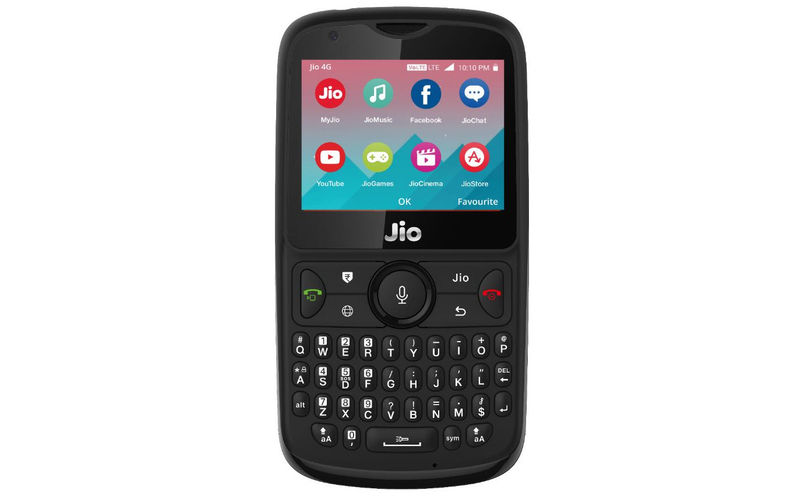 Earlier this week, Reliance Jio announced its second "smart" feature phone, dubbed JioPhone 2. The first generation JioPhone proved to be a huge success for Jio, making it the leading feature phone vendor in India. Its successor retains many of the same key features and specifications but looks completely different from the outside.
Reliance JioPhone 2: Top 5 Features
QWERTY Keypad with 4-Way Navigation Key: The most significant new feature of the JioPhone 2 is the QWERTY keyboard, something that is no longer very common. If you are someone who loved the design of BlackBerry smartphones with a QWERTY keyboard, the JioPhone 2's design should appeal to you. In addition to the QWERTY keypad, the feature phone has a 4-way navigation key as well.
Dual–SIM Support: Another key feature of the new JioPhone 2 is the presence of Dual SIM card slots. The first generation JioPhone, on the other hand, comes with a single SIM card slot. This means you can use two SIM cards on the JioPhone 2 instead of just one.
App Store: While most feature phones do not offer any app support at all, the JioPhone 2 comes with an app store, allowing users to download some of the most popular mobile apps like Facebook, YouTube, and even WhatsApp. However, this will not be an exclusive feature on the JioPhone 2. Reliance did announce during the AGM today that JioPhone users will also be able to download these apps from the app store on August 15th.
4G VoLTE + VoWiFi: The JioPhone 2, like its predecessor, offers support for not just 4G LTE but also 4G VoLTE. This means you will be able to enjoy HD quality voice calls over the Reliance Jio LTE network. Additionally, the phone comes with VoWiFi as well, which lets users make phone calls over a Wi-Fi network. In terms of network connectivity, the JioPhone 2 comes with LTE Cat.4, supporting maximum download speeds of 150 Mbps and maximum upload speeds of up to 50 Mbps. Additionally, the JioPhone 2 supports 2G bands 900 and 800.
Long Battery Life: Even though the JioPhone 2 is a "smart" feature phone, it isn't as powerful or as capable as a modern smartphone. However, that also means the JioPhone 2 offers much better battery life than an average smartphone. While 2000mAh may sound small for a smartphone, there are few feature phones out there with a bigger battery. As a result, Jio claims the JioPhone 2 delivers a standby time of up to 360 hours.
Reliance JioPhone 2: Other Specifications
The Reliance JioPhone 2 comes with a 2.4-inch 320 x 240 QVGA resolution display, identical to its predecessor. In terms of memory, the feature phone includes 512MB of RAM and 4GB of internal storage, which can be expanded further thanks to a microSD card slot. As for optics, the JioPhone 2 has a 2MP primary camera and a 0.3MP VGA camera on the front. Connectivity features include Wi-Fi 802.11 b/g/n, Bluetooth 4.1 Low Energy, NFC, 4G VoLTE, and VoWIFI. The phone runs on the KaiOS operating system.
Reliance JioPhone 2: Price in India, Offers
The Reliance JioPhone 2 will be going on sale starting from August 15th at an introductory price of Rs.2,999. Jio will likely come up with some exciting offers for consumers on launch day but no details have been announced just yet. In comparison, the Reliance JioPhone is effectively free as the Rs.1,500 security deposit that consumers need to pay is fully refundable after three years. Reliance has also announced that consumers will be able to get the JioPhone for just Rs.501 on exchanging their current phone. The Monsoon Hungama offer will begin on July 21.