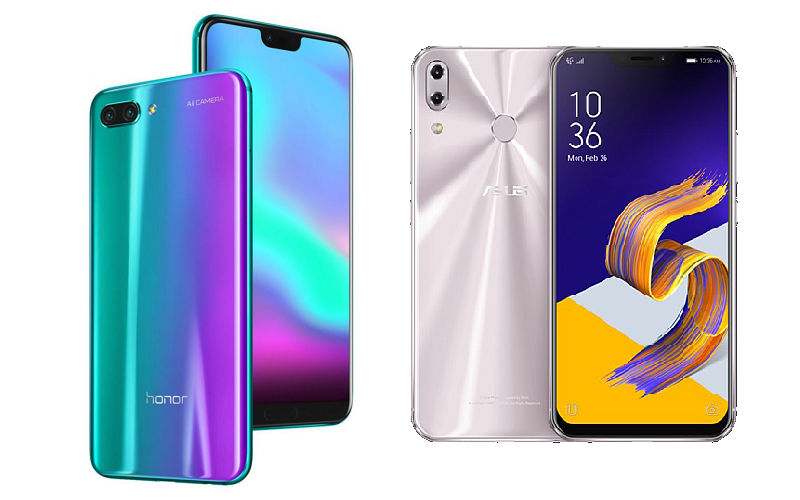 The Asus Zenfone 5Z was officially unveiled quite recently and we have been quite impressed with it so far. In a time where manufacturers are gunning for the top spot of the flagship killer race, the Zenfone 5Z positions itself as a worthy contender. Based on its pricing, the phone ends up being a direct competitor to the Honor 10 (review)  which happened to be another affordably priced, flagship class smartphone. Both phones offer top-of-the-line specs and performance, and one might be hard-pressed when deciding to choose between the two. We will make the decision easier for you be pitting these phones against each other to see which emerges victorious.
Asus Zenfone 5Z vs Honor 10: Price in India, Storage Options
In India, the Honor 10 is only offered in one storage configuration with 6GB of RAM and 128GB of internal storage space that retails for Rs. 32,999. This phone does not provide support for further storage expandability.
The Zenfone 5Z, on the other hand, will release in three storage configurations and all of them can support microSD card expansion up to 512GB. The base variant comes with 6GB of RAM and 64GB of internal storage with a price tag of Rs. 29,999. The next storage variant is priced at Rs. 32,999 which is the same as the Honor 10, but it offers 8GB of RAM with 128GB of storage. The top-end variant with 8GB of RAM and 256GB of internal memory will cost you Rs. 36,999.
Asus Zenfone 5Z vs Honor 10: Design, Display
Both phones offer premium glass + metal unibody constructions that are a pleasure to hold. Side by side, the Honor 10 looks better because of its unique colour profile that has an exceptional pop when looked at from different angles. Both phones do get fingerprint scanners but the Zenfone 5Z's is at the back, while the Honor 10's scanner blends seamlessly beneath the front glass below the display.
Both smartphones also boast notched, IPS LCD screens. The Zenfone 5Z's display measures 6.2-inches and has a 1080 x 2246 resolution with an 18.7:9 aspect ratio, 402ppi density, and an 83.6% screen-to-body ratio. On the other hand, the Honor 10's screen measures 5.84 inches and has a 1080 x 2280 resolution, 19:9 aspect ratio, 432ppi density, and a 79.9% screen-to-body ratio.
Asus Zenfone 5Z vs Honor 10: Performance, Software
Powering the Zenfone 5Z is a quad-core Snapdragon 845 chipset with highest CPU clock speeds at 2.7Ghz. The Honor 10 is powered by the Hisilicon Kirin 970 chipset which has its CPU's highest clock speeds at 2.4Ghz. While synthetic benchmarks may have some ups and downs, the real-world performance difference of these two flagship SoCs is barely discernable.
The main difference comes with how their software works with this CPU. Both phones run Android Oreo out-of-the-box, but the Zenfone 5Z comes with Asus' ZenUI 5.0 while the Honor 10 has its EMUI 8.1. EMUI has a much better look and feel, with loads of customisation options. ZenUI has fewer customizations and suffers from a lack of optimisation.
Asus Zenfone 5Z vs Honor 10: Audio
This is one category worth taking a look at since Asus has invested quite a bit on the audio capabilities of the Zenfone 5Z. Audiophiles will have a blast thanks to the phone's dual NXP amplifiers and the fact that the it is a DTS Headphones X certified device. Not only does the phone have dual loudspeakers, but it also offers custom presets for close to a hundred headphones and earphones from all major brands for an optimum audio experience.
While there isn't anything wrong with the single speaker and standard 3.5mm headphone jack of the Honor 10, the Zenfone 5Z is leagues ahead of anyone at this price range.
Asus Zenfone 5Z vs Honor 10: Camera
The camera is a department where the Honor attempts to get the lead back from Asus. The Zenfone 5Z offers a decent package with its 12MP+8MP camera setup at the back and an 8MP sensor at the front for selfies. However, the Honor 10 offers a better proposition with its 16MP+24MP rear camera configuration and 24MP selfie shooter at the front.
Asus Zenfone 5Z vs Honor 10: Battery
Battery life on the two phones is pretty comparable. The Zenfone 5Z comes with a 3300mAH battery while the Honor 10 sports a 3400mAH cell. Both have their own versions of fast charging and should provide similar overall backups.
Asus Zenfone 5Z vs Honor 10: Verdict
This was one of the tightest races we have seen with smartphones of such calibre. Both phones have respectable builds with the Zenfone 5Z having a larger screen-to-body ratio display while the Honor 10 has better looks and marginally better display pixel density. Battery and performance were the same but the Honor 10 leads in software optimisations and features. The Zenfone 5Z, on the other hand, offers better value for money with its larger storage capacities and further expandability options. The main deciding factor comes down to the audio and camera capabilities. Audio lovers will be absolutely blown away with the Zenfone 5Z while photography enthusiasts should stick with the Honor 10.