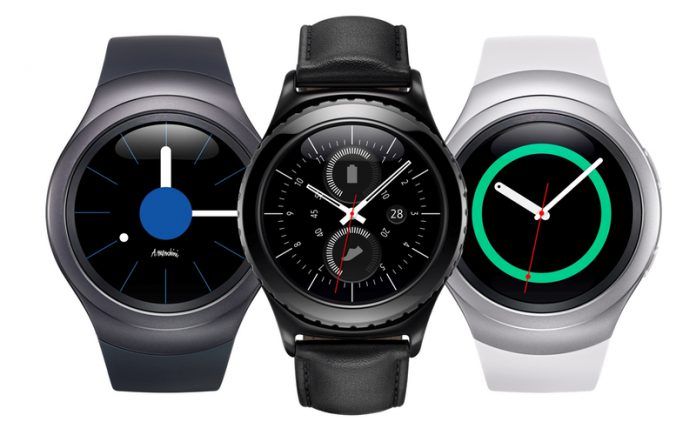 The upcoming Samsung Galaxy smartwatch may run on Google's Wear OS instead of Tizen. Samsung may even opt for a different sub-brand for the smart wearable device. The Gear S4 could be rebranded as Samsung Galaxy Watch.
Samsung Gear S4, a smartwatch that Samsung is believed to be readying for launch, may arrive as "Galaxy Watch". The smart wearable device with several sensors for continuous health and vitals monitoring, could also ditch Samsung's own Tizen operating system for Google's Wear OS (formerly known as Android Wear). According to a tweet by a well-known social media personality, the Galaxy Watch label will be reserved solely for the next generation smartwatches that rely on the Wear OS.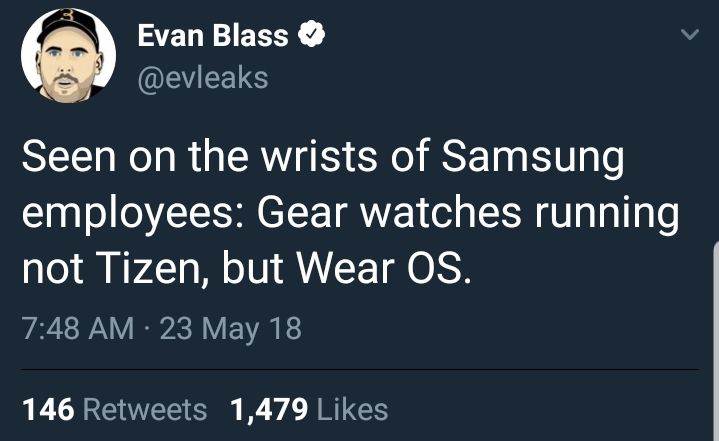 Samsung Galaxy Watch: Specifications:
Samsung has been tightlipped about the development of the Gear S4 or Galaxy Watch. The company hasn't even confirmed if the smartwatch will indeed run on Wear OS instead of Tizen OS. However, the tweet is fairly comprehensive with the specifications of the device.
According to the tweet, the Galaxy Watch will likely come with a 470 mAh battery. The smart wearable device would also have sensors to continuously monitor blood pressure of the wearer. Incidentally, Samsung already owns a patent specifically for blood pressure monitoring on a smartwatch. If the watch indeed offers this facility, Samsung could easily position the Galaxy Watch as a wearable fitness device.
About Gear S4 (probably called Galaxy Watch) Based on Android Wear, 470mAh battery, PLP package, it is expected to have new UX interaction and blood pressure measurement.

— Ice universe (@UniverseIce) July 6, 2018
The smartwatch will feature a new "UX interaction". There's no information about the User Interface (UI) that Samsung may further customize. But previous generations of Gear smartwatches have allowed users to switch between settings and control various aspects of the smartwatch simply by rotating the bezel. Hence the Galaxy Watch could support the method, and even extend it for other functions. As is the norm, the smartwatch could also have heart rate or pulse, step counter, daily activity goals, Always On Display (AOD), etc.
The Galaxy Watch To Have PLP-developed Processors:
Besides the relatively bigger battery, the most interesting aspect about the Gear S4 or Galaxy Watch is that it appears to feature a PLP package. Panel Level Package or PLP is a new type of chip manufacturing process. The technology is specifically developed to miniaturize processors. PLP can also optimize manufacturing process to cut down costs. If the processors are slimmer, the company can pack even more sensors or perhaps an even larger battery for better endurance of the smartwatch.
— Hamza Tahir (@HamzaTahir17) July 6, 2018
Tech enthusiasts stress battery endurance will undoubtedly be an important consideration.  Many strongly believe Tizen outperforms Google's Wear OS. Some unofficial sources insist Tizen OS is very frugal as opposed to Google's offering. Some users even claim Samsung Gear watches can go about 3 or more days without needing a recharge.
Why Is Samsung Ditching Tizen OS For Google Wear OS?
Although only alleged at this point, Samsung may have decided to go with Wear OS owing to the extensive app support. The Tizen OS doesn't enjoy nearly the same support from app developers as Google's Android and Wear OS. However, many Samsung Gear smartwatch users claim Tizen is a much more polished and lean OS. They claim the company could do well by sticking to their own Tizen OS, instead of ditching it for Google Wear OS.
Incidentally, Samsung boasts of two must-haves for smartwatches. Samsung Health and Samsung Pay are vital for on-wrist health monitoring and instant micro-payments on the go, respectively. But Google already has workable alternatives. Moreover, there are several third-party apps that can easily replace Samsung's apps if the company adopts Wear OS.
Without Samsung's confirmation, this information is merely speculative. However, it is quite likely that Samsung could launch the Gear S4 or Galaxy Watch on August 9 at the Unpacked 2018 event, along with the rumored Samsung Galaxy Note 9.
Thanks for reading till the end of this article. For more such informative and exclusive tech content, like our Facebook page