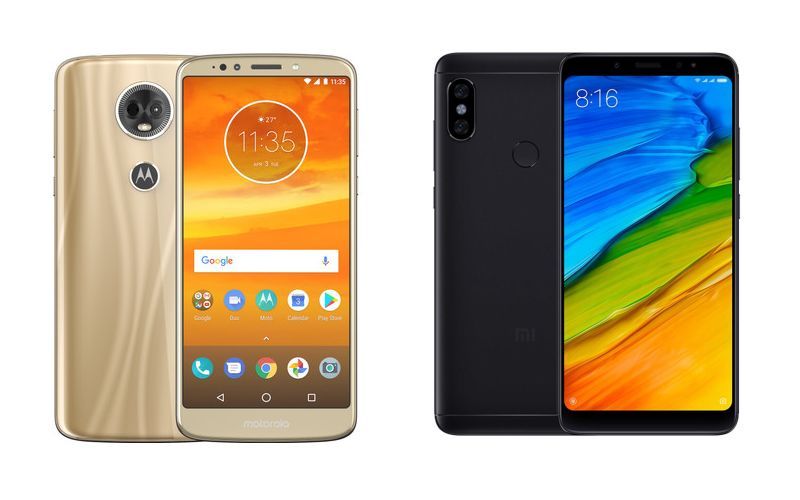 Motorola just recently unveiled the official pricing and launch details of the Moto E5 Plus for the Indian market. Thus we have another new entry in this already crowded budget-centric mobile phone space. Smartphones form manufacturers such as Xiaomi and Realme have already set a bar in terms of providing the best possible specs for as low as possible. Can the Moto E5 Plus deliver? Today we will be comparing this new budget offering against Xiaomi's Redmi Note 5 to see how much of a compelling reason (if any) it can offer against the existing competition.
Moto E5 Plus vs Redmi Note 5: Price in India
Motorola has released the Moto E5 Plus in India as an Amazon Exclusive product. Only a single storage variant of the phone has launched in India where you will get 3GB of RAM along with 32GB of internal storage. This is priced at Rs, 11,999.
On the other hand, the Redmi Note 5 from Xiaomi retails for Rs. 9,999 and this is for its 3GB RAM+ 32GB storage that is provided in the base variant. Rs 11,999 will fetch you the higher storage variant which provides 4GB of RAM along with 64GB of internal memory.
Moto E5 Plus vs Redmi Note 5: Design, Display
Both these phones offer pretty much similarly sized displays that measure close to 6-inches across and offer an 18:9 aspect ratio. However, the resolutions of the phones differ drastically. While the Redmi Note 5 provides a Full HD+ 1080 x 2160 resolution display, the Moto E5 Plus only offers an HD+ 720 x 1440 pixels resolution on its screen.
In terms of build quality, both phones do offer Corning Gorilla Glass protection on the screen. Where the Moto E5 Plus lacks in its display resolution, it tries to make up for in its build quality and aesthetics. The phone has a glossy acrylic finish on its rear panel, and the company has cleverly integrated the iconic "M" logo inside the rear-mounted fingerprint scanner. The Redmi Note 5, on the other hand, has a dull metallic back which starts to fell a bit dated now.
Moto E5 Plus vs Redmi Note 5: Camera Features
Both the Moto E5 Plus and the Redmi Note 5 offer single camera setups at the back. Both these cameras are also 12MP in size and only differ in their aperture values as the former has an f/2.2 aperture while the latter has an f/2.0 aperture. The one defining feature of the Moto E5 Plus's rear camera, however, is that it has a dedicated laser auto-focus module which could have a noticeable impact in the camera performance. And for selfies, both phones offer 5MP shooters at the front.
Moto E5 Plus vs Redmi Note 5: Performance, Hardware
This is the one category where the Moto E5 Plus takes a significant hit. The phone comes with a Snapdragon 425 chipset powering the device. This is a quad-core CPU which can only go up to a maximum clock speed of 1.5GHz. Conversely, the Redmi Note 5 is powered by a Snapdragon 625 SoC which has a quad-core CPU capable of reaching clock speeds of 2.0GHz.
Moto E5 Plus vs Redmi Note 5: Operating System
Since the Redmi Note 5 is a relatively older handset in today's comparison, it will still lag behind a bit in its software support. The phone runs Android 7.1.2 Nougat out of the box. The update to Oreo might still not be here yet for Indian users but should be arriving soon. The Moto E5 Plus, on the other hand, comes with the latest Android 8.0 Oreo installed by default.
Moto E5 Plus vs Redmi Note 5: Battery Life
On paper, the Moto E5 Plus's 5000mAh battery trumps that of the Redmi Note 5's which measures 4000mAh. While we will not know the exact performance until we test it for ourselves, the E5 Plus's battery life should easily outperform that of its rival.
Moto E5 Plus vs Redmi Note 5: Verdict
Given its pricing, we had slightly higher expectations from the Moto E5 Plus. The phone severely lacks in the two most important aspects of a smartphone these days – the display resolution and processor speed. While it provides better looks and slightly better battery life, we do not think it can keep up against the well balanced Redmi Note 5 as the latter is still a great bang-for-your-buck proposition.