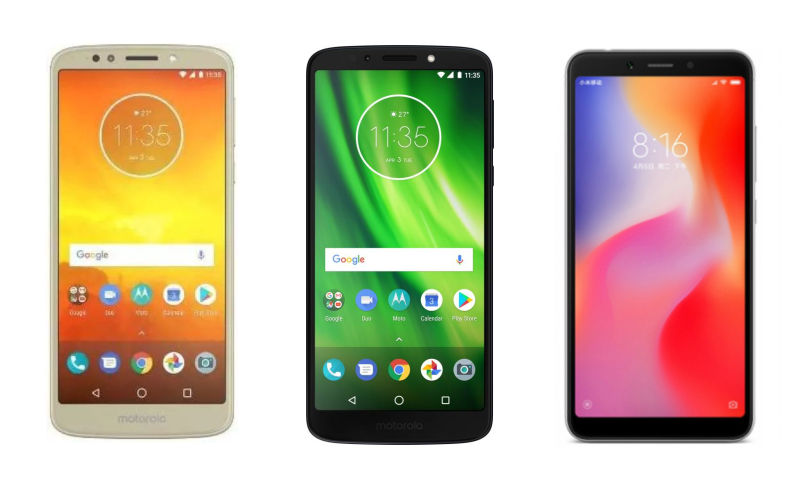 The Moto E5 is now available for purchase in India through both online and offline outlets. It is hard to differentiate the device form the Motorola's own Moto G6 Play which went on sale earlier last month. Both are budget offerings of the company, and one might be hard-pressed to choose between these two smartphones. However, Xiaomi is about to release its latest budget phone offering – the Redmi 6A – in India soon, and many might wonder if it is worth holding off for this phone to arrive. Let's take a look at all these phones side by side to see if you will be better of with one of the existing Motorola offerings or if it might be wise to wait for the launch of Xiaomi's handset in the country.
Moto E5 vs Moto G6 Play vs Redmi 6A: Price in India
The Moto E5 is only offered in a 2GB RAM + 16GB storage configuration in India which has been priced at Rs. 9,999. The Moto G6 Play is sold for Rs.11,999, but this is for a memory configuration with 3GB of RAM and 32GB of internal storage. The Redmi 6A is expected to make its way to the Indian market by September of this year. That phone retails for RMB 599 in China which amounts to Rs 6,500 approximately. This is for the 2GB RAM + 16GB storage combo while a new 3GB RAM + 32GB storage version recently made its debut at RMB 699 (around Rs. 7,200).
Moto E5 vs Moto G6 Play vs Redmi 6A: Display
All three phones in today's comparison offer HD+ 720 x 1440 pixel resolution displays with 18:9 aspect ratios. The only difference here is in their sizes. The Redmi 6A's screen is slightly smaller as it measures 5.45 inches across while both the Motorola handsets measure 5.7-inches.
Moto E5 vs Moto G6 Play vs Redmi 6A: Camera Features
In the photography department, all three phones feature 13-megapixel cameras at their back which are likely to not present any perceivable difference in image quality. Coming to the front, while all three phones offer front LED flash units for better selfies, the Moto G6 Play takes the win with its 8MP selfie shooter while the other two offer 5MP cameras.
Moto E5 vs Moto G6 Play vs Redmi 6A: Software, Performance
Both Motorola smartphones offer Android 8.0 Oreo out-of-the-box while the Redmi 6A comes with Android 8.1. The real difference is in the stock Android experience provided by the Motorola phones while the Redmi 6A offers a heavily customised MIUI 9.0 skin over the OS.
When it comes to raw performance, the Moto E5 is running on the Snapdragon 425 SoC while the Moto G6 Play runs on the Snapdragon 430 Chipset. While the CPU performance is prey similar as both have quad-core clock speeds of 1.4GHz, the graphical performance of the G6 Play will be slightly better as it comes with the marginally better Adreno 505 GPU while the former has an Adreno 308 GPU. However, The Redmi 6A easily takes the win here as it comes with a MediaTek Helio A22 chipset which has a quad-core CPU which clocks up to 2.0GHz.
Moto E5 vs Moto G6 Play vs Redmi 6A: Battery Life
If battery life is one of your primary concerns, then both Motorola phones will offer attractive packages with 4000mAh capacity cells capable of Turbo fast charge. The Redmi 6A falls behind in this category as it only has a 3000mAh battery without any fast charging support.
Moto E5 vs Moto G6 Play vs Redmi 6A: Verdict
If it only came down to the two Motorola smartphones, it would be very hard to recommend the Moto G6 Play over the Moto E5 as it does not offer enough of an upgrade to justify its steeper price tag. But when you throw the Redmi 6A into the mix, the Xiaomi smartphone becomes the most attractive offer as it offers the best overall package at a lower price. It is certainly going to be worthwhile to wait until the Redmi 6A launches in India.