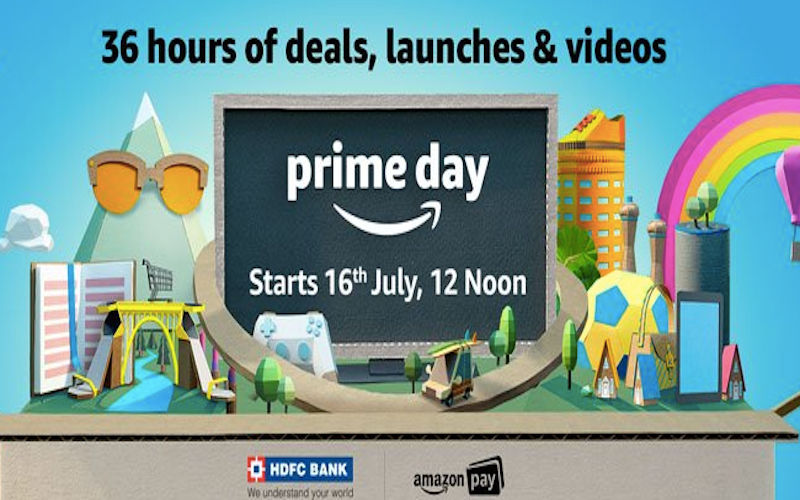 We are only a few days away from the highly awaited Amazon Prime Day sale event. On July 16, Amazon is going to offer loads of exciting offers within this 36-hour sale. About 18 startups will be releasing new products across various categories including electronics, health, home decor and many more. Furthermore, as many as 25 exclusive products shall debut on the platform. These included various electronics and mobile phones such as the Red OnePlus 6, Intel 8th Gen CPU-equipped gaming laptops, Godrej Wi-Fi home cameras to name a few.
Commenting on this sale, Head of Amazon Launchpad India, Aman Deep Lohan said, "We are extremely happy to announce the launch of 25 exclusive products for this Prime Day by these startups. This truly fulfills our program's aim to help startups showcase their cutting-edge products to millions of Amazon customers and provide them with a curated selection."
Amazon Prime Day Launches in Electronics

The most exciting product launching on Prime Day is the OnePlus 6 Red edition. Other than the new colour, all the internals of the smartphone are the same as the standard variants. This phone comes only in one storage configuration with 8GB of RAM and 128GB of internal memory. While its selling price is set at Rs. 39,999, there are various other discounts and exchange offers which will be offered on all models of the OnePlus 6.
Then there are various gaming laptops that are going to make their debut on Prime Day. Amazon has not listed which exact brand from which the laptops will be debuted, but it did specify that they will be featuring the latest 8th Gen Intel Core Processors. Furthermore, WD is going to release a new portable hard drive. Seagate shall release new external portable SSDs. Samsung is going to launch Evo Select Class 10 memory cards. New Wi-Fi home security cameras shall make their debut courtesy of Godrej. You will also find new 4K smart TVs from CloudWalker which will come running Android 7.0 Nougat-based ecosystems.
In the audio department, Sennheiser will present a new over-ear wireless headphone. Other startups such as Leaf Wearables, LCARE, TAGG and 1MORE will also come out with various new earphones and headphones. These will include both wired and wireless options.
Other companies releasing new tech items on Prime Day include Toshiba, Artis, Sound Boss, sgMusical, Sound One, Panasonic, Loxxo, WeCool, HP and more.
Also Read: [Exclusive] Amazon Prime Day Contest: Win 1 Lakh On Purchase Through MySmartPrice
Amazon Prime Day Sale: Up To 100% Cashback on Fire TV Stick
Indian customers will be able to avail up to a 100% cashback on Fire TV sticks. There are two offers, both of which require you to purchase a Fire TV stick using Amazon pay balance. In the first offer, you will get a cashback of Rs.300 for the Fire TV stick if you buy any TV during Amazon Prime Day Sale using Amazon pay balance. The other offer requires you to buy a TV from a handpicked list by Amazon which will get you a full 100% cashback on the Fire TV Stick purchase.
Amazon Prime Day Sale: Eligibility Criteria, Other Details
As the name already makes it abundantly clear, an Amazon Prime subscription is mandatory to take part in this sale. Membership will require a Rs.999 payment which gets you subscribed to the service for one year. Amazon is also offering monthly memberships which cost Rs.129. You can opt out of this monthly plan anytime you want. For new subscribers, the first month of this service is free, making it possible for new users to take part without having to be on a paid subscription. It is also possible to get free subscriptions for Amazon Prime via some Airtel and Vodafone postpaid subscriptions.