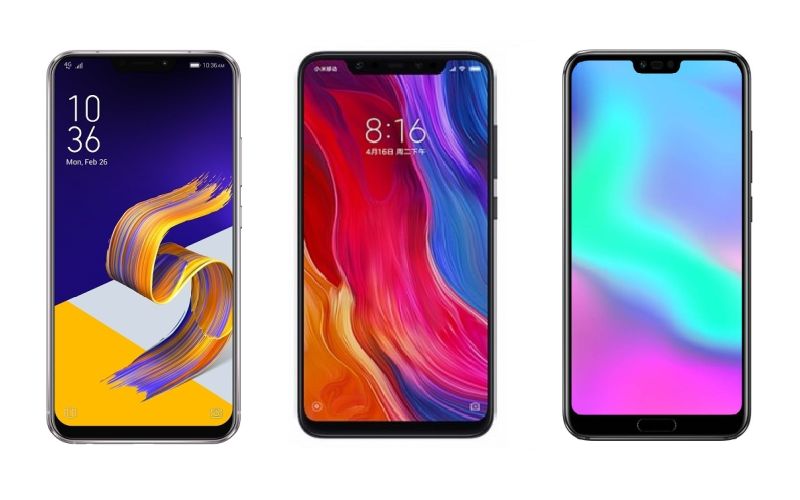 The Mi 8 has been quite a successful smartphone in the Chinese market. There have been numerous speculations regarding when the phone will make its way to the Indian market. With many believing the launch to be sometime before the end of this month, we figured it might be a good idea to let you know which two other devices the phone is likely to compete with. So we have the recently launched Asus Zenfone 5Z and the Honor 10(review), both of which are relatively affordable devices with flagship-grade specifications. Without further ado, let's get on with their comparison.
Asus Zenfone 5Z vs Mi 8 vs Honor 10: Price in India
Xiaomi launched the Mi 8 with a 6GB RAM + 64GB storage combo in China for 2699 Yuan (approx. Rs.27,500). 4GB and 8GB RAM variants of the device were recently spotted on a TENNA listing which might make their way here as well with a price tag not too far off from the Chinese version's.
The Asus Zenfone 5Z's base variant with a 6GB RAM + 64GB storage configuration is priced at Rs. 29,999. There are also 8GB RAM + 128GB storage and 8GB RAM + 256GB storage variants priced at Rs. 32,999 and 36,999 respectively.
The Honor 10 is only offered in a 6GB RAM + 128GB configuration which costs RS. 32,999.
Asus Zenfone 5Z vs Mi 8 vs Honor 10: Design, Display
The Xiaomi Mi 8 offers the most attractive display specs out of the three phones in this comparison today with its 6.12-inch AMOLED panel with a 1080 x 2248 pixel resolution and support for HDR10 content. The Asus Zenfone 5Z also comes with a respectable 6.2-inch screen with a 1080 x 2246 pixels resolution which happens to just be an LCD panel. The Honor 10's LCD screen slightly lags behind as it measures only 5.84-inches and comes with a 1080 x 2280 pixel resolution, but does offer a front-facing fingerprint scanner while the other two opt for rear mounted ones.
Asus Zenfone 5Z vs Mi 8 vs Honor 10: Camera
The Mi 8 offers a great 12MP + 12MP camera configuration at its back where the primary lens has a 1.4um pixel size, four-axis OIS, and an f/1.8 aperture, while the other has a 1.0um pixel size and an f/2.4 aperture. The Honor 10 goes for a slightly different approach with a 16MP f/1.8 primary shooter paired with a 24MP B/W shooter but misses out on OIS. The Zenfone 5Z offers the least impressive 12MP f/1.8 + 8MP f/2.0 rear camera configuration.
As for the front cameras, the Honor 10 beats its competition with its 24MP shooter. The Mi 8 follows with its 20MP shooter while the Zenfone 5Z loses again with a measly 8MP selfie camera.
Asus Zenfone 5Z vs Mi 8 vs Honor 10: Performance, Battery Life
All three phones offer flagship-level performance and it is hard to pick a winner here. The Zenfone 5Z and Mi 8 run on Snapdragon 845 chipsets, while the Honor 10 is rocking a Kirin 970 SoC. All three also come with Android 8.1 Oreo installed with their respective UIs. Battery life is also pretty comparable as the all three charge via USB Type-C and features their own version of fast charging. The battery capacities are pretty similar as well with the Honor 10 and Mi 8 loaded with 3400mAh cells while the Zenfone 5Z comes with a 3300mAh battery.
Asus Zenfone 5Z vs Mi 8 vs Honor 10: Audio
Audio performance is the one category where the most interesting comparison comes in. The Mi 8 is the only phone here to not feature a headphone jack and requires a type-C to 3.5mm jack converter to connect standard earphones. The Honor 10 offers a standard 3.5mm headphone jack so no issues there. The Zenfone 5Z is ideal for audio enthusiasts as it offers DTX Headphone X support via its 3.5mm jack along with personalized presets for hundreds of popular earphones.
Asus Zenfone 5Z vs Mi 8 vs Honor 10: Verdict
If the Mi 8 launches in India anywhere close to its estimated price, the phone will easily be a great option if you are willing to look past the absence of the headphone jack. The Zenfone 5Z would be our next pick as it offers comparable specs at a pretty attractive price point. It is also the best option for audiophiles. The Honor 10 is by no means a bad device and would be great for selfie and photography enthusiasts.