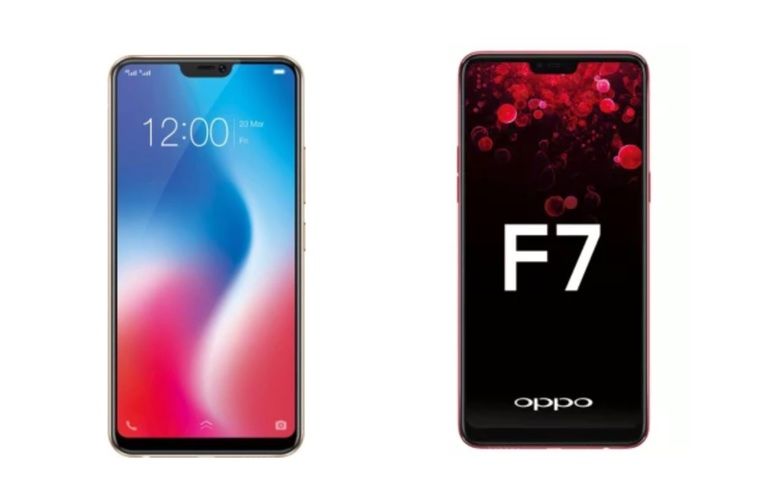 The Vivo V9 and Oppo F7 are two superb mid-range smartphones from the growing Chinese stables, and they offer great value for money. Both phones are of the same age, and boot the latest Android version, and pack excellent rear and front camera gear. Now, you get awesome savings on the purchase of either product, so let's check out what all is in store.
Vivo V9: Price in India, Paytm Mall Offers
The Vivo V9 can be bought from Paytm Mall at Rs 20,990. This itself is a flat Rs 3,000 discount on the MRP, which is Rs 23,990. Adding to that is an additional Rs 2,000 cashback for purchasing the handset via YES Bank credit card, which is applicable on both single payment and EMI billing. The cashback amount will be added to the YES Bank credit card.
The Paytm promo codes give three options, where you can avail Paytm Wallet cashback of up to Rs 1,500 on this handset. For single-use cashback, avail SAVE5 for Rs 1,050 in cashback or MOBVC1000 for a Paytm Mall voucher of Rs 1,000. The highest saving promo code is OFFER1500, which gets you three promo codes in your Paytm Wallet worth Rs 500 each. Either of the three options can be availed, but not more than one per handset.
There is also Rs 600 off on mobile protection cover, so you can pay Rs 1,499 instead of Rs 2,099.
All the offers are applicable to all available colour variants of this Vivo smartphone, which are Pearl Black with Gold Line, Sapphire Blue, and Gold. The fourth colour variant, Pearl Black without gold lining, is not available on Paytm Mall.
Oppo F7: Price in India, Paytm Mall Offers
As with the Vivo V9, you get a flat discount on the MRP of the Oppo F7 at Paytm Mall. The discount is highest on the Diamond Black edition, at 13 percent for the 64GB model and 14 percent for the 128GB storage variant. This means the Diamond Black edition of the 4GB RAM, 64GB storage variant of Oppo F7 will cost you Rs 19,990 instead of the MRP of Rs 22,990. The 6GB RAM, 128GB internal storage model will cost Rs 23,990 instead of the MRP of Rs 27,990.
In the Moonlight Silver edition, the 64GB variant sells for Rs 21,399, and in the Solar Red edition, it goes for Rs 21,415.
The 128GB variant in Moonlight Silver edition costs Rs 23,990 but it sold out. The available Solar Red edition costs Rs 26,990.
There is the same 10 percent cashback on YES Bank credit cards for all the variants, but the Paytm Mall promo code offers are different. For the 64GB variant, you can avail the best promo code MOB15, to get Rs 2,999 or 15 percent of the cart value in Paytm Wallet cashback. A flat Rs 700 is saved on the mobile protection cover for the 64GB variant, so the mobile damage cover costs you Rs 1,399 instead of Rs 1,999.
The best promo code for the 128GB variant is also MOB15, getting you 15 percent of cart value, which in this case works out to Rs 3,599, in Paytm Wallet cashback.
This way, after a flat Rs 4,000 on the 128GB model's MRP, you get to save another Rs 2,000 in YES Bank cashback and an additional Rs 3,599 in Paytm cashback. There is also the Rs 700 off on mobile protection cover, so you pay Rs 1,699 instead of the actual price of Rs 2,399. Put two and two together and you count a total saving of Rs 10,299.
The Paytm Wallet needs to have KYC approval done in order to avail any of these cashback offers.
Vivo V9: Specifications, Features
The Vivo V9 has a 6.3-inch Full HD+ IPS LCD display and runs Android 8.1 Oreo. It comes in only one storage variant, that is 4GB of RAM and 64GB of storage. You can expand the internal storage to 256GB though. The rear camera packs a 16MP and a 5MP sensor, complemented by an LED flash, and the selfie camera is 24MP accompanied by a soft light flash. The chipset is Qualcomm's octa-core Snapdragon 626, with speeds up to 2.2 GHz. The battery is 3,260 mAh and can survive a full day of moderate use.
Oppo F7: Specifications, Features
The Oppo F7 also boots Android 8.1 Oreo and comes with a 6.23-inch Full HD+ IPS LCD display. The display is almost without bezels and the body is of sleek metal design. An octa-core MediaTek chipset clocking 2.6GHz of speed powers the device and RAM variants are 4GB and 6GB. The battery is 3,400 mAh, which is not the biggest in this category but is claimed to last a whole day. The handset has a 16MP+5MP dual-sensor rear camera supported by LED flash and a 25MP front camera. The fingerprint is on the rear side and the screen gets Corning Gorilla Glass protection.