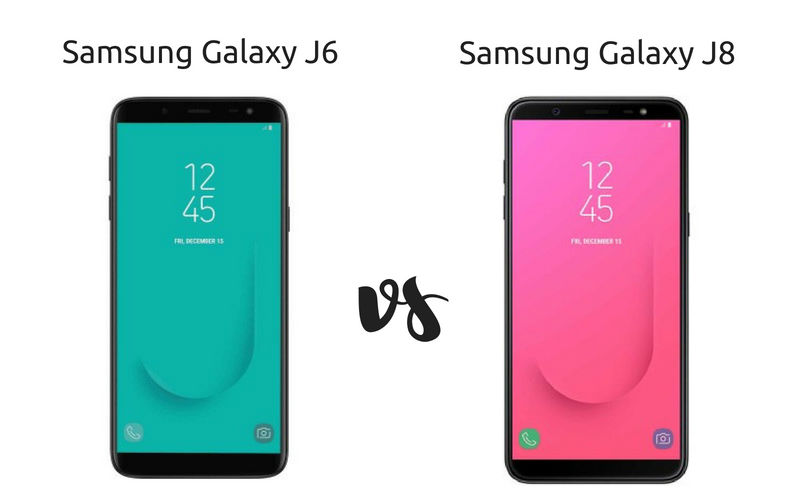 The business of budget smartphones has a large and growing market in India, and it has always been dominated by the South Korean manufacturer Samsung. The competition in this segment is cut-throat, and among the worthy mentions are the Samsung Galaxy J8 and Samsung Galaxy J6.
The phones come with many similar specs and features but do differ significantly in some areas, and of course, their pricing is tailored to suit two different segments of the budget smartphone market. Launched in May and doing very well already, the J6 is priced at Rs 14,990, clearly for the sub-fifteen thousand rupees range, while the J8 caters to those who don't mind spending up to Rs 20,000, with a price tag of Rs 18,990.
While you will save Rs 4,000 on MRP if you buy the J6, presently the handset is offered at a discount of 6 per cent on Flipkart, which means you can save Rs 5,000 if you go for the J6 instead of the J8. So, which one is the better choice? We compare the phones to find out.
Samsung Galaxy J8 vs Samsung Galaxy J6: Display, Performance, Camera, Battery
Speed matters, so let's begin with that. With a 4GB RAM, the J8 is clearly faster than the 3GB RAM Galaxy J6. It also matters that the J8 comes with a standard storage of 64GB while the J6 comes with 32GB storage. There is the advantage with Galaxy J6 that you can buy it in the 4GB+64GB variant as well, but then you end up paying almost as much as what you would for the Galaxy J8. The disadvantage with J8 is that it does not come in any other storage or RAM variant. Both phones however provide for expandable storage of up to 256GB.
Moreover, the Samsung J6 comes with a Samsung Exynos 7870 octa-core chipset that allows for up to 300 mbps downstream and 50 mbps upstream transfer rates, whereas the Qualcomm Snapdragon 450 chipset in the Samsung Galaxy J8 supports maximum transfer rates of up to 300 mpbs downstream and 150 mbps upstream. In that area also, then, the J8 is a clear winner.
Then there is the matter of display, which is getting more and more emphasis from buyers with each passing day. Today's smartphone buyers want a large, clear display but do not like using their phones with two hands, so the manufacturer has to increase screen size without making the mistake of increasing the size of the phone.
To this end, the Galaxy J8 has the advantage with a 6-inch display, which seems to be the preferred display size of manufacturers and buyers these days, while the Galaxy J6 makes do with a 5.6-inch display. Both offer Full HD+ clarity with 720×1480 pixels.
For budget smartphone buyers, camera goodies matter a lot. The Galaxy J6 serves its purpose of being a budget phone with a 13MP rear camera and an 8MP front shooter, but the Galaxy J8 is the clear big brother with a dual rear camera setup of 16MP+5MP, and a 16MP front shooter.
And as we compare smartphones, it is impossible to ignore battery specifications. The Galaxy J6 falters here as well with a significantly smaller 3,000 mAh battery as opposed to the 3,500 mAh battery housed in the Galaxy J8.
Samsung Galaxy J8 vs Samsung Galaxy J6: Price in India
The Samsung Galaxy J6 is the friendlier phone in its 3GB+32GB avatar, at Rs 14,999, with an additional Rs 1,000 off at Flipkart. That makes the price of this phone Rs 13,990, which is Rs 5,000 less than the standard and only price option of Rs 18,990 for the Samsung Galaxy J8. Those looking for something of a compromise can buy the 4GB+64GB variant of the Galaxy J6, priced at Rs 17,600, but selling for Rs 16,490 at Flipkart now.
As for offers, both phones get the same 'Up to Rs 12,200 Off' on an exchange through Flipkart, and no cost EMI options. Buyback value offered by Flipkart is Rs 5,800 for Galaxy J6 3GB variant, Rs 7,000 on the 4GB variant, and Rs 8,000 for the Galaxy J8. The amount offered is the maximum and can be less at the time of buyback, but a guarantee can be purchased for Rs 99.
On both variants of the J6, you get Rs 1,500 off for purchasing with ICICI Debit or Credit cards, while you get Rs 2,000 off for J8.
Samsung Galaxy J8 vs Samsung Galaxy J6: Verdict
There is a wide range or budget smartphones out there and Samsung plays a major role in the diversity the market offers. The smartphone maker has been clever enough to make phones that are only a little different and better than each other, with pricing so close that one is spoilt for choice.
In our verdict, however, we must admit that the Samsung Galaxy J8 is the better phone, and is still a budget smartphone at Rs 18,990. However, if budget is a constraint, then the choice is clear: go for the 3GB+32GB variant of the Galaxy J6 and you do not lose out on much. The 4GB+64GB variant of the Galaxy J6 seems too costly, considering that Rs 1,390 less than the much better Galaxy J8.