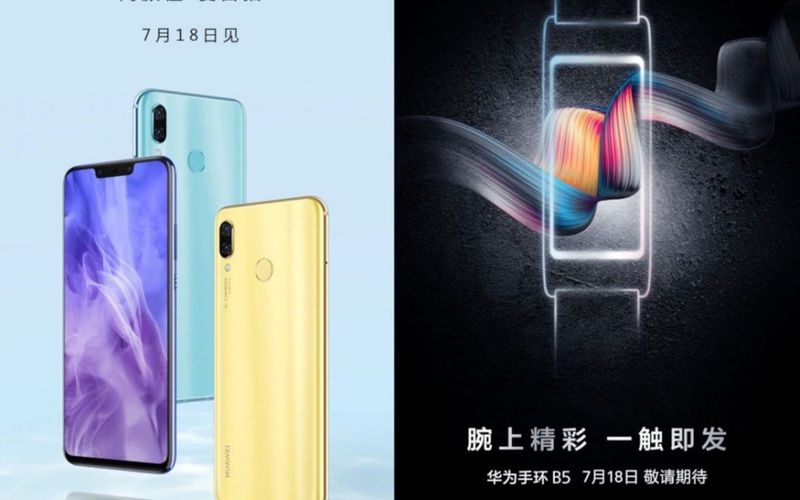 Huawei is rolling the ball extremely quickly and it is actually a very good move from them because the smartphone industry is a very competitive one, and Huawei's rivals are not going to be going easy on the third-largest smartphone brand in the world. Companies like Xiaomi, Vivo, OPPO, and Apple have formed a very strong base in China and they will obviously be releasing their products to reduce the market share of Huawei, so it is actually a good move that Huawei is considering releasing these products quickly.
The official launch of the Huawei Nova 3 and the TalkBand B5 is going to be taking place in a few hours in China. Nova 3i is also expected to launch alongside. Here is everything we know about the launch so far, so be a part of it right here.
Huawei Nova 3, TalkBand B5 Launch: Live Streaming
According to Huawei's official Weibo account, both the Nova 3 and the TalkBand B5 are going to be launched later today at 6PM in China (3:30PM IST) and sales of both devices expected to start from the 20th of July. The live streaming of the event is available in this link.
But since the live streaming is in Chinese, you can find the live updates of the event in English by scrolling down.
Huawei Nova 3: Specifications, Features
Huawei Nova 3 is expected to feature a 6.3-inch bezel-less display with a notch at the top and an aspect ratio of 19.5:9. In contrast, this is going to be bigger than the Honor 10's 5.84-inch screen, meaning that you will have more screen to take advantage of. The notch is necessary in a lot of smartphones these days because it houses key components like several different sensors as well as the front camera. However, the Huawei Nova 3 does not appear to be a flagship so we highly doubt that it will come with the same 3D facial recognition technology as the high-end devices before it.
The phone will also be sporting a dual-camera at the rear, set up vertically with an LED flash, and a sleek unibody metal design, with all edges curved. The 24MP front-facing camera is similar to that of the Honor 10 and the Huawei P20 Lite variant that was launched in India a while back. Both front-facing and rear-facing cameras feature AI support for clicking images with background blur, better face beautification, and scene recognition. The phone also sports the Face Unlock security feature that utilizes the front-facing camera to unlock the device.
Coming to the internal specifications, the phone uses Huawei's current-generation flagship smartphone chipset, the Kirin 970. Also, the Huawei Nova 3 will come in a 6GB RAM + 128GB standard memory variant. The phone will also support Huawei's GPU Turbo technology for better graphics performance and lower power consumption. The handset is likely to run the latest Android 8.1 Oreo version and come equipped with two 4G SIM slots plus one expandable storage microSD card slot. There's a fingerprint reader present at the back of the Huawei Nova 3.
The smartphone is likely to feature a USB Type-C port, Bluetooth 4.2 and Wi-Fi 802.11 b/g/n/ac connectivity options.
Huawei TalkBand B5: Specifications, Features
Sadly, not much has been revealed about the TalkBand B5, but previous rumors state that it will double up as a Bluetooth headset and will also pack fitness-focused features. The Weibo post about the TalkBand B5 shows TalkBand B5's in-ear Bluetooth headset, which seems to come with an easy mechanism that can be removed to talk freely.
The TalkBand B5 is also expected to come with a larger OLED screen with bigger fonts. The addition of the OLED screen will help preserve the battery life of the wearable, giving more mileage to users, though this will vary according to how long you use it for. Also, the TalkBand B5 is expected to double up as a fitness tracker and pack health features like sleep tracker, heart rate monitor, and more.
Huawei Nova 3, TalkBand B5 Launch: Live Updates