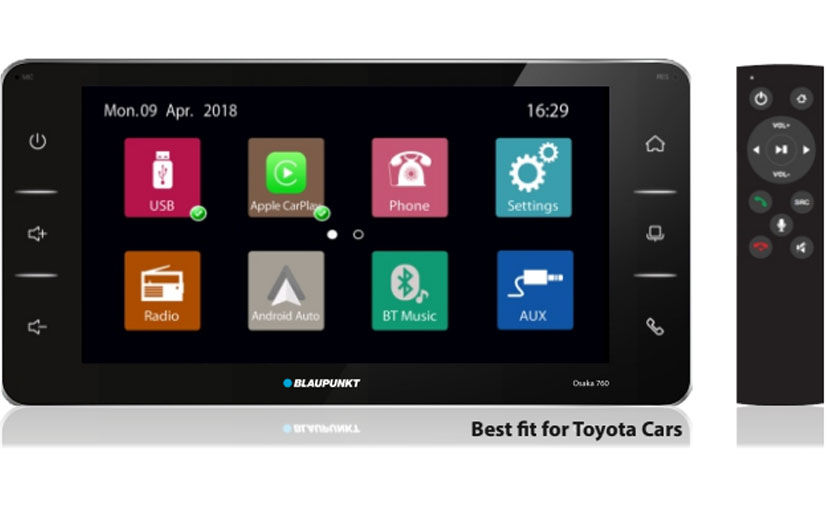 Blaupunkt India has launched its first head unit that utilizes the two most popular platforms for vehicles in Apple Car Play and Android Auto. The Osaka 760 and Monte Carlo 750 are designed to support both car operating systems from Apple and Google to allow the user to choose which they wish to use depending on their device, which prevents them being locked into either.
The functionality between Android Auto and Apple CarPlay differs greatly with each providing hooks into the software included on iOS and Android. Apple CarPlay will offer hands-free access to Siri and Apple Maps, while Android Auto will use Google Assistant and Google Maps. The Osaka 760 is a Toyota specific model while the Monte Carlo 750 is a Universal 2DIN model that can fit almost any car with sufficient space.
Blaupunkt's Managing Director, Mr. Pankaj Jagwani said "We are very excited to unveil the launch of our first ever Android Auto and Apple Car Play audio systems. Osaka 760 and Monte Carlo 750 are our latest models in our extensive line up of radios we offer in India. With our German heritage and design capabilities, we have no doubt that these two current models will help elevate the overall user experience of the end user."
Both head units come with a 6.75-inch Full Capacitive Touchscreen and Bluetooth support. They also both have the ability to hook into any rear-view camera that is installed in the vehicle as well as offering full steering wheel control capabilities.
Having the platforms that are optimized for traveling is essential to ensure you keep your eyes focused on the road while allowing access to your device to change songs on Spotify for example or configure navigation options. Both Android Auto and Apple CarPlay feature big buttons and easy navigation to allow quick and precise access to consume media on the move while ensuring your attention stays focused on the road.
The Osaka 760 is priced at Rs 34,990 and the Monte Carlo 750 costs ₹ 29,990.