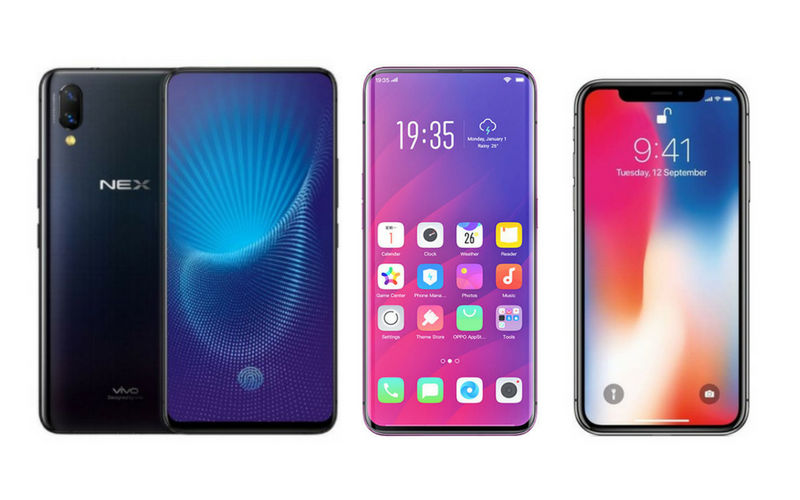 The Vivo NEX (review) and the OPPO Find X are the best Android flagship smartphones you will find from a design perspective. Now both these devices take on Apple's flagship, the iPhone X. Let us see which handset comes out on top and ends up being worth your money.
Vivo NEX vs OPPO Find X vs iPhone X: Price in India
The recently released Vivo NEX is available in India at a price of Rs. 42990. The OPPO Find X was initially believed to be for Rs. 78500 in the Indian market but thankfully, it is priced much lower than that and costs Rs. 59990. As expected, the iPhone X is the most expensive out of the three, retailing for Rs. 83200, which is the price of the 64GB model.
Vivo NEX vs OPPO Find X vs iPhone X: Design and Display
Vivo NEX flaunts the 6.59-inch full HD+ AMOLED screen with a resolution of 2316 × 1080 whereas the iPhone X has a 5.8-inch Super AMOLED display along with a resolution of 2436 × 1125. OPPO Find X also contests on similar grounds with the NEX because it features a 6.42-inch AMOLED display paired with a 2340 × 1080 resolution. The two Android flagships do not feature any bezels and are the first two in the world to have motorised cameras. The iPhone X has somewhat of a bezel-less display, but that notch spoils everything.
Vivo NEX vs OPPO Find X vs iPhone X: Performance and Hardware Specifications
Vivo NEX packs the Snapdragon 845 paired with 8GB of RAM along with providing internal storage of 128GB. OPPO Find X consists of the Snapdragon 845 chipset along with 8GB of RAM that promises excellent performance, and it ships with onboard storage of 256GB, that sadly is not expandable. Apple iPhone X packs the A11 Bionic chipset paired with 3GB RAM. The A11 Bionic is the fastest chipset in the world right now, and just because the phone features 3GB of RAM, it does not mean it will be lagging behind its two competitors.
Vivo NEX vs OPPO Find X vs iPhone X: Camera
As far as the camera department is concerned, all the phones can be termed as near- perfect shooters. Vivo NEX ships with a fantastic dual 12 + 5MP rear and a decent 8MP front camera while the Find X also has an exceptional 16 + 20MP rear camera along with a 25MP front unit. The iPhone X produces impressive image and video results thanks to its dual 12MP rear and 7MP front cameras. Since all three smartphones are flagships, it is difficult to state which one will be producing better results but the iPhone has a history of achieving respectable scores in this category.
Vivo NEX vs OPPO Find X vs iPhone X: Battery and OS
When it comes to batteries, iPhone X is a decent handset with two cells collectively having a capacity of 2716mAh. OPPO Find X also has a reasonably large 3730mAh unit. As for the Vivo NEX, this phone wins the battery game with its 4000mAh battery that also supports 22.5W fast charging. At the software front, both Vivo NEX as well as the Find X run the Android 8.1 Oreo update while the iPhone X will eventually be upgraded to iOS 12 when it launches in September.
Vivo NEX vs OPPO Find X vs iPhone X: Conclusions
The features and specifications of the phones mentioned above are in line with what you will expect from flagships. If you are looking for an Android device that features the best possible design and is armed with the best possible specifications, go for the Find X, or settle for the NEX if the former is too much when it comes to the price. However, if you prefer the iOS ecosystem, there is no winner besides the iPhone X, except for its successors when they launch in September of 2018.