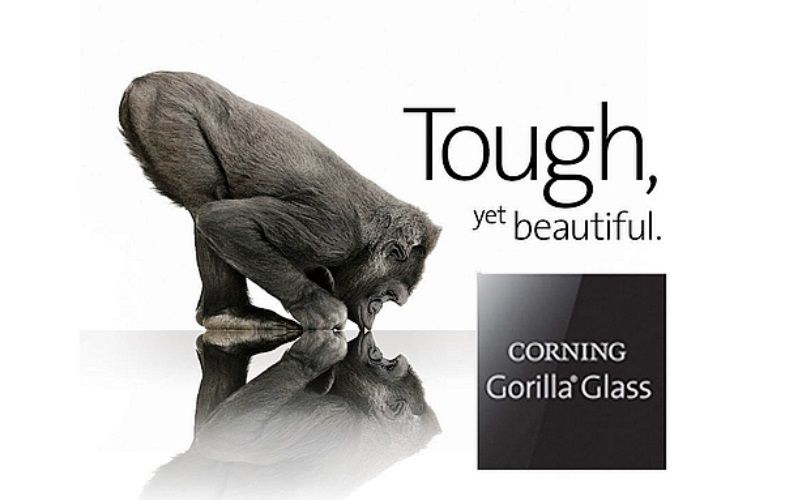 Corning has been developing a special branch of composites solely to protect wearable tech, which is far more exposed to the elements than smartphones. Either Corning Gorilla Glass DX or Gorilla Glass DX+ will protect the next generation of smartwatches.
Corning Gorilla Glass has been protecting smartphones for quite some time. In fact, Corning is the de facto manufacturer and supplier of hardened glass products for all the major players in the smartphone industry. Corning just announced the development of the sixth iteration of Gorilla Glass. The company claims the latest version is twice as tough as the previous iteration. Moreover, Gorilla Glass 6 protects the smartphones from frequent falls.
Corning Gorilla Glass 6 Vs. Gorilla Glass DX / DX+:
Gorilla Glass is a transparent but tough layer from Corning that shields some very exposed pieces of technology. The wearable tech segment relies on Gorilla Glass to significantly boost protection of the devices outdoors. The smartwatches are the most common devices that have a top layer of Gorilla Glass. The layer not only protects the display but also the delicate internal electronics and sensors from the elements.
Corning recently announced Gorilla Glass 6. Interestingly, the glass is already under active evaluation, and will soon protect the next generation of flagship smartphones. Incidentally, the Asus ROG Phone is said to be protected by Gorilla Glass 6.
Corning has launched the new Gorilla Glass 6 for smartphones. It is two times more durable than its predecessor and can survive 15 drops from a height of one meter. It has also launched the Gorilla Glass DX and DX+ for smartwatches. The DX+ will have better scratch residence. pic.twitter.com/Kt99ujDls0

— Essential Tech (@essentialtech12) July 19, 2018
Protecting smartphones and smartwatches is quite different, and the challenges to overcome are equally diverse. During the development of Gorilla Glass 6, Corning observed the pattern and frequency of falls. The company realized that smartphone users drop their devices frequently, but from a lower height. Hence it developed Gorilla Glass 6 to withstand a higher number of falls. Also, the company assures the layer of protection is twice as tough as its predecessor.
Corning Gorilla Glass DX and Gorilla Glass DX+: Specifications
Besides toughness and durability, smartwatches mandate a protective layer that enhances readability in the great outdoors. An overwhelming number of users claimed sunlight legibility of wearable devices was their primary concern. Speaking about the development, Scott Forester, division vice president, Marketing and Innovation Products, Corning Gorilla Glass, said, "We have surveyed more than 85,000 global consumers over the past seven years, and we discovered that nearly 50 percent cited readability as a highly desired feature in a cover glass."
Corning unveils #GorillaGlass6 along with Gorilla Glass DX and Gorilla Glass DX+ pic.twitter.com/zrNuf3yIDV

— Payal Rawat (@fangs_vampire) July 19, 2018
Corning assures that Corning Gorilla Glass DX and Gorilla Glass DX+ will minimize screen reflections. The layer also attempts to significantly improve contrast ratio, without sacrificing brightness. Interestingly, Corning claims the latest iteration of these glasses also help in prolonging battery life. Improving optical clarity, invariably allows smartwatches to scale down illumination or intensity of the display, thereby saving battery. Despite the enhanced optics, the Gorilla Glass never compromises its primary function, assured Forester, "But we also know that consumers don't want to sacrifice the scratch resistance and durability that they've come to expect. Gorilla Glass DX and Gorilla Glass DX+ address this challenge by delivering outstanding readability combined with best-in-class scratch resistance and the inherent toughness of Gorilla Glass, making them ideal for today's advanced mobile displays."
Technically speaking Both Gorilla Glass DX and Gorilla Glass DX+ improve the front surface reflection by 75 percent compared to standard glass. The layers increase the display contrast ratio by as much as 50 percent, without impacting the display's brightness level.
Corning Gorilla Glass DX and Gorilla Glass DX+: Availability
Gorilla Glass DX features enhanced optics with the same scratch resistance as that of Gorilla Glass for smartphones. Gorilla Glass DX+, on the other hand, provides clearer optics with superior scratch resistance matching that of alternative luxury cover materials (sapphire). Essentially, buyers of luxury or lifestyle smartwatches can expect their devices to be protected by Gorilla Glass DX+. Meanwhile, those who prefer to rely on their smartwatches for active fitness and workout regimes may get devices protected by Gorilla Glass DX.