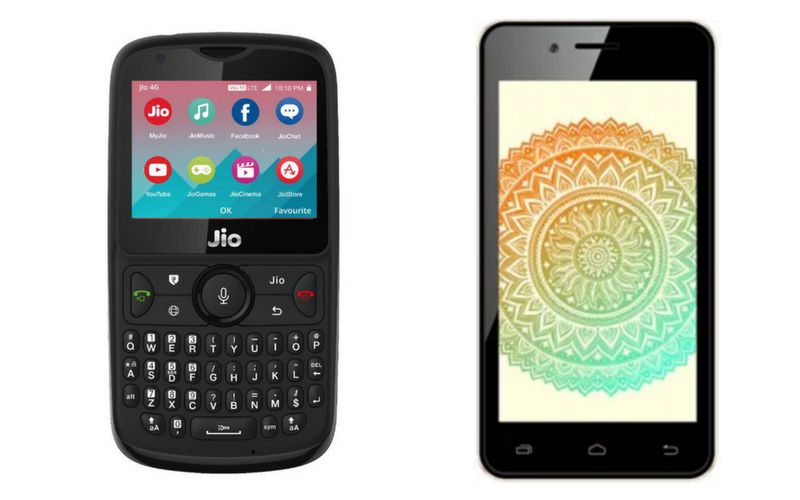 After the success of its first affordable feature phone, Reliance Jio introduced its successor Jio Phone 2 earlier this month. With its cost-effective 4G services and voice calling benefits, Reliance Jio is pacing towards becoming the number one telecom operator in the country. In a bid to compete with Reliance Jio's dominance over the 4G and budget 4G smartphone market, telecom operator Airtel also announced the release of a new smartphone manufactured by budget phone manufacturer Karbonn. In this article, we are comparing the likes of these affordable 4G phones.
Jio Phone 2 vs Airtel Karbonn A40: Price in India
The price for Jio Phone 2 in India is set at Rs. 2999. Jio Phone 2 pre-booking starts from 15th August 2018. The Jio Phone 2 4GB variant comes in only Black color. The Karbonn A40 4G is available Rs. 2,649 on Amazon.
Jio Phone 2 vs Airtel Karbonn A40: Design, Display
The Jio Phone 2 is an affordable feature phone from Reliance Jio that offers VoLTE support. The handset sports a bar design and is small and compact which aids better handling of the phone. The Jio Phone 2 similar to its predecessor Jio Phone comes with a 2.4-inch screen and features QWERTY keypad instead. The Jio Phone 2 sports a panic button which when pressed will send messages to the concerned person in case of an emergency.
The Karbonn A40 4G is an upgraded version of the earlier Karbonn A40 smartphone, with 4G compatibility being its most notable modification. The Karbonn A40 4G sports a 4-inch IPS LCD panel with a resolution of 400×800. In terms of display, Airtel Karbonn A40 scores more than Jio Phone 2.
Jio Phone 2 vs Airtel Karbonn A40: Performance, Hardware
Jio Phone 2 is a feature phone with minimal specifications suffice to run 4G on the device. The hardware detailing for the feature phone is insignificant. Airtel Karbonn A40, on the other hand, features a quad-core processor clocked at 1.3GHz along with 1GB of RAM and 8GB of internal storage which can be expanded up to 32GB via microSD expansion. So, running even commonly used apps such as Facebook and Messenger will be a chore, given the underpowered processor and low amount of RAM on the device. You can also forget about multitasking and gaming on this device altogether.
The Jio Phone 2 ships with 4GB of internal storage space for apps and storing data. With this feature phone, you also have the option of boosting the storage further using a microSD card up to 128GB. In terms of hardware, none of the devices has anything to offer.
Jio Phone 2 vs Airtel Karbonn A40: Camera, Imaging
The Jio Phone 2 hosts a 2-megapixel rear sensor. The rear snapper on the phone is also accompanied by an LED flash which can be used for low-light photography and also serve as a flashlight. On the front, the device houses a 0.3-megapixel front-facing image snapper.
The Airtel Karbonn A40 has a 5-megapixel primary camera on the record and a 0.3-megapixels secondary camera, but both the cameras are equally disappointing. Both cameras lack flash, and their daytime performance is probably worse than the low light performance of the Jio Phone 2. Since it's a budget phone, the cameras are only embedded for the sake of keeping the feature and to provide just the essentials germane image capturing.
Jio Phone 2 vs Airtel Karbonn A40: Battery, OS, Other Specifications
For power, the Jio Phone 2 is loaded with a 2,000mAh battery which is expected to support talk time up to 14 hours. On the connectivity front, the options include Wi-Fi 802.11 b/g/n, NFC, 4G with VoLTE support, Bluetooth to transfer and receive files and data, and dual SIM support.
The Airtel Karbonn A40 is fuelled by a 1,400mAh Li-ion unit which will be hard-pressed to run even half a day. However, you can think of the device as a portable multimedia player that also offers internet and phone call functionality. The device runs Android Nougat 7.0 out of the box. The device is compatible with 4G and VoLTE and offers dual SIM slots. For connectivity, the options include 802.11 b/g/n WiFi, Bluetooth, GPS and a micro USB port for charging and data transfer.
Jio Phone 2 vs Airtel Karbonn A40: Final Verdict
For an almost similar price, both the devices do not offer much. But at least, Jio Phone 2 does justice to its feature phone tag. Also, the offering from Reliance Jio has reportedly performed better and comes with better data offerings from the owner company. Hence, we declare Jio Phone 2 as our winner for this comparison.