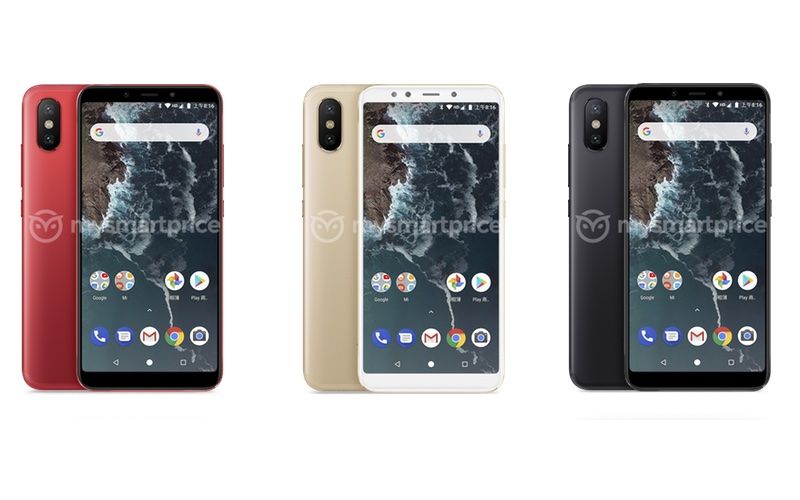 The Xiaomi Mi A2 is set to be released in just a few days on July 24 at an event in Spain but that hasn't stopped a number of retailers from listing the device as available for sale.
Don't miss: Mi A2, Mi A2 Lite: Should You Wait For These Xiaomi Android One Phones or Buy Redmi Note 5 Pro?
We've already seen the Mi A2 leaked multiple times and at this point know exactly what to expect at the launch event. Then the device was listed on a Polish and Romanian website and now a Chinese and UK store has listed the device for pre-order with some the device already listed with some discounts.
Xiaomi Mi A2: Listed for Pre-Orders
Despite the Mi A2 not being launched yet, it didn't stop online retailers listing it up for pre-order. The UK eGlobal Central is selling the 4GB/64GB configuration Mi A2 for £209.99 ($276) which is a discount of 13% even before the device is launched. The Chinese Banggood store is offering the same configuration handset for even less – $229.99 with 15% off.
Xiaomi Mi A2: Specifications, Features
The Xiaomi Mi A2 will be released with a 5.99-inch Full-screen IPS display with Full HD+ resolution at 1080×2160 that will see an 18:9 aspect ratio, similar to that found in the Redmi Note 5 Pro. The Mi A2 will be powered by a Snapdragon 660 octa-core processor clocked at 2.2 GHz with an Adreno 512 GPU. The Mi A2 is expected to be offered in three configurations – 4GB RAM with 32GB storage, a 4GB RAM option with 64GB of storage, and finally a 6GB RAM options with 128GB storage. The device isn't expected to come with an external memory card slot, so be sure to buy the device with the desired amount of information.
As far as cameras go, at the rear of the device will be a 12-megapixel paired with a 20-megapixel dual-camera setup with phase-detection autofocus, AI Scene Detection, and an AI-powered Portrait Mode. The smartphone will also be capable of shooting 4K Ultra HD videos. On the front of the device, the Mi A2 will have a 20-megapixel camera that should provide some decent selfies. All of this is powered by a 3010mAh battery that should be enough to see you through a day of use with decent usage. It'll launch with Android One and will have a rear-mounted fingerprint sensor and given the Android One software will see Android Oreo 8.1 out of the box with a stock experience.
We've already seen the capabilities of the Mi A2 with the contributing photographer for National Geographic on assignment in Portugal using the device with great effect to offer DSLR-like bokeh effects to blur the background.
Xiaomi Mi A2: Launch
The Xiaomi A2 will launch alongside the Mi A2 Lite at the July 24 event in Spain. It seems strange why retailers would decide to list up the device, with a price discount included nonetheless, before the company has even officially unveiled it. Sometimes the pre-orders will come with a disclaimer that the price may fluctuate and is subject to change launch, so it could very well be a marketing technique to secure early sales of the product. On the other hand, the Mi A2 is probably the worst kept secret to date having had every element leaked to date and already appeared and been taken down on a number of other websites.
With only a few days left to wait until we see Xiaomi unveil the Mi A2, with little left to the imagination, we'll see what surprises, if any, the company has and what reception the device will have with residents of India. Are you excited about the Mi A2? Drop us a comment below and let us know your thoughts.