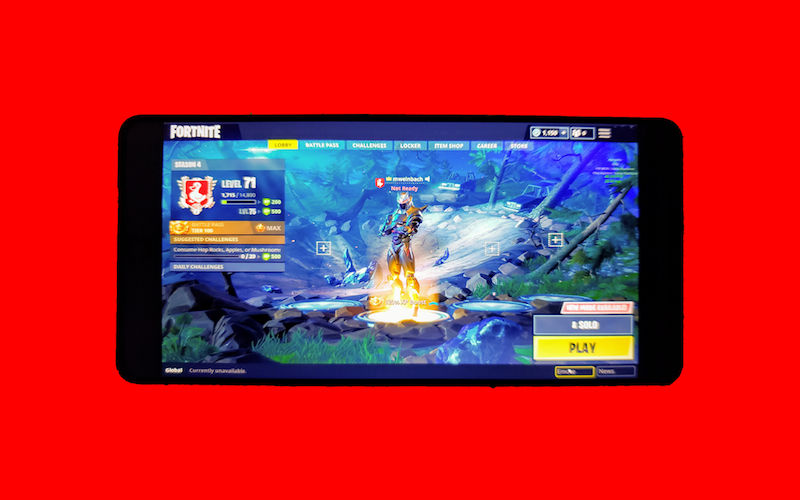 If you have been waiting to play Fortnite on your Android smartphone, then you must've already heard that the game will soon be released on to the platform. The super-hit online multiplayer battle royale game has been available on pretty much every other operating system, except for Android.
That is soon going to change, as Fortnite for Android is coming very soon. It has been reported that the game will be released alongside the upcoming Samsung Galaxy Note 9, and will be a Note 9 exclusive for a month. Here's what you need to know about the game.
Fortnite Mobile for Android
Fortnite is an online multiplayer game with a battle royale style gameplay, similar to PUBG. The game was released on iOS earlier this year, and has been a huge success so far. The Android version has been expected for quite some time, and it is finally coming.
The gameplay is very addictive, as you will be playing against 99 other players, for a chance to win the game. You can build, destroy, gather weapons, and team up with friends to be victorious. The maps are similar to what you would find on the desktop and iOS version of the game. You board the battle bus, drop in your favorite zone, and fight your way to victory.
However, Epic Games, the developer behind the game, may not be releasing the game on the Play Store for Android. Instead, users will have to directly download the APK from the website and side-load it on to their smartphones. It is being reported, that Epic Games is doing this to bypass the in-app purchasing fees taken by Google on the Play Store. Also, the developer has released a list of smartphones that would support the game on launch.
Fortnite Mobile for Android – Release Date
As mentioned earlier, the Fortnite Mobile for Android release date is set for August 9th. The game will be announced alongside the Samsung Galaxy Note 9 and will be available on other Android smartphones after a month. Those who pre-order the Galaxy Note 9, will receive V-Bucks worth around $150 for free. V-Bucks is the in-game currency, that can be used to purchase items, passes, and more.
Fortnite Mobile on Android – Supported Devices
It is normal for game developers to target specific smartphones for their games. After all, Fortnite Mobile is going to be a demanding game, and will require a good powerful smartphone to work at its best.
At launch, Fortine Mobile for Android will support around 40 smartphones. If you haven't got the listed smartphone, then do not panic, as more devices will be supported post launch. The developer is still testing the game on various mobile phones, and there are a tonne of Android smartphones out there. Each phone has to be tested and the game needs to be properly optimized for it. Therefore, it may take some time for your smartphone to support the game, if it doesn't already.
Below is a list of all the 40 devices that will support Fortnite Mobile on launch;
Huawei Mate 10
Huawei Mate 10 Lite
Huawei Mate 10 Pro
Huawei P10
Huawei P10 Plus
Huawei P10 Lite
Huawei P9
Huawei P9 Lite
Huawei P8 Lite (2017)
Razer Phone
Samsung Galaxy A5 (2017)
Samsung Galaxy A7 (2017)
Samsung Galaxy J7 Prime (2017)
Samsung Galaxy J7 Pro (2017)
Samsung Galaxy On7 (2016)
Sony Xperia XA1 Ultra
Sony Xperia XA1 Plus
Sony Xperia XZ
Sony Xperia XZs
Sony Xperia XZ1
You may have noticed that the list doesn't include flagship smartphones from OnePlus, Lenovo, Xiaomi, and a few others. Do not worry, most of the phones from these manufacturers will definitely be able to run Fortnite Mobile.