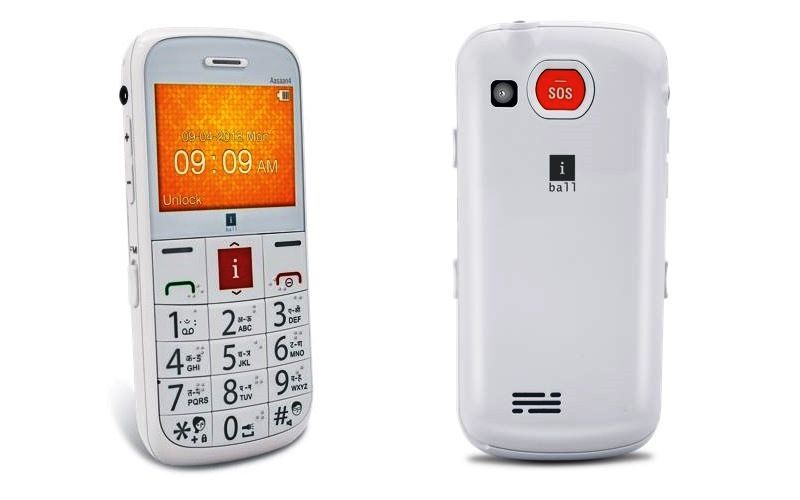 iBall has launched Aasaan 4, a feature phone designed for senior citizens. The simple mobile phone for the elderly offers features that are easy to use and can be accessed quickly in times of emergency. Interestingly, the phone could also be used by other people, including the disabled, in varied situations thanks to its versatility
Indian electronics and mobile phone maker, iBall, has launched the fourth generation of its popular Aasaan series of feature phones. These phones are certainly not the large-screen smartphones that most companies are making. However, the Aasaan 4 is an interesting and appealing device not just to senior citizens, but also people who are looking for a simple device that offers basic but helpful communication features that can become a life-saver.
iBall Aasaan 4: Features
The most notable feature of the feature phone is the extra-large keypad. The keypad offers physical keys, but it isn't a full QWERTY keyboard. The keypad is the increasingly rare to find T9 type that clubs several alphabets on a single key. Incidentally, the number keys and numbers printed on them are quite large. iBall has ensured that the keys will be clearly legible for the elders.
In addition to the large keys, iBall has enlarged even the numbers displayed on the relatively tiny 2.31-inch display with big fonts. iBall has even offered Braille symbols on the keys for people with vision impairment. Interestingly, Aasaan 4 also offers a "talking keypad". In essence, the keypad loudly announces the digit pressed in English, allowing even blind people to easily use the feature phone. Also, iBall assures it has boosted the audio output on Aasaan 4.
The critical feature of iBall Aasaan 4, which significantly enhances its appeal, is the emergency calling feature and a dedicated SOS button. Pressing the button activates a loud siren to alert people or bystanders nearby in caser of an emergency. Women who frequently have to travel alone or on unsafe routes will certainly find this feature useful. iBall also offers a simple mobile tracking feature. Essentially, the feature alerts a designated contact if someone replaces the SIM card.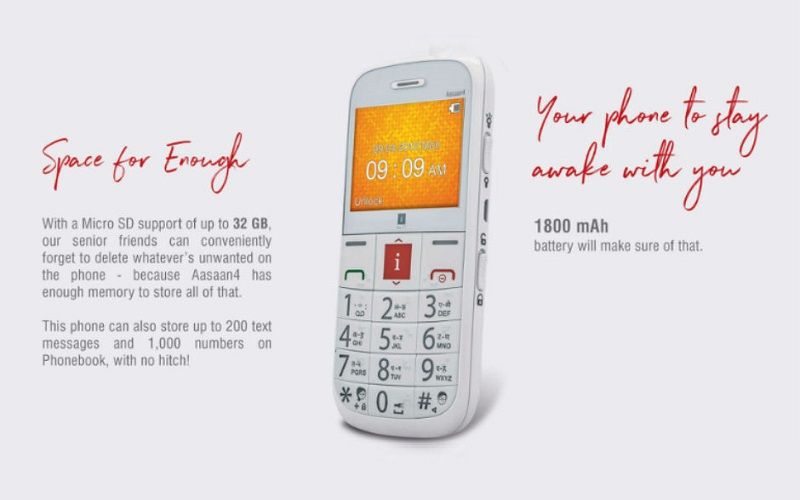 iBall Aasaan 4: Specifications
Being a feature phone, iBall Aasaan 4 doesn't pack any powerful hardware. However, it packs several important features that a communication device meant primarily for senior citizens must have. The feature phone supports one touch buttons for phone lock, LED torch and wireless FM. The user interface has been designed to be very simple and easy for elder people with physical limitations.
The mobile phone can take up to 32GB micro-SD card. iBall hasn't confirmed but it is quite likely the phone may offer a simple music playback app. There's no information about the internal memory as well. However, iBall confirms Aasaan 4 can hold over 200 text messages and 1,000 contacts independently on the phonebook.
One of the main highlights of Aasaan 4 is undoubtedly its huge battery. Despite being a feature phone, iBall has put in a 1,800mAh Lithium ion battery in Aasaan 4. Being a simple feature phone with just a 2.31-inch display, this battery can easily last for multiple days without needing a recharge. iBall hasn't confirmed the available standby time with this battery. Needless to mention, this is a critical feature not just for senior citizens but also for people who travel.
iBall Aasaan 4: Price and Availability
iBall has launched Aasaan 4 feature phone at Rs. 3,499. The price does seem a little steep for a feature phone. Several companies, including Reliance Jio, offer 4G feature phones at very attractive prices. However, iBall is offering a phone that caters to a niche market with limited but specific and unique needs. Aasaan 4 is available only in white color.