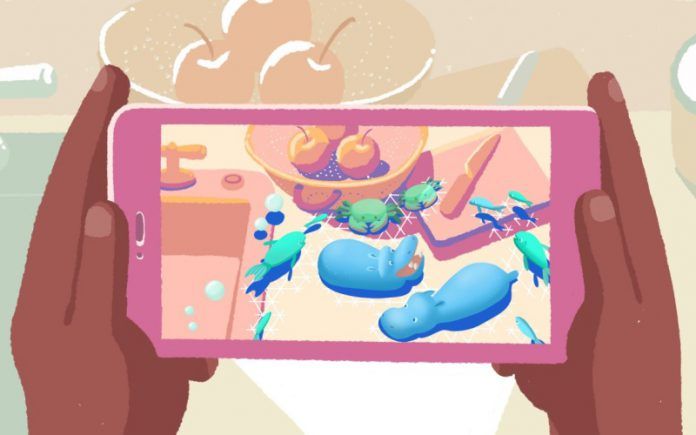 Earlier this week, a teardown of the ARCore v1.4 APK had revealed that the latest update to ARCore brings support for a number of new devices. Google has now officially updated its list of supported ARCore devices and has also released a detailed changelog on the Play Store for the latest version of ARCore.
ARCore 1.4: Brings Support for Huawei Nova 3, Nova 3i, Vivo NEX and More
The latest version of Google's ARCore adds support for some newly launched devices like the Honor 10, Huawei Nova 3, Huawei Nova 3i, Vivo NEX A, Vivo NEX S, Samsung Galaxy A6 (2018), and the Xiaomi Mi 8 SE. and the Mi 8. Apart from these Android devices, ARCore 1.4 is also compatible with the latest Apple mobile devices running iOS 11.0 or later versions. These include the iPhone X, iPhone 8 Plus, iPhone 8, iPhone 7 Plus, iPhone 7, iPhone 6S Plus, iPhone 6S, iPhone SE, 12.9-inch iPad Pro (2nd Generation), 12.9-inch iPad Pro (1st Generation), iPad (6th Generation), and iPad (5th Generation). Google's ARCore can even be installed on select devices in China, including the Xiaomi Mi Mix 2S, Mi 8, Huawei P20, Huawei P20 Pro, and Porsche Design Mate RS. Google ARCore is available to download from the Xiaomi app store as well as Huawei Apps Gallery in China. However, the updated list does not include any unannounced devices like the Pixel 3, Pixel 3 XL, Xperia XZ3 and Nokia Phoenix that were revealed in the APK teardown recently.
ARCore 1.4: Other Supported Devices
While the above devices are the latest to gain support for Google's ARCore, several popular Android devices from leading manufacturers are already supported. The list of existing devices supporting ARCore includes the ASUS ZenFone AR, ZenFone ARES, Google Nexus 5X, Nexus 6P, Pixel, Pixel XL, Pixel 2, Pixel 2 XL, Nokia 6 (2018), Nokia 7 Plus, Nokia 8, Nokia 8 Sirocco, Huawei P20, Huawei P20 Pro, Porsche Design Mate RS, LG G6, LG G7 ThinQ, LG V30, V30+, V30+ JOJO, V35 ThinQ, Moto G5S Plus, Moto G6, Moto G6 Plus, Moto X4, Moto Z2 Force, Moto Z3 Play, OnePlus 3T, OnePlus 5, OnePlus 5T, OnePlus 6, Samsung Galaxy A5 (2017), Galaxy A7 (2017), Galaxy A8, Galaxy A8 Plus, Galaxy Note 8, Galaxy S7, Galaxy S7 Edge, Galaxy S8, Galaxy S8 Plus, Galaxy S9, Galaxy S9 Plus, Sony Xperia XZ Premium, Xperia XZ1, Xperia XZ1 Compact, and the Xiaomi Mi Mix 2S.
ARCore 1.4: What's New in the Latest Version?
Going by the changelog posted by Google on the Play Store, the latest version of ARCore brings support for passthrough camera auto focus, improved plane detection speed, and additional image resolutions supported for computer vision.
What is ARCore?
ARCore, as the name suggests, is Google's platform for building augmented reality (AR) experiences. Thanks to various APIs, ARCore helps smartphones sense their environment, under the world and interact with information. Some of these APIs are available both on Google's Android as well as Apple's iOS mobile operating systems, enabling shared AR experiences. The three key capabilities used by ARCore to integrate virtual content with the real world seen through the phone camera include motion tracking, environmental understanding, and light estimation. Motion tracking lets the smartphone understand and also track its position relative to the world. Environment understand allows it to detect both size and location of various surfaces like the ground, coffee table, or walls in the real world. Light estimation helps devices to estimate the current lighting conditions of the environment around. Since ARCore does not require any additional hardware to work, it is compatible with a wide variety of phones.
Thanks for reading till the end of this article. For more such informative and exclusive tech content, like our Facebook page