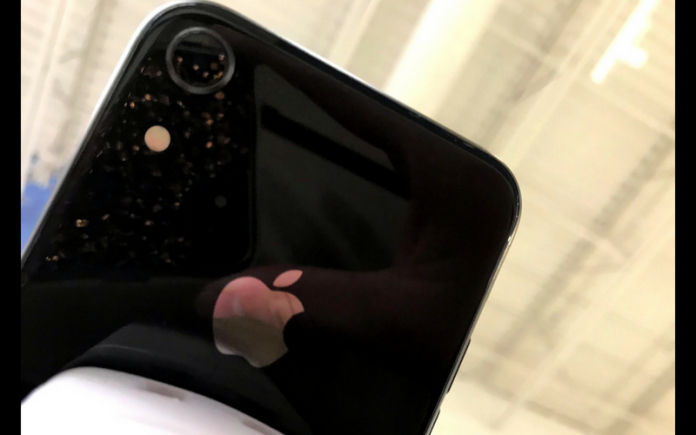 It seems that the iPhone 9 will not come with a dual rear camera after all. In a series of leaks, an image of the Apple iPhone 9, purportedly from the factory itself, was leaked online, and it shows the handset to be sporting a single rear camera instead of a dual 12MP+12MP setup as was speculated earlier. While this news is also unconfirmed, here's what we know.
Apple iPhone 9: Big, Single Camera Lens
The Apple iPhone 9, according to today's leak, will sport a glass back with a single-sensor rear camera, aided by a flash that is placed below it, with the camera going on the top left corner of the rear glass panel. The lens on the camera looks larger than most other single rear cameras, and this could be a new move by Apple aimed at attracting buyers to this phone, as a large sensor means more light coming in and hence better photography even in low light conditions.
The flash on the rear panel is, according to the leak, a dual-tone LED flash. Apple hasn't announced this phone yet, but it is expected to make a statement about it in September.
Apple iPhone 9: Rumoured and Leaked Specifications, Features
The Apple iPhone 9 may not have been announced yet, but Apple fans sure are talking about it. There have been leaks of dummy units of the phone and all in all, we do have some numbers. The Apple iPhone 9 is speculated to come with a 6.1-inch LCD display and a 5.2-inch OLED display in a separate model, and now, we see that the rear camera, as well as the front one, will be single-sensor units.
The phone is expected to pack a 2GB RAM and 64GB internal storage, with a 2,050 mAh Li-Po battery. It will run the iOS 11 and have the A11 octa-core chipset powering it. The front camera should have a 7MP sensor and HD video recording ability, and the device is expected to ship with a Type-C reversible USB connector. The device will have Bluetooth 5.0, NFC, dual SIM 4G and VoLTE support. According to a recent leak, the Apple iPhone 9 will come in two or more variants, with one OLED display option and a cheaper LCD display model.
The LCD display is rumoured to be a Full Active LCD display, with bezels thinner than that of the iPhone X, and a new touch sensing technology. While the OLED display was expected to be 5.2-inch in size, the LCD display is speculated to be 6.1-inch diagonally, and it will follow the tall display design.
Apple iPhone 9: Price in India
The Apple iPhone 9 is expected to launch at Rs 74,999 in India, but since there are a couple of variants, we will have to wait for some hints or some more leaks to have more confidence about the pricing of the Apple iPhone 9 in India. The company California-based giant is expected to make an announcement in September, and if that happens, Apple fans may be able to buy the iPhone 9 by September end or October this year.
Thanks for reading till the end of this article. For more such informative and exclusive tech content, like our Facebook page