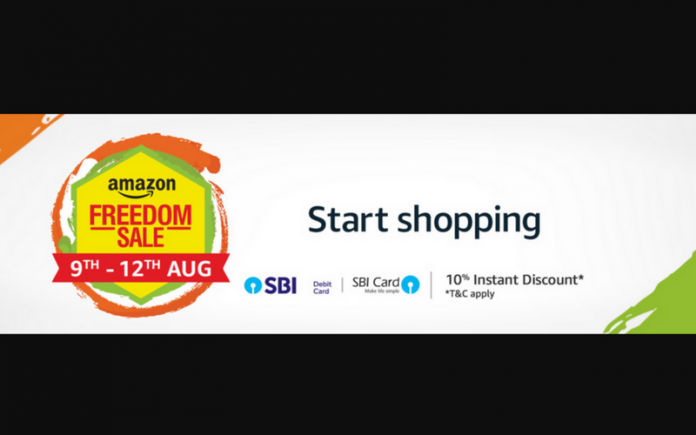 As Amazon Freedom Sale hits the third day, the offers seem to be getting even more appealing. From instant discounts on smartphones to big cash-back offers on home appliances and electronics, the Amazon's sale must not be missed.
Amazon is currently running its Freedom Sale from August 9 to 12. The sale doesn't seem to extend till India's Independence Day, celebrated on August 15. Hence, buyers looking for their next mobile phone, be it entry-level, budget or flagship, must explore the plethora of options now. The sale also includes hundreds of other popular products, consumer electronics, consumer durables, and even essentials, ranging from televisions to washing machines. Amazon's Freedom sale includes flat discounts on a range of smartphones alongside attractive exchange prices and no-cost EMI options for others. Let's take a look at some of the offers and discounted prices on smartphones.
Amazon Freedom Sale Day 3: Lightening Deals On Vivo, Moto, Honor, OnePlus, Samsung Galaxy Note Series, Huawei, and More
The third day of the Amazon Freedom Sale has plenty of smartphones from all the major brands, including, Vivo, Moto, Honor, OnePlus, Samsung, Huawei, etc. Some of the notable mentions include Samsung Galaxy Note 8, OnePlus 6, and several mobile devices from Honor, Huawei, Motorola, Asus, etc. The sale also has the powerful Huawei P20 Pro listed a full Rs. 10,000 lower than its sticker price. Interestingly, even Oppo F7 can be bought at an attractive price. The Honor View 10 costs Rs. 24,999, while the Samsung Galaxy Note 8 sports a reduced price of Rs. 55,900.
It is amply clear that the Chinese smartphone makers are trying exceptionally hard to attract buyers. The recently launched Vivo Nex that sports a pop-up front camera is available at an effective price of Rs. 44,900 with benefits taking the price even lower. Some other interesting mobile phones include the 10.Or E smartphone, which is available for just Rs. 5,499. However, even for buyers who only consider Samsung smartphones, there's plenty of choices. Several smartphones from the Galaxy On-series and J-series are available at significantly discounted prices.
Amazon Freedom Sale Day 3: Exchange Offers
The Amazon Freedom Sale is offering some great deals on smartphones. However, the deals can become even better with better-than-usual prices in exchange of old smartphones. There are several smartphones in the upper-end and premium segment that have exceptional offers on exchanges. The Huawei P20 Lite, for example, can be bought for an additional discount of up to Rs. 8,000 by exchanging a select few old smartphones.
Amazon is offering a great deal to the Motorola fans by including several mid-range and premium Moto handset. Even buyers looking for the latest OnePlus 6 smartphone can avail fabulously low prices.  Besides a minimum of Rs. 2,000 on the exchange, there are several data-bundle offers from 4G telecom companies like Reliance Jio, Idea, etc. Even Amazon itself offers discounted access to its Amazon Prime Video subscription. Interestingly, the Amazon Freedom Sale has great exchange offers and discounts on a wide range of smartphones that fit every budget.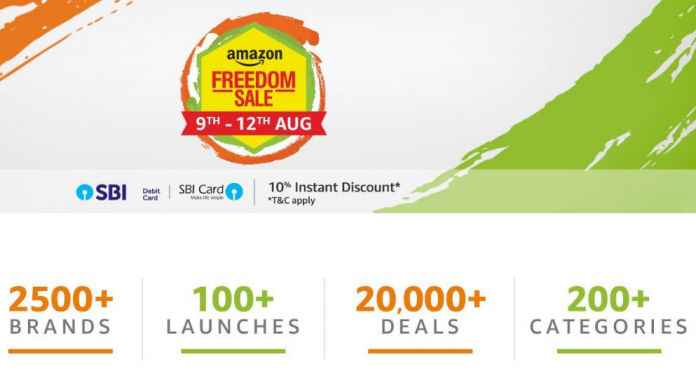 Amazon Freedom Sale Day 3: Offers on Electronics, TVs, and Other Products
The sale is a great opportunity to buy a computer or laptop. Amazon is offering as much as Rs. 25,000 worth of discounts and cash-back offers on some of the most popular and powerful personal computer models and laptops. Customers can get as much as 25 percent off on several PCs and laptops. Amazon is currently offering as much as Rs. 17,000 to Rs. 20,000 off on almost a 1,000 models of laptops.
Besides personal computers, Amazon has hundreds of other products in dozens of categories on sale. High-end DSLR cameras, large capacity Memory Cards, internal and external disk drives, computer and multimedia speakers, and surround sound systems are just some of the categories where deep discounts exist.
Amazon Freedom Sale also includes Televisions, Gaming gear, Smartwatches, and Musical instruments. Some of the products in these categories are selling up to 40 percent below their sticker price. Televisions, LED models in particular, also have exchange benefits of up to Rs. 22,000. Buyers can purchase a majority of the products in consumer electronics with no-cost EMI options, some of which, start even below Rs. 1,000 per month.
Amazon Freedom Sale: Best Way To Get The Fast-Selling Products Before They Are Sold-Out
The Amazon Freedom Sale is a great time to be an Amazon Prime member. Apart from the discounted prices that greet normal customers, the Amazon Prime members get access to several more offers. However, for those who do not want to miss out on any deals, we at MSP Gear recommend following the list of prerequisites:
Get the Amazon app and sign in to your Amazon account
Now, recharge your Amazon Pay account that will ensure faster checkouts
Keep adding wanted products into wish-list for a quick purchase.
Do not wait around, grab the offer that you're looking for and complete the purchase quickly.
Needless to mention, buyers eagerly participate in the Amazon Freedom Sale. Hence the quickest customers are usually rewarded, while those who hesitate, end up with a big wish-list.