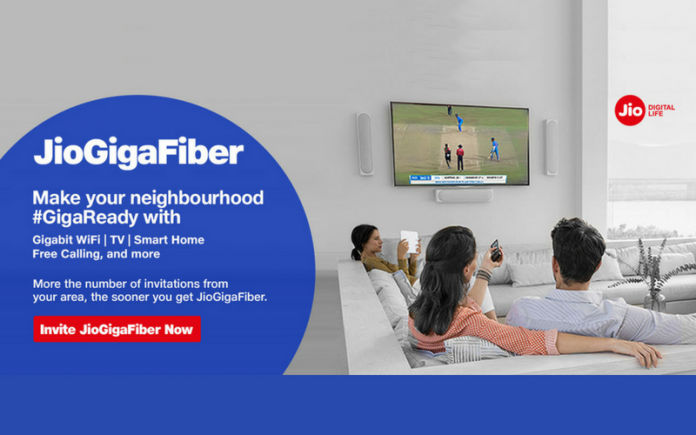 Reliance Jio GigaFiber broadband will begin taking registration requests today. The ambitious pan-India home and commercial broadband service is eagerly awaited. But the Indian business tycoon Mukesh Ambani's Reliance Jio has successfully managed to withhold information about tariffs and plans. However, with the registrations starting today, Indians have a chance of gaining access to ultra-high speed optical fiber internet service.
The Jio GigaFiber is India's first broadband service that goes across the country on a dense network of optical fibers. Reliance Jio has been laying the network for several years. In fact, the currently deployed Jio 4G mobile telephony and internet service too relies on this very optical fiber network to deliver high-speed wireless connectivity. The Jio GigaFiber is essentially a Fiber-To-The-Home (FTTH) broadband service that arrives to the doorstep of the subscriber. The company is offering the FTTH network as an all-in-one solution that combines a host of services including broadband, IPTV, landline, virtual reality gaming, security products, Internet of Things (IoT) and many more.
Reliance Jio GigaFiber: How To Register
Registrations for the Jio GigaFiber service will started today, 15th August, which coincidentally, is India's Independence Day. There's is no charge for the registration. However, to register you need to visit the JioGigaFiber Registration Page, where you need to provide your address first. Then you will be aske for name and phone number where you need to verify your number with the OTP. Once you verify you will be taked to the thank you page where you can add more addresses.
Reliance Jio is allowing its current customers as well as hopefuls to register for the Jio GigaFiber FTTH service. Existing Jio 4G customers can register through the MyJio app, while the new customers hoping to get the gigabit internet service for their residential or commercial properties can head over to Reliance Jio's official website Jio.com.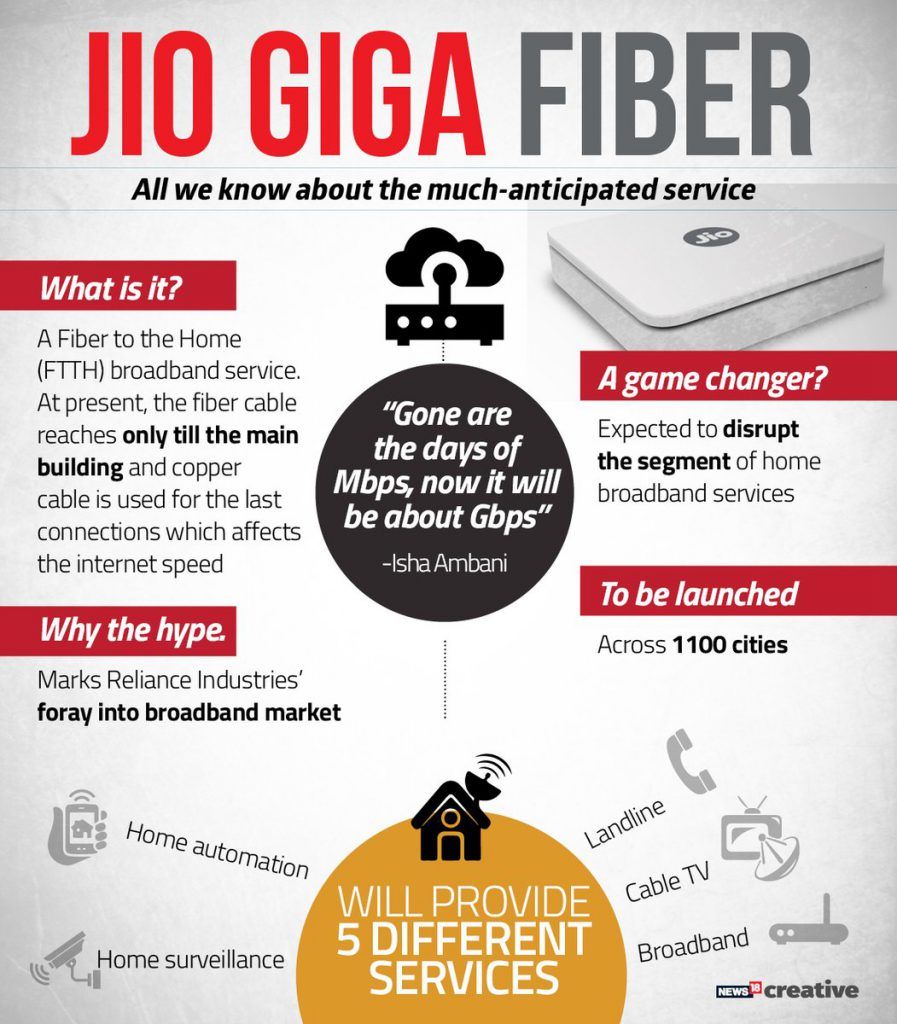 The registrations are merely an "Expression of Interest". In other words, merely registering for access doesn't ensure Jio will install the FTTH service. The company has clearly noted that it will prioritize the localities and cities from where it received the maximum registrations. In other words, Jio is merely using the registrations to gauge interest and develop deployment strategy. The registrations will also allow the company to install the Jio GigaFiber in areas where there is high number of interested customers. This will ensure the company's extensive investment starts offering returns quickly.
Reliance Jio had previously claimed it will bring the Jio GigaFiber to 1,100 cities and towns. However, it is quite likely the company will prioritize about 80 areas that fall in Tier I and Tier II markets.
Will Reliance Jio GigaFiber Offer Free Broadband Connection?
Reliance Jio has been extensively testing the Jio GigaFiber FTTH service in a few towns and cities for quite some time. During the testing phase, the company offered free service to select customers who had to merely pay a Rs.4,500 one-time security deposit.
But this time around, the Jio GigaFiber FTTH service will most likely involve regular tariffs. Fortunately, Reliance Jio currently offers 4G mobile services for very low and attractive tariffs. Hence it is possible that the FTTH service will have similarly low tariffs aimed at garnering customers. Jio hasn't explicitly confirmed prices. But tech experts speculate the company will attempt to break the market with tariffs that will be about 25 to 50 percent lower than prevailing rates. Interestingly, other leading broadband service providers have already begun slashing prices.
In case Jio GigaFiber takes the same approach as Jio 4G did initially, then users could get 100GB of monthly data for 90 days at 100Mbps speed. Based on satisfaction with the service, customers could extend the subscription by paying monthly, quarterly or annual subscription charges. Similar to common practice, the long-term plans would offer a substantial discount as compared to the monthly subscription plans.
Jio GigaFiber: Features
Jio GigaFiber is a broadband initiative that is looking to target residential as well as small businesses. The broadband services should start at low tariffs initially. Plans could start as low as Rs. 500. The broadband service will, however, offer ultra-fast internet connectivity through its dedicated and privately owned fiber optic cable network.
Jio claims to provide lossless data transmission, which means higher internet speeds. As per initial suggestions, the network is set to deliver speeds starting from 50Mbps all the way up to 150Mbps, which is significantly higher than current conventional Internet Service Providers (ISP).
As part of the subscription, users will get an access to a Jio GigaRouter and JioGigaTV. The Jio GigaRouter is designed to provide a high-speed internet connectivity with speeds up to 1Gbps. The JioGigaTV is obviously a set-up-box. It will grant access to over 600 plus channels, thousands of movies, and millions of songs on demand. The 4K ready streaming box comes with a remote control that includes a mic to accept voice commands.
Jio GigaFiber is a combination of ultra-high speed fixed broadband, IPTV, landline, video conferencing, home security, virtual reality, and many more, rolled into one. There are several accessories that Reliance Jio GigaFiber is actively adding to the service. The MyJio app could serve as a smart hub to control the several devices that will run on the high-speed internet backbone.
Reports indicate Reliance Jio GigaFiber is keen to deploy commercial operations before the mega Indian festival of Diwali. Although the company is offering everyone a chance to register, it will first deploy the FTTH service in areas with the highest user density.
Thanks for reading till the end of this article. For more such informative and exclusive tech content, like our Facebook page