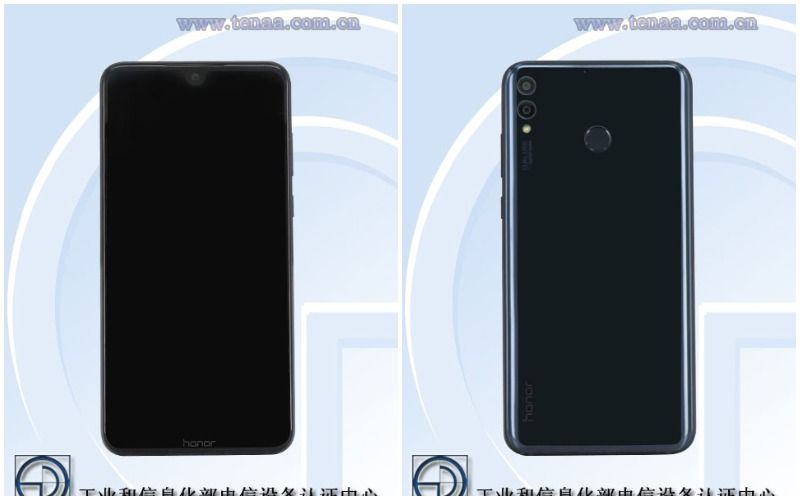 On August 15, the Honor 8X, which might also be called Honor Enjoy 8S was spotted on TENAA showing two different models when it came to the display of the phone. However, we have stumbled upon new information regarding the smartphone and it comes with a massive battery capacity. For buyers in India who want a large battery and decent all-round specifications, we strongly recommend that you wait for the launch of this device.
Honor 8X or Honor Enjoy 8S: TENAA Reveals Specifications
The Honor 8X/Honor Enjoy 8S was earlier reported to feature a 6.5-inch display, but according to specifications listed at TENAA, the smartphone will come with an even larger 7.12-inch IPS LCD screen, with a resolution of 2244 x 1080. The dimensions of the device are 177.57 x 86.24 x 8.13 mm and it will weigh in at 210 grams, making it reasonably heavy item when compared to other smartphones.
The handset will be considered a tablet, but thanks to the increased screen-to-body ratio, taller display and slimmer bezels, the Honor 8X/Honor Enjoy 8S will easily be able to get used by a large majority of the Indian smartphone market. However, you can only purchase this device if your preference lies with buying a phone that comes with a massive screen as well as a mammoth-sized battery of 4900mAh.
The smartphone will also likely feature a Kirin 710 chipset, with an octa-core processor running at a speed of 1.8GHz, paired with 4GB of RAM and 64GB of onboard storage. Luckily, the onboard storage that you get with the smartphone is expandable up to 256GB via microSD card slot. Coming to the camera, the handset will come with a 16 + 2MP dual-camera at the back, with the 2MP secondary camera most likely present for depth sensing information and creating images with Bokeh effects. The front camera will be an 8MP unit, according to the specifications.
A fingerprint reader is going to be present at the back and there is a possibility that the smartphone comes with a Face Unlock option. As for the software, the Honor 8X/Honor Enjoy 8S is going to be running Android 8.1 Oreo out of the box.
Honor 8X or Honor Enjoy 8S: Previous Rumors
The Honor 8X/Honor Enjoy 8S, as reported before was rumoured to get a 6.5-inch display, but from the looks of it, the device will actually be larger. Its battery was also expected to be smaller 3500mAh unit, but thanks to the increased display size, the phone will, fortunately, ship with a 4900mAh capacity, and that is going to be beneficial for the buyers. If you need to know, the model number of this device is ARE-L00 and a previous leak stated that there might be a triple-camera sensor on the device.
It was also leaked that there would be two models with a different display. One would feature a V-shaped notch while the other variant would have a regular-sized notch. Honor might be testing out different versions of the 8X/Enjoy 8S or it is possible that these two models are going to be directed towards different markets. Still, the variant featuring a V-shaped notch will be much better in terms of design because it will give buyers additional screen to play around with.
Alleged Honor 8X or Honor Enjoy 8S: Expected Launch Date
The launch of the Honor 8X/Honor Enjoy 8S is a subject that has not been introduced in the limelight but we recommend that you continue to follow the Honor India Twitter account for more details. Huawei is going to be making an appearance at the IFA 2018 trade show in Berlin, which is going to start from August 31. If there is anything that Huawei could be launching, whether using its own brand name or using Honor's, it is definitely going to happen after the trade show is over.