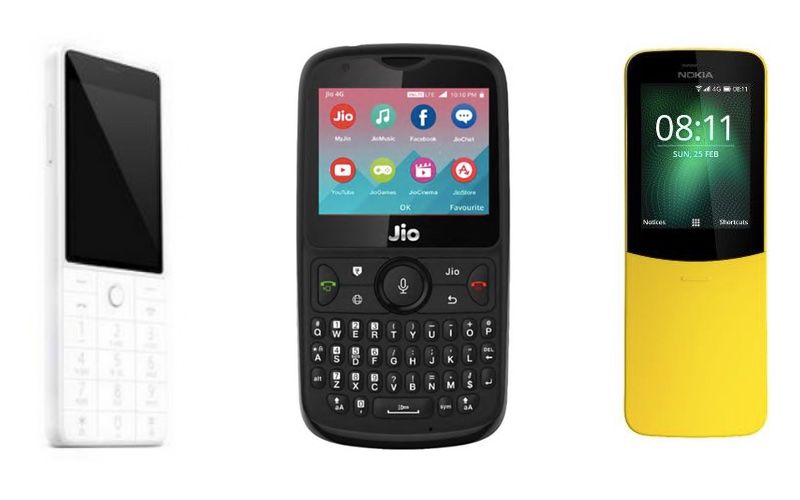 The Reliance Jio Phone 2 went on sale earlier on August 17 which is the first time in India. It was available for pre-orders on Jio.com, however, the phone went out of stock soon after going live thereby, disappointing a thousands of prospective customers. With the next sale of the smartphone scheduled on August 30, we decided to take a look at two of its alternatives, and how it stacks up against them.
Jio Phone 2 vs Xiaomi Qin AI vs Nokia 8110 4G: Price in India
The Reliance Jio Phone 2 is priced in India at Rs 2,999. It will be available for sale in the country exclusively through Jio.com. On the other hand, the Nokia 8110 4G is priced way higher at Rs 6,140, and is currently available for sale via Amazon and a wide range of brick and mortar shops. Last but not the least, the Xiaomi Qin AI smartphone is not yet available in India. It is exclusively available in China and is priced at 199 Yuan i.e. Rs 1,999 approximately. This makes its the cheapest of the lot.
Jio Phone 2 vs Xiaomi Qin AI vs Nokia 8110 4G: Display, Performance
Being feature phones all three handset come with modestly small displays. Additionally, neither of the 4G VoLTE capable devices comes with touch screen displays. Among the trio, the Xiaomi Qin AI has the largest display at 2.8 inches, whereas the other two come with a markedly smaller 2.4 inch panel. The display on all three devices come with QVGA (320 x 240p) resolution. Furthermore, the panel on the Xiaomi Qin AI is the best among the three, as it's a LCD IPS panel as compared to the TFT (Thin Film Transistor) panels present on the Reliance Jio Phone 2 and the Nokia 8110 4G.
In terms of performance, the Xiaomi Qin AI appears to be the most promising. It is powered by a 1.3GHz Dual Core (2 x Cortex A53) Spreadtrum SC97820SE processor. That's clubbed with 256MB of RAM and just 512MB of internal storage. The Reliance Jio Phone 2, on the other hand, rocks an unspecified 1.1GHz dual core processor. With that said, the Jio Phone 2 is expected to perform better in multitasking, all thanks to its markedly larger 512MB of RAM. The storage too on the new Jio Phone is on the higher side; at 4GB. Additionally, one can further expand the memory of the smartphone to 128GB. Finally, the Nokia 8110 4G is the slowest of the lot, but then again its doesn't really need much firepower considering its run on a very basic OS.
Jio Phone 2 vs Xiaomi Qin AI vs Nokia 8110 4G: Connectivity, Software
All three handsets come with 4G VoLTE support out of the box. That said, the Relinace Jio Phone 2 is exclusively for Jio's own network, and won't work with any other carriers. Therefore, you are stuck with only two options if you plan to use a 4G VoLTE network from some other carrier like Vodafone or Airtel.
Coming to the software, the Reliance Jio Phone 2 and Xiaomi Qin AI both run on a baked version of Firefox and Android respectively. The Nokia 8110 4G, on the other hand, run on a stock user interface and lacks the Android genetics. This means you can't really download and install third party apps on this phone, which you can otherwise do in the other two phones.
The Reliance Jio Phone 2 basically runs on a custom made version of Android popularly called the Kai OS. It's a completely new OS based Firefox's mobile operating system. It's a Linux based OS that built by a company called Kai OS Technologies. While this platform has limited support for app as compared to Android, the popularity of first generation Jio Phone triggered developers of popular apps like WhatsApp, Facebook and a few more to port their apps for the new OS. Xiaomi, on the other hand, powers its all-new Qin AI 4G VoLTE phone with Mocor OS 5.0. It's basically, a custom made light version of Android with limited functionality. That said, you can download an array of Android apps from its proprietary app store. Being a China exclusive product, the Xiaomi Qi AI phone currently misses out on Google Play.
Jio Phone 2 vs Xiaomi Qin AI vs Nokia 8110 4G: Verdict
The Xiaomi Qin AI phone at just Rs 1,999 appears to offer the best bang for the buck. Its offers nearly similar features to that of the Jio Phone 2. Sadly, the smartphone isn't currently available in India. So, just in case you wouldn't like to go through the hassle of importing one, its better you stick to the Reliance Jio Phone 2. At Rs 2,999 it surely beats the overpriced Nokia 8110 4G.