The latest leak of the Motorola One Power reveals hands-on live images of the smartphone, and while the company has not officially revealed a launch date for the smartphone, this leak is enough to know that the release date is going to be approaching very soon.
Motorola One Power: Hands-On Image Leaked
The hands-on live image reveals the one and only Motorola One Power. There are several pieces of evidence that point towards this model being the one that is being talked about. Firstly, the dual-camera at the back is placed in a vertical orientation and from what we have seen in leaks, rumours and other live images, the One Power always featured a dual-camera that was present in such a position.
Next comes the Motorola logo which is present on the phone's back and placed right at the bottom. Once again, numerous leaks have shown that the Motorola One Power will feature the company's logo right at that position and even though the image is not clear, the words 'Android One' will also be printed, revealing that this smartphone will belong to a different category running a slightly operating system introduced by Google.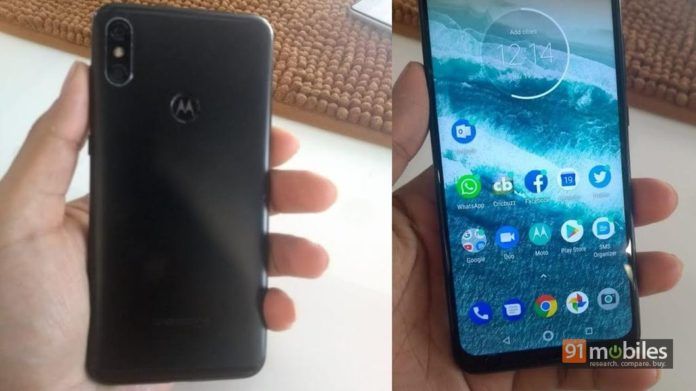 Having a device belong to the Android One series means that your phone will be eligible to receive software and security updates much faster than regular gadgets. Another benefit is that these smartphones will be running with little to no bloatware, so you will have ample system resources available for you to tackle a variety of other tasks.
Motorola One Power: Rumored Specifications, Features
The Moto One Power will feature a 6.2-inch 2280 x 1080 display with a 19:9 aspect ratio and come with IPS LCD technology instead of OLED to reduce costs. The smartphone is going to be running the Android 8.1 Oreo update and as mentioned above, it is said to belong to the Android One family. While it will not receive software and security updates as quickly as the Pixel series, they will still be timely releases.
The performance of the smartphone is going to be tested and executed by the Snapdragon 636, which features an octa-core CPU that is able to satisfy users because of its processing capabilities. Premium-grade smartphones which are also affordable like the Xiaomi Redmi Note 5 Pro are running the same SoC. The Motorola One Power is also said to feature 4GB RAM, with internal storage capped at 64GB but a microSD card slot is available to expand that storage up to 256GB.
As mentioned above, the One Power will have a dual-rear-camera setup with a 12 + 5MP unit and the ability to record 4K video at 30fps. The front camera is going to be an 8MP unit. Connectivity options will include things like Bluetooth 5.0, Wi-Fi 802.11 a/b/g/n/ac, dual-band, Wi-Fi Direct, Hotspot. The smartphone will also be providing support for fast-charging but will not feature wireless charging.
Thankfully, because of its large screen, the smartphone is expected to house a large 3780mAh battery, so even under heavy use, the user can expect the Motorola One Power to last for an entire day. Charging of the smartphone is going to be done via USB-C port.
Motorola One Power: Expected Release Date, Price
After this hands-on image leak, the Motorola One Power could be seeing a launch in the near future. This also means that the Indian market might see a launch thanks to its price and performance ratio. As for the pricing, the exact details of the smartphone have not been listed, but it is expected to retail for Rs. 23999. From the looks of things, there is only going to be a single variant getting released and the majority of times, that is actually a good thing if you want to avoid confusion.