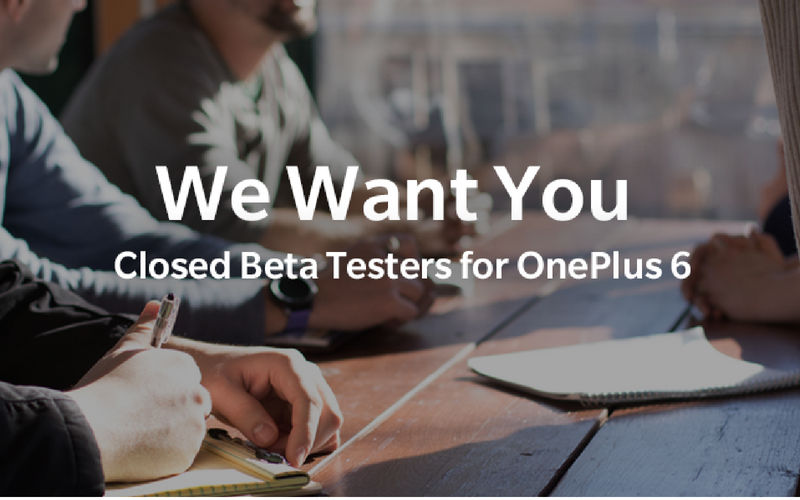 OnePlus, as a company, relies on customer feedback to improve its products and software. It also listens to its fans and followers when making a new smartphone. That is one of the reasons why OnePlus has become so popular and big in such a short period of time. And now, the company has announced that it is recruiting members for its OnePlus 6 OxygenOS Closed Beta Program.
The Closed Beta Program is for the most important/active members of the OnePlus community. The selected people will get access to features and software updates that regular users may not get for months. These builds are usually labelled as 'alpha', and it will several issues and will not be polished.
It is the duty of the selected to provide proper feedback for improving the software. This program is for the OnePlus 6, so only those who own that device can apply. You will also need to be an active member of the community.
The OnePlus 6 is currently running Open Betas, available for anyone, of Android 9.0 Pie. This was one of the first phones to get the Android P developer preview and the testing has been going on since then. The official update should be released soon, but as a part of Closed Beta program, you will continue receiving new updates.
How to Apply for OnePlus 6 Closed Beta Program
So, you want to join the OnePlus 6 Closed Beta Program? The application requirements are not that hard. As of now, the company is seeking around 100 participants for the program.
All you have to do to join the program, is own a OnePlus 6 device, be a very active member of the OnePlus community, and should communicate with the core OnePlus Team members on Slack.
Apart from that, you should be open to running early alpha software on your device. The Closed beta builds pave way to the Open Beta and final builds of a software. Therefore, your feedback is very important. As a Closed Beta member, you will have to sign an NDA with OnePlus. That means, you cannot share the firmware, or disclose features to anyone.
Sometime, these Closed Beta builds will need the testers to completely wipe their phone. OnePlus would also release builds on a more frequent basis, when compared to Open Beta. You can expect around 4 updates in a month alone, so that's a lot of flashing. Open Beta users only get about 2 updates in a month.
So, if you are ready to do all the above mentioned steps, then you can go ahead and apply to be part of the Closed Beta Program.
OnePlus 6: Android 9.0 Pie
Like we said earlier, this Closed Beta Program is to test builds that are based on Android 9.0 Pie. And recently, a report stated that OnePlus could release an Open Beta build for the OnePlus 6, which would be based on Android 9.0 Pie as well.
A week ago, OnePlus started seeding an Open Beta of HydrogenOS based on Android 9.0 Pie in China. Therefore, it is highly possible that the users will start seeing an Open beta update by the end of this month. Android 9.0 Pie will bring several improvements and some design changes to the device. OnePlus will also add some of its customization features to make the software even better for its users.
After the OnePlus 6 gets the Open Beta update, it would be the OnePlus 5T that gets the update. The company has promised that even the OnePlus 3/3T smartphones will be getting the update.