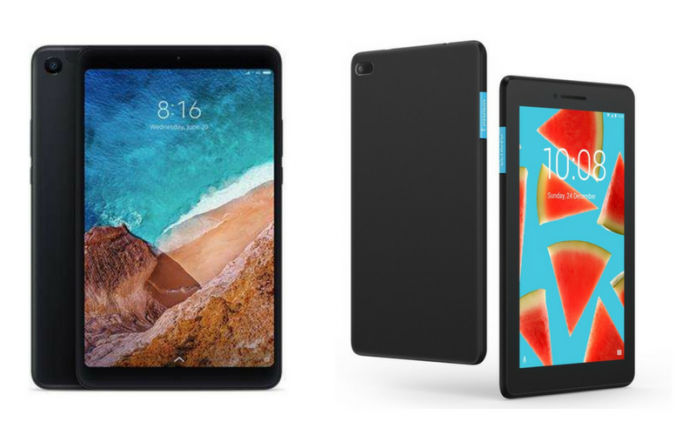 While some may argue that Android tablets are dead with lack of optimisation for the larger screen when it comes to apps, Lenovo seems to think there is still benefit in developing a tablet and has unveiled the worlds first tablet that runs Android Go. The latest low cost tablet from the company is in impulse buy territory but it also means it goes up against the popular Xiaomi Mi Pad 4.
Xiaomi Mi Pad 4 vs Lenovo Tab E7: Display
The Mi Pad 4 features a 8.0-inch display with 77.1% screen-to-body ratio, which may seem low when compared to some of the latest smartphones but tablets are typically designed with bigger bezels given the way they are held when used. You'll get a 1200 x 1920 resolution with 16:10 ratio that equates to 283 pixels-per-inch. Compare that to the smaller 7.0-inch display with a 1024 x 600 screen on the Lenovo Tab E7 that sees a significantly less impressive screen.
Xiaomi Mi Pad 4 vs Lenovo Tab E7: Performance, Hardware Specifications
The Mi Pad 4 is powered by a Qualcomm SDM660 Snapdragon 660 Octa-core (4×2.2 GHz Kryo 260 & 4×1.8 GHz Kryo 260) its Adreno 512 GPU. This is paired with 64 GB of internal storage with 4 GB RAM (Wi-Fi or LTE model) or 32 GB of storage with 3 GB RAM (Wi-Fi model). The Lenovo Tab E7 is powered by a 1.3Ghz MediaTek processor and just 1GB of RAM. While that may seem like a small amount of RAM for a tablet, the Tab E7 is the first tablet in the world to run Google's optimized Android Go software that offers Lite version of apps to cater for devices with lower specs.
Xiaomi Mi Pad 4 vs Lenovo Tab E7: Camera
If you are taking pictures with your tablet then you need to take a long hard look in the mirror, especially when the smartphone in your pocket will have a much better camera than the 0.3-megapixel on the front and the 2-megapixel on the rear. Compare this with the 13-megapixel f/2.0 lens on the rear of the Mi Pad 4 and the 5-megapixel f/2.0 lens on the front of the device and you'll be much better equipped if you absolutely must take pictures with your tablet.
Xiaomi Mi Pad 4 vs Lenovo Tab E7: Battery
You'll get a small battery on the Tab E7 when it comes to tablets at just 2750mAh but it'll be enough to get you around 5 hours of video playback. You'll get more than double the capacity on the Mi Pad 4 with a huge 6000mAh battery that will last a lot longer.
With media consumption one of the primary reasons people buy tablets, you'll certainly want the biggest battery you can get to ensure that you are not left searching for a charger on that long road trip.
Xiaomi Mi Pad 4 vs Lenovo Tab E7: Price In India, Verdict
The Lenovo Tab E7 ships in October for just $70 (Rs. 4884) and will accompany a 10-inch version with a faster Snapdragon 210 that will arrive for just $130. The Xiaomi Mi Pad 4 is on offer for ₹ 16,990 or around $243 making it more expensive than the E7 but with much better specs.
The Lenovo Tab E7 is firmly aimed at those that want an extremely cheap tablet but despite the device running Android Go so will be optimized for lower specifications, the small battery probably won't last long enough to be useful for what a tablet is used for. The Mi Pad 4, while still a budget tablet, is still almost 4-times the amount of the E7 but does offer substantially better specifications so if you can spring that extra amount then it's certainly worth spending that extra money for the Mi Pad 4.
Thanks for reading till the end of this article. For more such informative and exclusive tech content, like our Facebook page