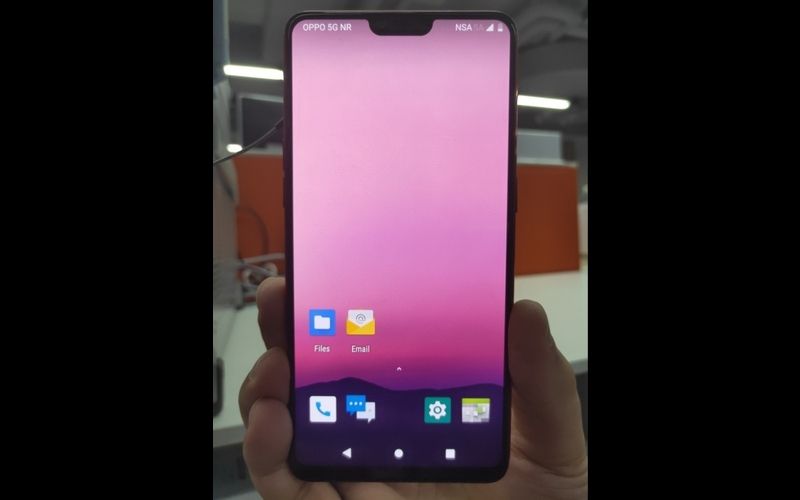 Starting next year, a number of leading smartphone makers are expected to launch their first 5G smartphones. In fact, quite a few companies have claimed so far that they will be the first to launch a 5G smartphone next year. OPPO has now officially announced that it has completed 5G signal tests and data links on a modified version of the R15, which was announced by the company earlier this year.
Modified OPPO R15 Used to Complete 5G Signal Tests
According to reports, OPPO used a modified version of the R15 to test 5G connectivity. In order to do this, the smartphone was equipped with a Qualcomm Snapdragon X50 5G modem, which is capable of delivering speeds of up to 5Gbps. The test was conducted on 3GPP Release 15 NSA standard with the 10 MHz bandwidth of 4G LTE Band 5 and 20 MHz bandwidth of 5G NR n78 band. OPPO says the connection to telecom signal and data links on the modified OPPO R15 will promote the maturity of 5G smartphones and lays down a solid foundation for the company to release commercial 5G smartphones next year. It should be noted that OPPO is actually the first Chinese Android OEM to have successfully completed 5G signaling and data links testing on a commercially available mobile phone.
OPPO Aims to Release First 5G Smartphone Next Year
A few days back, OPPO assistant VP Shen Yiren had revealed the company's plans of launching the first 5G device next year. Yiren confirmed that the development of OPPO's first 5G smartphone is going on quite well and expressed confidence on becoming the first smartphone maker to roll out a 5G device in 2019. OPPO had announced its partnership with Qualcomm for 5G mobile phones earlier this year. As part of the partnership, OPPO has been receiving solutions like radio frequency front-end field directly from the chipmaker. In May this year, OPPO demonstrated the world's first 5G live 3D video call in association with Qualcomm. The live 3D video call was made possible using a depth-sensing camera and a fast 5G modem. Back then, OPPO had claimed the technology would become available in approximately six months. The prototype used to make the live 3D video call was a modified OPPO R11s with a depth-sensing camera. OPPO will be integrating the 3D structured light camera and 3D video calling system in its first 5G smartphone, which is expected to make its debut early next year.
However, OPPO is not the only manufacturer that is currently working hard on becoming the first company to launch a 5G smartphone next year. Lenovo Vice President Chang Cheng had claimed last month that his company will be the first to launch a smartphone with 5G connectivity. The Lenovo 5G smartphone is expected to be powered by Qualcomm's next-generation Snapdragon 855 mobile chipset. Huawei is another manufacturer that is making a similar claim. Like Lenovo and OPPO, Huawei too expects to launch its first 5G smartphone next year. Some other brands like OnePlus and LG are expected to release their first 5G smartphones in the first half of 2019.