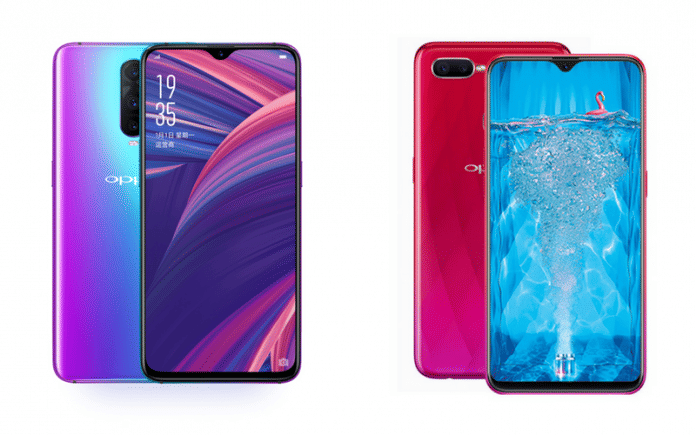 Oppo has actively started to introduce powerful and feature-packed smartphones in quick successions. The Oppo F9 and Oppo F9 Pro were launched only a few weeks ago in China. Soon after the capable mid-range Android smartphone was launched in India, Oppo announced the launch of Oppo R17 and R17 Pro.
Interestingly, the Oppo F9 Pro and the R17 Pro share a lot of design similarities. Apart from the fact that these are premium offerings are from Oppo, both the devices have near identical physical size. They have quite similar and beautiful water drop display size with impressive screen to body ratio exceeding 90 percent. They even have identical battery capacities, and other cosmetic similarities. In fact, apart from the choice of fingerprint scanner and camera setup, it would be a bit difficult to set the smartphones apart by just looking at them.
However, under the hood, these are quite different smartphones. Now that Oppo has officially unveiled the Oppo R17 and R17 Pro, here are five important differences between the two Pro versions of Oppo smartphones, let us compare the Pro versions of the F9 and R17 so that buyers can make an informed decision when R17 Pro arrives in India.
OPPO F9 Pro vs. OPPO R17 Pro: Price in India, Availability
The Oppo F9 Pro smartphone is currently available in India. It sports a sticker price of Rs. 23,990. Incidentally, the price is for the single variant with 6GB RAM and 64GB of internal memory that Oppo launched in India.
The Oppo R17 Pro was recently announced in China. In fact, the smartphone will go on sale in China starting from August 30. Incidentally, the Oppo R17 Pro too, gets a single variant. The version with 8GB of RAM and 128GB of internal memory costs CNY 4,299 (Rs. 44,000 approx.).
OPPO F9 Pro vs. OPPO R17 Pro: More RAM and Internal Memory
While the Oppo F9 packs 4GB of RAM, the Oppo F9 Pro has 6GB of RAM. However, the Oppo R17 Pro one-ups the F9 Pro by packing 8GB of RAM. Although 6GB of RAM is quite sufficient to ensure smooth multitasking and gameplay, the 8GB of RAM makes the R17 Pro future-proof.
Interestingly, Oppo has even opted to go in a different and rather premium direction in terms of processors. The Oppo F9 Pro has a MediaTek Helio P60 chipset clocked at 2.0 GHz. The processor works with ARM Mali-G72 MP3 GPU. On the other hand, the Oppo R17 Pro gets Qualcomm's Snapdragon 670 octa-core processor. The successor to Qualcomm's Snapdragon 660, the Snapdragon 670 is a 10nm mobile processor clocked at up to 2.0 GHz with an Adreno 616 GPU.
Incidentally, the R17 is the first smartphone to run on Qualcomm's newest mid-range Snapdragon 670 octa-core SoC, which offers significant benefits over its predecessor.
OPPO F9 Pro vs. OPPO R17 Pro: Dual Rear Camera vs Triple Rear Camera
The Oppo F9 Pro packs a dual camera setup on the back. Accompanying the 16MP primary is a rather tiny 2MP secondary sensor for depth effect. Both lenses offer f/1.85 apertures. The smartphone packs a very large 24MP, f/2.0 aperture camera for AI-assisted selfies.
The Oppo R17 Pro boasts of a triple camera setup on the back. The primary 12-megapixel lens sports a variable aperture between f/1.5 and f/2.4. Incidentally, this is very similar to latest Samsung's Galaxy S9 and Galaxy Note 9 smartphones. A large secondary 20-megapixel sensor offers depth information. Apart from these sensors, there's a third sensor as well. It is essentially a Time of Flight (TOF) 3D sensing camera which can be employed for producing high-quality 3D images.
Incidentally, both the smartphones pack impressive front camera sensors. While the F9 Pro has 24MP front camera, the R17 Pro packs a 25MP sensor. However, the camera on the F9 Pro allows only 1080p video recording, but the R17 Pro can go up to 4K at 30FPS.
OPPO F9 Pro vs. OPPO R17 Pro: Rear Fingerprint Scanner vs In-Display Scanner
The Oppo F9 Pro is certainly an impressive device, but Oppo has embedded a standard fingerprint scanner on the back of the device. The scanner is quite fast. Moreover, there is Face Unlock facility as well.
The R17 Pro boasts of an in-display fingerprint scanner. Needless to point out, it is certainly a premium feature that's not common yet.
OPPO F9 Pro vs. OPPO R17 Pro: Other Features
Chinese smartphone company Oppo has cleverly priced the two smartphones in separate price ranges. The Oppo F9 Pro sits well into the mid-range Android smartphone category. Meanwhile the just-announced Oppo R17 Pro appears to be a premium smartphone.
Given the specifications, the Oppo F9 Pro appears to justify its price point. The triple cameras on the back, higher RAM and internal storage, in-display fingerprint scanner, Super VOOC charging, and other features are quite premium, but the R17 Pro still packs a mid-range processor. Had the smartphone packed Snapdragon 845 or above, it could have easily justified its rather lofty pricing.
Still, the Oppo R17 and R17 Pro are yet to release in India. The company may decide to slightly correct the sticker price or offer launch discounts to enhance the appeal of the smartphone. We at MSP Gear will certainly update our readers about any new information about the Oppo smartphones.
Thanks for reading till the end of this article. For more such informative and exclusive tech content, like our Facebook page