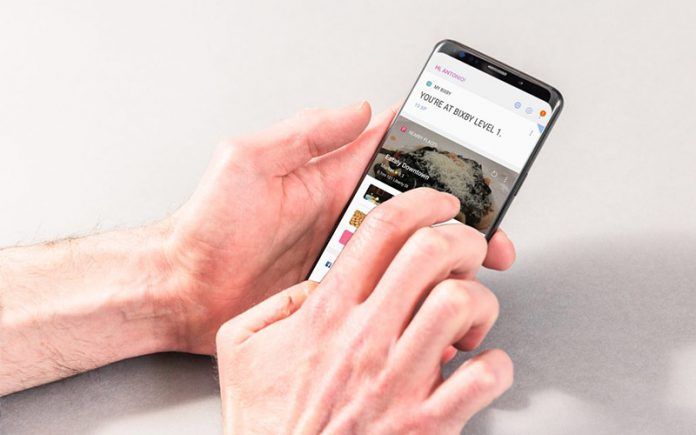 The Galaxy S9 is currently running on Android Oreo, and Samsung is normally slow to roll out software updates, even for its flagship series of smartphones. However, this time, the company might be working a bit faster with the Android 9 Pie update, according to a GFXBench leak.
Galaxy S9 Android 9 Pie Update: Release Details
The information from GFXBench has since been removed, but not before we managed to retrieve information that the Galaxy S9 was expected to be internally tested in terms of software. The benchmark lists the operating system update as 'Android 9' but because the status of the update is written as 'INVALID', it could mean that an unofficial version of the firmware is running on the device.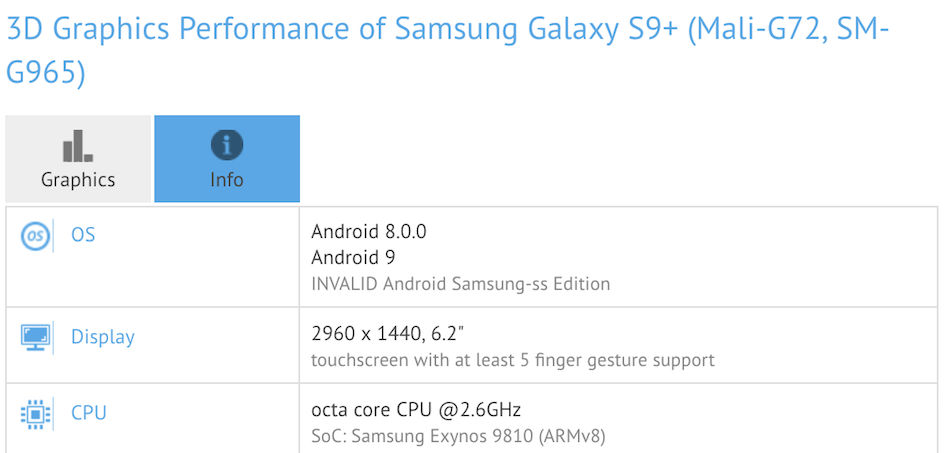 Samsung has not publicly announced the launch of the Android 9 Pie update but the company is a tad slow when it comes to this kind of progress. For example, with the Galaxy S9, even if the update is rolled out this year, do not expect everyone to get it at the same time. Depending on where you're living, you may or may not receive the update quicker.
We certainly have our fingers crossed as we hope that Samsung will publicly announce that Android 9 Pie will be launched for Galaxy S9 this year, so we will keep you updated on this information in the future.
Android 9 Pie: What's New
Android 9 Pie was announced at this year's Google I/O conference and is the ninth major release from the company. Taking advantage of machine learning, Android 9 Pie is expected to make your device smartphone using a feature called Adaptive Battery. This can automatically figure out which apps are used the least and it will be able to close off resources to them in order to save hefty amounts of battery life.
Another feature in Android 9 Pie is called Adaptive Brightness. This will automatically adjust the display brightness based on your current location and the kind of work you are doing on your phone. Also, with the new update, the frequently-performed tasks can be performed even quicker using machine learning.
Digital Wellbeing is also a feature included in this update and it has been made to cut back on phone usage and keep you focused on things that are more important. Android 9 Pie can also change the way apps ask and manage biometric authentication. The request for security PIN, fingerprint verification or iris scanning is now handled at the very core of the Android smartphone platform and not at the surface of the running applications.
Android 9 Pie will also be accompanied by something called 'Slices', where apps can insert themselves into your searches so you can complete a specific task at a faster pace.
Galaxy 9: Specifications, Features
The Galaxy S9 features a 5.8-inch Super AMOLED display with a 2960 x 1440 resolution and an 18.5:9 aspect ratio. In terms of specifications, the smartphone sports 4GB of RAM, along with an Exynos 9810 chipset for the variant that is being sold in the Indian market. In the US, the Galaxy S9 is also available with a Snapdragon 845, but the Exynos 9810 is better in CPU performance, though the Snapdragon 845 trumps the Exynos 9810 in GPU performance.
Samsung has given the Galaxy S9 a camera bump, though the flagship only comes with a single 12MP camera at the back and 8MP camera at the front. However, what is unique the rear camera is that it comes with variable aperture technology, which is the first time that we are seeing this on a smartphone.
The device also comes with 64GB of internal storage, but you can expand your storage through a microSD card slot. However, if you do not want to go through the trouble of purchasing a storage card, you can purchase higher internal storage models that Samsung launched a while back by adding more cash upfront. The smartphone comes with Qi wireless charging support, as well as Samsung's Adaptive Fast Charging technology.
The phone also features a 3000mAh battery, which is the same capacity present in 2017's Galaxy S8. However, buyers will be able to experience slightly better battery life because of the more efficient internal components such as the chipset.
Thanks for reading till the end of this article. For more such informative and exclusive tech content, like our Facebook page