If you're an always-on-the-go gamer who lugs around a bulky gaming laptop for quick sessions of CS: GO, PUBG or any other PC game, you may be interested in a backpack that's specifically designed for consumers like you. We received one such gamer-focussed backpack for review a few weeks ago from Taiwanese brand Cougar Gaming. If you don't know about Cougar Gaming, it's an HEC Group-owned brand that makes gaming-focussed products like keyboards, mice, headphones, backpacks, cabinets, power supplies, cabinet fans, RGB lighting, and even chairs.
The Cougar Fortress is the company's only gaming backpack. The company claims that the Fortress backpack can satisfy all the mobility needs of gamers by fitting all their gaming products, including a gaming laptop, keyboard, mouse, headphones, and other accessories and protecting them in case of accidental drops. The backpack has an anti-vibration, shockproof structure that protects the laptop and other things packed inside the backpack. Priced at just $45.99 in the US, the Cougar Fortress is an enticing product for mobile gamers, but how does it perform in day-to-day use? Let's find out in our review.
Cougar Fortress Gaming Backpack Review: Design & Features
Cougar Fortress Gaming Backpack - Compartments, Design, Pockets
The Cougar Fortress is a tall backpack and it is available in only one, slightly gamer-y colour combination of Black and Orange. The whole exterior of the bag is in black, while the large Cougar logo is in bright orange. Unlike various other gaming backpacks in the market, the Fortress dumps the classic design for a hybrid one which lets users convert it into a shoulder bag if they want to. Its zippers open up like a suitcase. It has two large compartments and two small compartments, one at the front and one at the rear.
The largest compartment also features a numerical lock to keep your expensive gadgets safe from robbers and thieves. The compartment also features two laptop pockets and one of them has a securing strap. You can store your laptop in one pocket and the keyboard in another. Both pockets can fit 15-inch laptops and have shock-proof structures on the inside to keep your gadgets safe from damage on impact. If you have a work laptop and another for gaming, you can carry both in those two pockets. There's also a buckled strap on top of the laptop pocket which lacks a velcro strap, and you can carry a pair of clothes on a weekend trip. The laptop pocket that has a velcro strap has three additional mesh pockets on top of it where you can store smartphones, portable hard disk drives, and other things.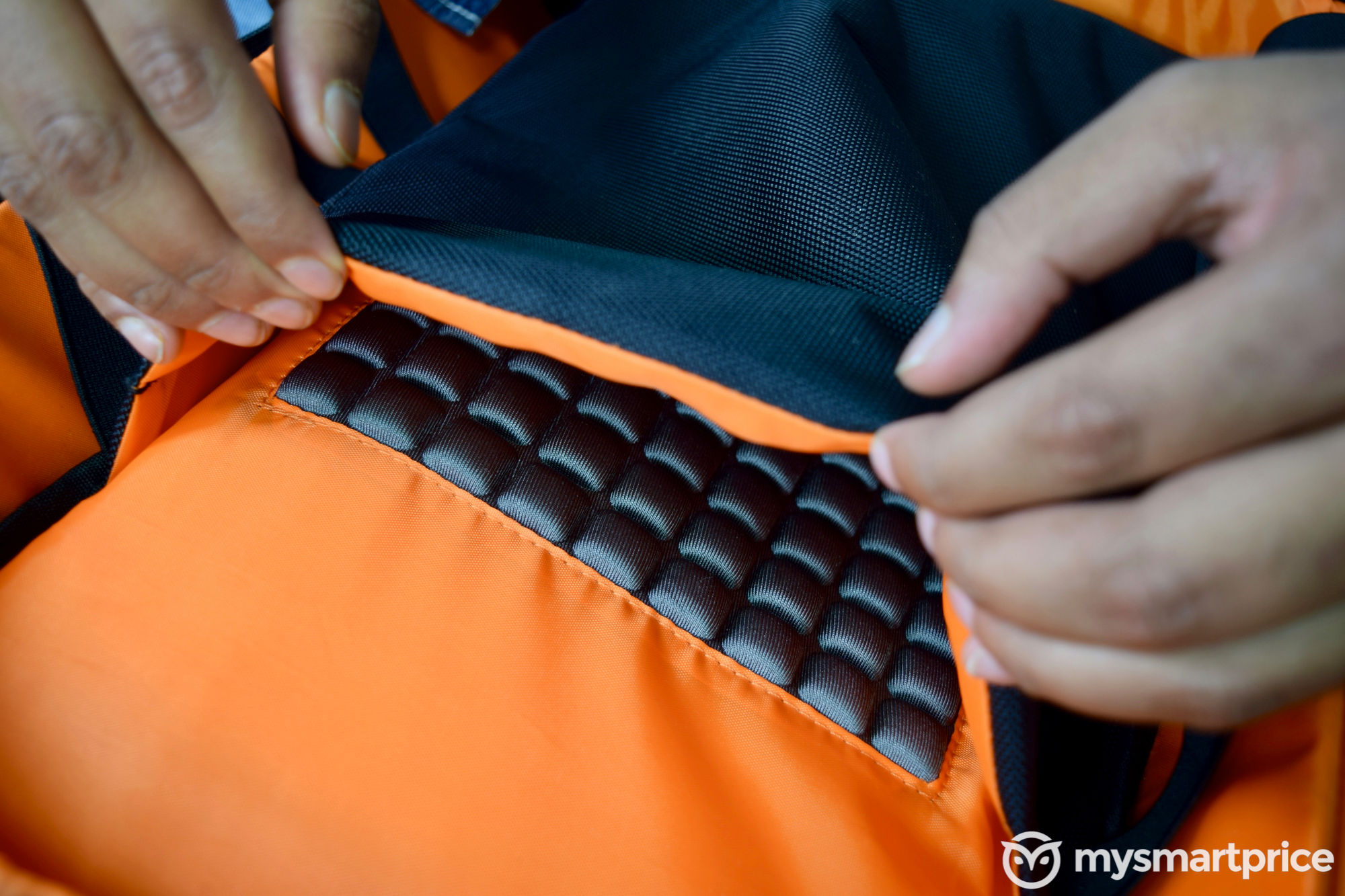 The smaller compartment at the front has pockets to store pens, earphones, keys, smartphones, and other smaller stuff. Surprisingly, the bag we received had fewer pockets than what is showcased on the company's website. Maybe it's a pre-production model? We're not sure. But if similar is the case with retail units, that's not cool. The company should update the images on its website to go in line with exactly what's being offered to buyers. Shoulder strap ships with the bag in case you like carrying shoulder bags. If you want to use the shoulder strap, you can release and hide the regular backpack straps inside the rear zippered pocket and the corner pockets. There's a chest strap as well which can be used when you're carrying a lot of weight inside the bag. There are three paddings at the rear for added comfort.
Cougar Fortress Gaming Backpack Review: Comfort & Experience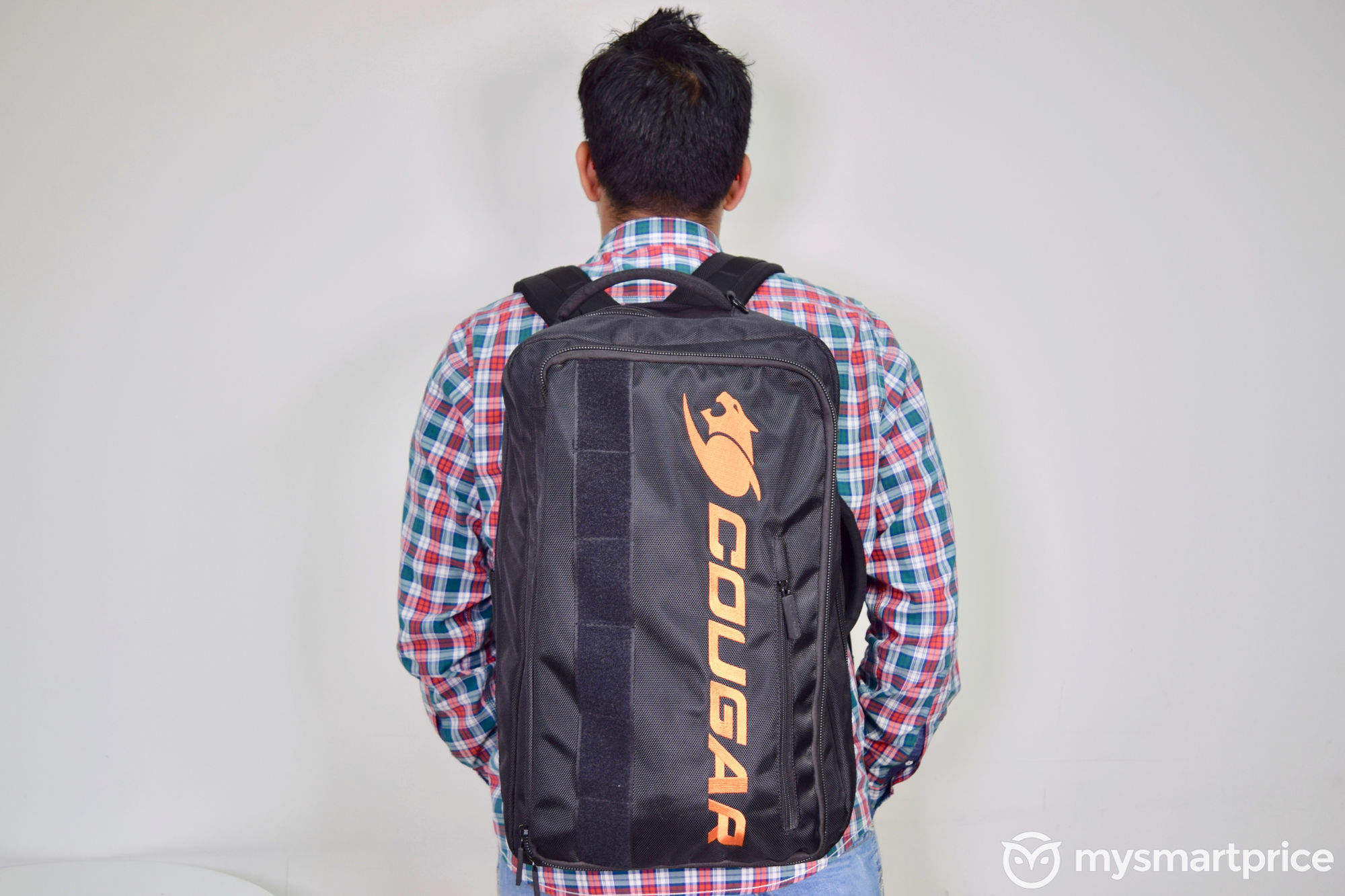 After using the Cougar Fortress gaming backpack as my daily driver for about a month, here are my observations. The backpack not only keeps expensive things such as laptops and accessories safe but it also extremely comfortable to wear and carry around. It is also one of the few backpacks in the market that can be converted into a shoulder bag to match an individual's choice. The padding and anti-shock surface inside the pockets offers reassurance of safety. The backpack also stands upright without any support when placed vertically on any flat surface. Many cheaper backpacks can't do that on their own; you'll have to place them against a wall. There are a lot of thoughtfully designed pockets to keep most of your stuff and the numeric lock means that things inside the largest compartment are safe from theft or unauthorised access.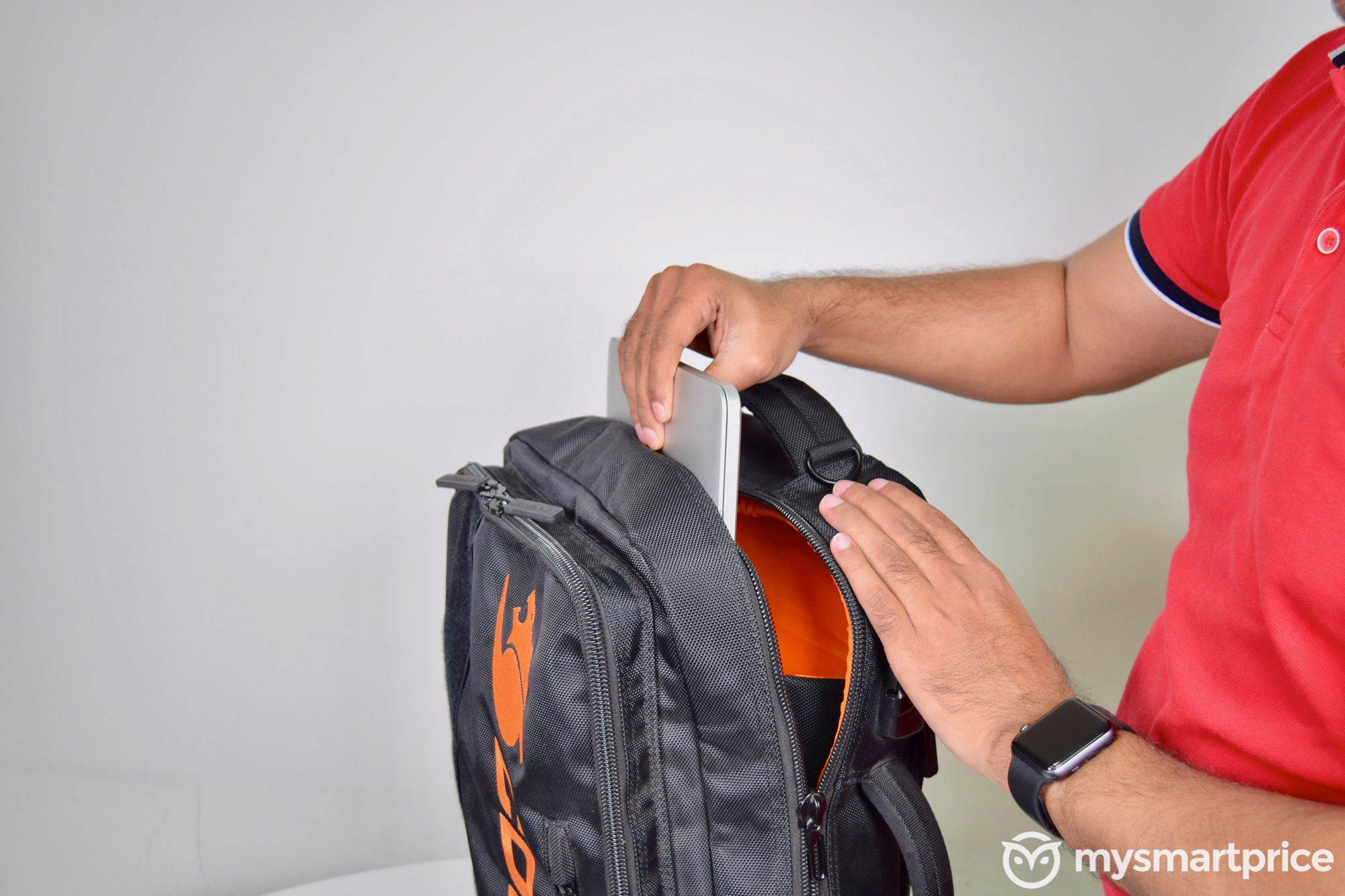 I used the small zipper near the straps as a place to store my wallet and the zipper at the front to store my office ID card. Not everything is perfect, though. Starting off with the thing that I struggled most with: taking things in and out of the bag with the zipper is not fully unzipped is a chore due to its design. I felt cramped while storing things inside the bag or while taking them out. The design might make the bag flexible, allowing the backpack to be opened like a suitcase, but the same design makes things harder when you want to use it as a classic backpack. Not only this. The water bottle pouch on the side of the bag is too small to fit any meaningful-sized bottle. Don't let the images fool you into thinking that you can fit a regular bottle in it. Moreover, the backpack doesn't look particularly cool, even with its bright orange logo.
Cougar Fortress Gaming Backpack Review: Should You Buy It?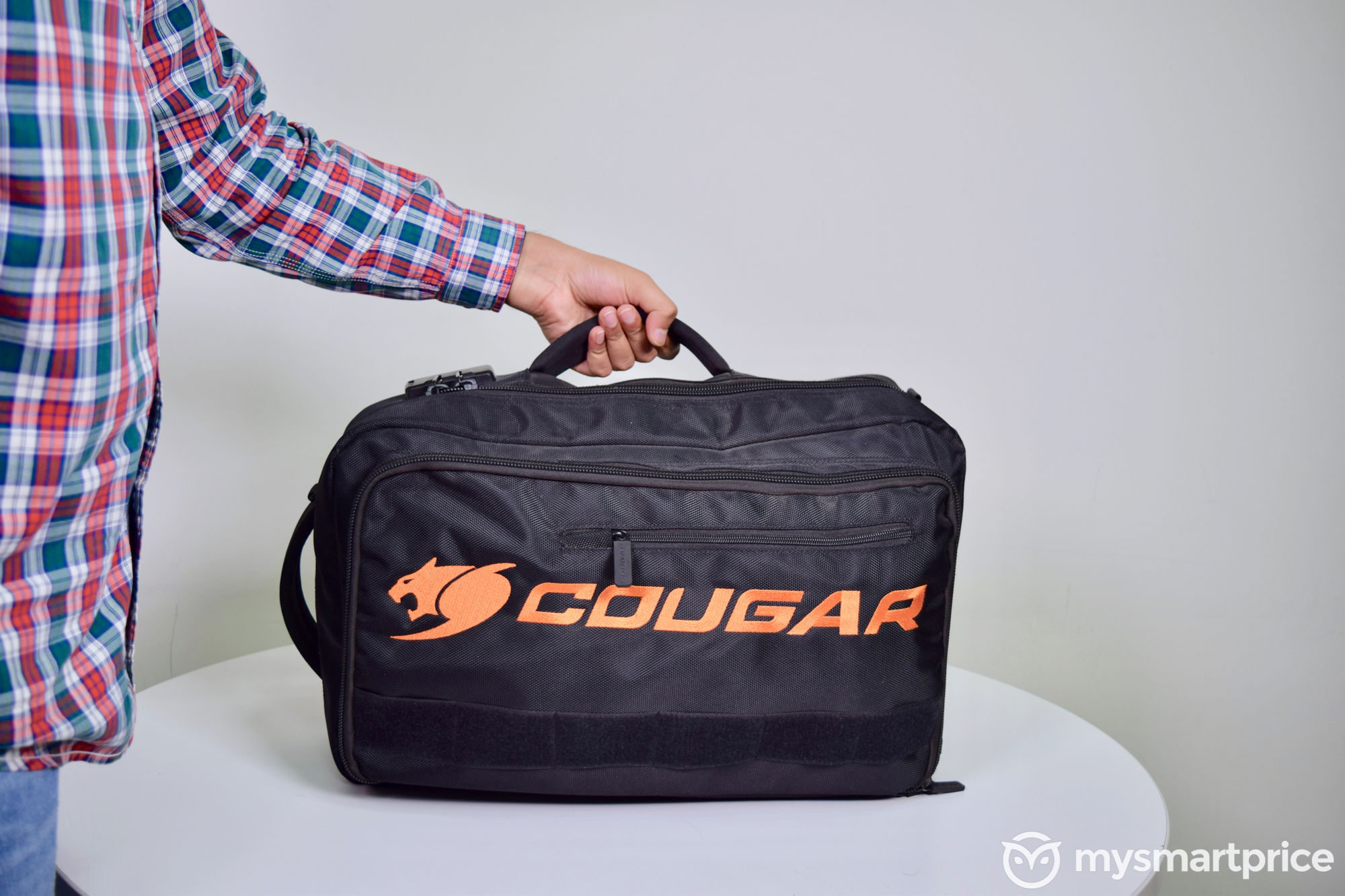 At just $45.99, the Cougar Fortress gaming backpack offers a lot of bang for the buck. It offers lots of features, storage space, and protection. However, it's not the only product in its price segment. The Dell Gaming Backpack (50KD6) is priced similarly and has a regular backpack design with added protection, thanks to EVA moulded sheet at the front and thick foam inside. It even offers two water bottle pockets. It is water-resistant, too. However, there's only one zippered section, which should be used to store laptop(s), smartphones, and all other accessories, making it smaller than the Cougar Fortress.
If you want a classic backpack design and don't have much stuff to carry around other than a laptop and a few accessories, the Dell solution might suffice. However, if you want an additional compartment to store more devices and if you want the flexible design so that you can change the carrying style as per occasion, the Cougar Fortress should be your go to bag. It would've been better, though, if the Fortress had a more attractive design and a larger water bottle compartment. The Cougar Fortress is available in the UK and US through Amazon. Unfortunately, it is not available in India. If you want to see if it's available in your country and through which store, you can head over to Cougar's webpage that lists its sellers.
Cougar Fortress Gaming Backpack
$45.99
What Is Good?
Loads of space, plenty of thoughtfully designed pockets.
Added padding and protection to save gadgets from accidental drops.
There's a numeric lock for the main zipper section.
Hybrid Design; Can be used as a backpack or a shoulder bag.
What Is Bad?
It doesn't look particularly cool.
Water bottle pouch is too small to fit any bottle.
Taking things in and out of the bag is hard.