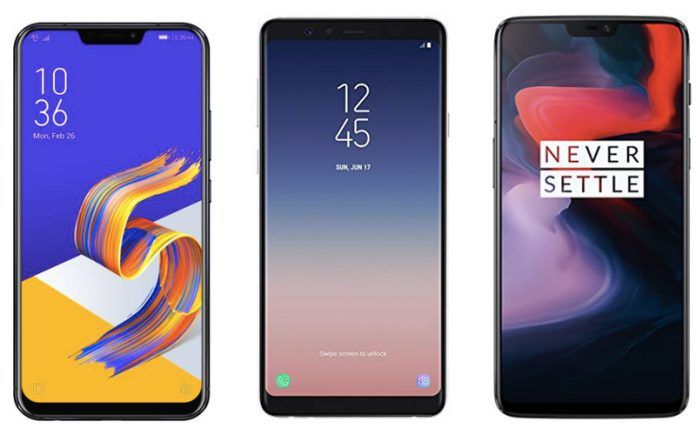 If you are looking for tall display high-end smartphones that don't empty your pockets right away, look no further. Three new handsets launched in 2018 are generating lots of attention, and for good reasons. We have the flagship killer OnePlus 6 that was launched in May to rave reviews, and then came the Asus challenger Zenfone 5Z that took on the champion phone head on.
There is also the not-really-flagship but good enough Samsung Galaxy A8 Star that is worth mentioning here, so we have decided to produce a compare here so that you can choose your pick from among these attractive options.
Asus Zenfone 5Z vs Samsung Galaxy A8 Star vs OnePlus 6: Price in India
Pricing for the Zenfone 5Z starts from Rs 29,999, which is the cost of the base 6GB RAM plus 64GB storage variant. If you want more storage, you can go for the 6GB+128GB variant that costs Rs 32,999. If that too is not enough, there is a 256GB storage option, with 8GB RAM and a price tag of Rs 36,999.
The Galaxy A8 Star comes in at a standard 34,990 in only one option, the same 6GB+64GB. The OnePlus 6 starts at Rs 34,999 for the same configuration, and hence, the comparison here couldn't be more apt. The OnePlus 6 costs Rs 39,999 for its 8GB+128GB model, and Rs 43,999 for the 8GB+256GB variant.
As you can see, the Asus Zenfone 5Z has a clear pricing advantage in this battle, but the OnePlus 6 is the only phone you can buy in the 8GB RAM and 128GB storage option.
Asus Zenfone 5Z vs Samsung Galaxy A8 Star vs OnePlus 6: Performance
All three handsets run their brand's own user interface based on Android Oreo, and will be upgraded to Android 9 Pie-based UIs soon. The Asus Zenfone 5Z and the OnePlus 6 are powered by the 2018 Qualcomm flagship Snapdragon 845 chipset, with speeds up to 2.8GHz, while the Samsung phone gets a 2.2GHz Snapdragon 660.
The Samsung Galaxy A8 Star gets a Samsung Experience 9.0 UX, while the Asus phone gets a ZenUI 5.0 and the OnePlus 6 ships with Oxygen OS 5.1.11. The performance of the Asus and OnePlus handset is thus, a close match, while they both have a clear victory over the Samsung Galaxy A8 Star.
Asus Zenfone 5Z vs Samsung Galaxy A8 Star vs OnePlus 6: Display and Design
The Samsung Galaxy A8 Star does not get a notched display, but the other two smartphones here do. They all look somewhat similar from a distance, since their tall display screens are all above six inches. The Asus phone gets a 6.2-inch IPS LCD display with 18.7:9 aspect ratio, the Samsung Galaxy A8 Star comes with a 6.3-inch Super AMOLED display with 18.5:9 ratio, and the OnePlus 6 gets a 6.28-inch Optic AMOLED display with Corning Gorilla Glass 5 and 19:9 aspect ratio, with its notch being smaller than that of the Asus phone. All three handsets get Full HD+ resolution, more than 80 percent screen-to-body ratio, and less than 8mm body thickness.
The OnePlus 6 gets the best display among the three, and while the Samsung handset comes with a full bezel on the top and a thicker chin than the other two, it gets a Super AMOLED screen and that makes it better than the LCD unit on the Asus phone.
Asus Zenfone 5Z vs Samsung Galaxy A8 Star vs OnePlus 6: Camera
In the camera department, the competition is between the OnePlus 6 and the Samsung handset, because the Asus Zenfone 5Z loses out at first glance itself. The Asus phone comes with a 12MP+8MP rear dual camera and an 8MP front camera, and although, it gets large pixels, dual tone dual LED flash, and super slow motion HD video recording, it still is no match for the other two. The Samsung Galaxy A8 Star sports a 24MP+16MP rear dual camera, with both sensors being wide angle lens, and a 24MP selfie shooter.
The OnePlus ships with a 16MP+20MP dual rear camera and a 16MP front shooter, with the selfie camera getting auto HDR, and electronic image stabilization for HD video recording. The camera bet is won by the OnePlus 6, then, with a great overall package that beats Samsung with features if not numbers.
Asus Zenfone 5Z vs Samsung Galaxy A8 Star vs OnePlus 6: Other Specifications
The Asus phone is the only one among the three to get dual speakers, but all three of them get the 3.5mm audio jack, Bluetooth 5.0, NFC, and Type-C USB. The Asus Zenfone 5Z misses out on dual-band WiFi, but gets 18W fast charging for its 3300mAh battery. In comparison, the OnePlus 6 also ships with a 3,300mAh battery but it gets a 20W adapter for fast charging. The Samsung handset gets a larger 3700mAh battery but a slower 15W fast charging adapter.
The fingerprint sensor is rear mounted on all three of them, and the Asus handset is the only one without a glass back. It is, however, 155 grams in weight, much lighter than the 191g Samsung Galaxy A8 Star and the 177g OnePlus 6.
If you are a sucker for great colour shades in smartphones, you would rather spend on the OnePlus 6, as it is the only one here that offers four colour options: Midnight Black, Mirror Black, Silk White, and Amber Red. The Samsung phone comes in either Black or White, and the Asus model in either Silver or Blue.
Asus Zenfone 5Z vs Samsung Galaxy A8 Star vs OnePlus 6: Verdict
As you can see, the competition is tough between the three Rs 35,000 range smartphones, all of which offer a flagship experience but neither of which is completely perfect. The OnePlus 6 is the better all-rounder, with the Asus handset falling behind in the camera equipment, but if you want brand value, the Samsung Galaxy A8 Star is the only one to depend on here. That said, if price is any constraint, you have a clear winner in the Asus Zenfone 5Z, which can save you a good Rs 5,000 in its base variant.
Thanks for reading till the end of this article. For more such informative and exclusive tech content, like our Facebook page