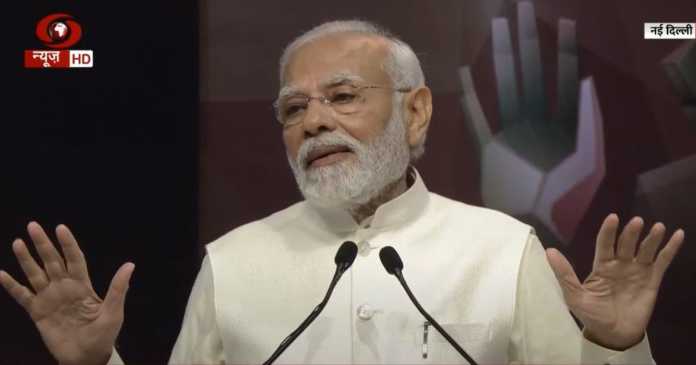 Prime Minister Narendra Modi has officially launched 5G in India. PM Modi inaugurated the India Mobile Congress (IMC), which is being held at the Pragati Maidan in New Delhi. Following the inauguration, telecom operators, such as Reliance Jio, Airtel and Vodafone-Idea (Vi), demonstrated some of the 5G use cases at their respective pavilions. The Indian Prime Minister called the 5G launch a revolutionary moment for India. He further said that the launch of 5G services is a gift from the telecom industry to 130 crore Indians.
The PM, during his address at the IMC 2022, further stated that 5G will help bring access to online education for children in villages, which is a major milestone in the vision of Digital India. He further added that India will play an important role in the technological revolution of the world, setting a global standard in telecom technology.
Prime Minister Modi also said that India will not only remain a consumer of technology but rather, will play a significant role in the implementation of technology for the growth of the country. "At the time of 2G, 3G, 4G, India was dependent on other countries for technology. But with 5G, India has created history. With 5G, India is setting a global standard in telecom technology for the first time," Modi added.
5G Services will Boost Digital India
PM Modi said that 5G will open many new opportunities for the youth, which is a big step towards the government's vision of a Viksit Bharat (Evolutionary/ Advanced India). The launch will also help boost Digital India, which has been one of the most important campaigns announced by PM Modi. He highlighted the prices of electronics going down eventually as India becomes Aatmanirbhar (self-reliant). Since the campaign was announced, India now has over 200 manufacturing facilities as opposed to 2 in 2014.
India also has over 80 crore digital users and over 85 crore internet users. The country has over 1,70,000 panchayats connected with optical fiber. With such advancements, the country has been successful in building citizen-centric services, such as online payments, the PM added.
Apart from day-to-day services, 5G is also expected to be useful for various sectors and situations. It can be used for agricultural, medical and health services. 5G is also expected to help in real-time monitoring of disasters, autonomous cars,  delivery of critical services, etc.
Cost of Data Reduced
PM Modi highlighted that cost of 1GB of data is around Rs 10 in India. The same cost was over Rs 300 in 2014. With developments in technology & telecom, India will lead the Industry 4.0 revolution. This is not the decade of India, but the century of India. 
While telecom operators are yet to confirm the price of 5G recharge plans in India, we can expect them to be significantly lower than some of the leading markets where 5G is already available.
Reliance Jio Chairman, Akash Ambani said that the company plans to cover the entire country by December 2023. "We will make it very affordable, it should be affordable for every Indian – right from device to service," Ambani said.
When will 5G Rollout for Consumers in India?
While PM Modi has officially launched 5G in India, consumers will have to wait for a few days at least to experience 5G hands-on. Telcos have confirmed that 5G services will roll out in India in October itself. During the first phase, as many as 22 cities will get 5G first in India. 
The 5G network is currently being launched in 13 cities that include Ahmedabad, Bengaluru, Chandigarh, Chennai, Delhi, Gandhinagar, Gurugram, Hyderabad, Jamnagar, Kolkata, Lucknow, Mumbai and Pune.
Reliance Industries Limited Chairman Mukesh Ambani said that the telco will provide 5G to each village in India by December 2023. Customers in Delhi, Mumbai, Chennai, and Kolkata will be able to access 5G internet by Diwali this year. The telco is currently the only operator in India to have developed StandAlone (SA) 5G infrastructure. Reliance Jio was also the highest spender at 5G spectrum auctions, where the telco spent over 88,000 crores. Jio bought 700MHz, 800MHz, 1800MHz, 3300MHz and 26GHz bands.
Its rivals Vi and Airtel are also expected to roll out 5G services later this year. Airtel and Vi have used 4G infrastructure and enhanced it further for 5G networks. Airtel bought spectrum worth over Rs 43,000 crore, whereas Vi bought spectrum worth over Rs 18,000 crore.
Thanks for reading till the end of this article. For more such informative and exclusive tech content, like our Facebook page