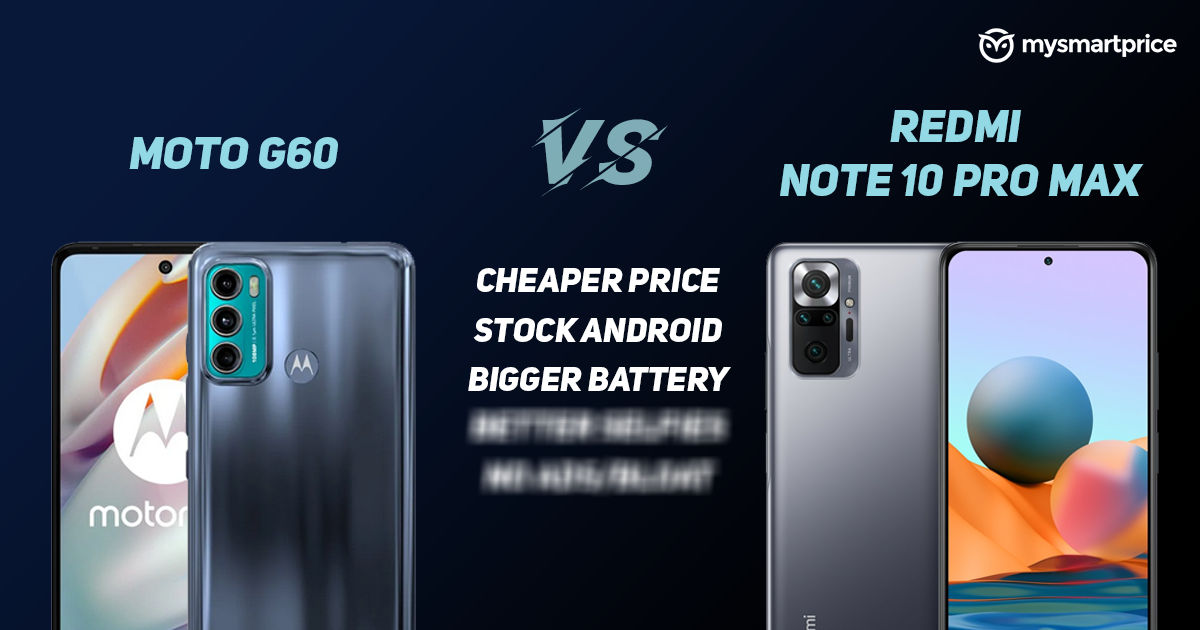 The Moto G60 is set to launch in India on April 20th, and is all set to aim at a price sensitive segment that has become increasingly rich in terms of the overall feature set. Being a large display phone, the Moto G60 will cater to a specific market segment, where one of its biggest rivals will be the Redmi Note 10 Pro. With a very interesting competition at hand, the two mid-budget segment smartphones go head to head in India as the battle of mid-range large display phones. If such large display phones are what you prefer, here are a few key reasons for which you should – and shouldn't – buy either of these two phones.
6 Reasons Why Moto G60 is Better Than Redmi Note 10 Pro Max
There are plenty of things to really like about the Moto G60. The smartphone offers features that do more than just deliver superior specifications, and here's what makes for the biggest reasons to buy it.
Cheaper Price
The Moto G60 is priced at Rs 17,999 for the 6GB + 128GB storage variant. As a result, the device essentially undercuts the already competitively priced Redmi Note 10 Pro Max by a margin of Rs 2,000. This difference makes the G60 slightly more affordable, without making gaping compromises.
Stock Android
One of the G60's biggest strengths lie in its clean Android experience, which has always been one of the signature aspects associated with Motorola's smartphones. The near 'stock' Android experience means users get to use Android just the way Google intended it to be, and there are no on-top customisations slowing the usage experience down.
Bigger Battery
The Moto G60 features a 6,000mAh battery, which is the industry standard among big battery phones. In comparison, despite the 'max' branding (which typically indicates higher battery life), the Redmi Note 10 Pro Max features a 5,020mAh battery that might be good enough in general, but still lesser than the G60.
Better Selfies
The Redmi Note 10 Pro Max features a 16MP front camera with the ability to record 30fps full HD videos. In comparison, the Moto G60 comes with a 32MP front camera that can record 60fps full HD videos. This means that for video bloggers who make entries while travelling, the Moto G60 is one of the best options in the market.
No Ads/Bloat
The presence of a clean, stock Android experience means that the G60 does not come with any additional custom software that OEMs typically offer in order to 'distinguish' their own Android experience against others. As a result, the G60 can run smoother over a longer period of time, without needing you to keep compulsory apps that you'd never use.
Autofocus in Ultrawide
The 8MP ultra-wide camera on the G60 also gets autofocus, which allows Motorola to also offer an integrated macro mode with this camera. The wide viewing angle means users can capture fisheye-like frames while keeping subjects in macro, and this is one neat camera optimisation that the Redmi Note 10 Pro Max comes with.
6 Reasons Why Moto G60 is Not Better Than Redmi Note 10 Pro Max
Despite the G60's new offering, the Redmi Note 10 Pro Max holds its reputation for a reason. Here are the key reason why you should consider this one, instead of Motorola's offering.
Premium Glass design
The Moto G60, despite its best attempts, still retains a slightly inexpensive design that does not particularly look great. In comparison, the Redmi Note 10 Pro Max offers a premium glass back panel, which is not only durable but also looks upmarket and chic. This definitely gives Redmi an upper hand against Moto in the design department.
Better camera performance
While both the phones offer a 108MP main camera module, the Redmi Note 10 Pro Max is a proven performer in the camera department. It features a quad camera setup that brings a dedicated 5MP macro unit into the fold. On the optical front, this may make it a far more consistent camera performer than the G60.
AMOLED display
The Moto G60 features a 6.8-inch display, which uses an IPS LCD panel with full HD+ resolution and 120Hz refresh rate. In comparison, the Redmi Note 10 Pro Max offers a Super AMOLED panel, which comes with HDR10 certification, full HD+ resolution, 120Hz refresh rate and screen size of 6.67 inches. While the latter may be slightly smaller, it is incrementally so to not impact viewing quality, while offering the rich higher contrast that AMOLED panels do.
Stereo Speakers
The Redmi Note 10 Pro Max also aces the audio department, offering stereo speakers that are conspicuously amiss in the G60. The latter features a rather standard set of speakers, while the Redmi Note 10 Pro Max features better speakers that you can enjoy when streaming matches.
Super Macro Camera
The Redmi Note 10 Pro Max features a dedicated macro camera unit that offers better focusing performance in terms of clicking subjects at close proximity. It further has Redmi's optimisations to make macro photography a better overall experience.
Faster Charging
The Redmi Note 10 Pro Max vitally features much faster fast charging – 33W with the bundled adapter claiming 60 percent power in just 30 minutes, in comparison to the 20W fast charging on the G60 that is more than 50 percent slower than its counterpart.
Thanks for reading till the end of this article. For more such informative and exclusive tech content, like our Facebook page