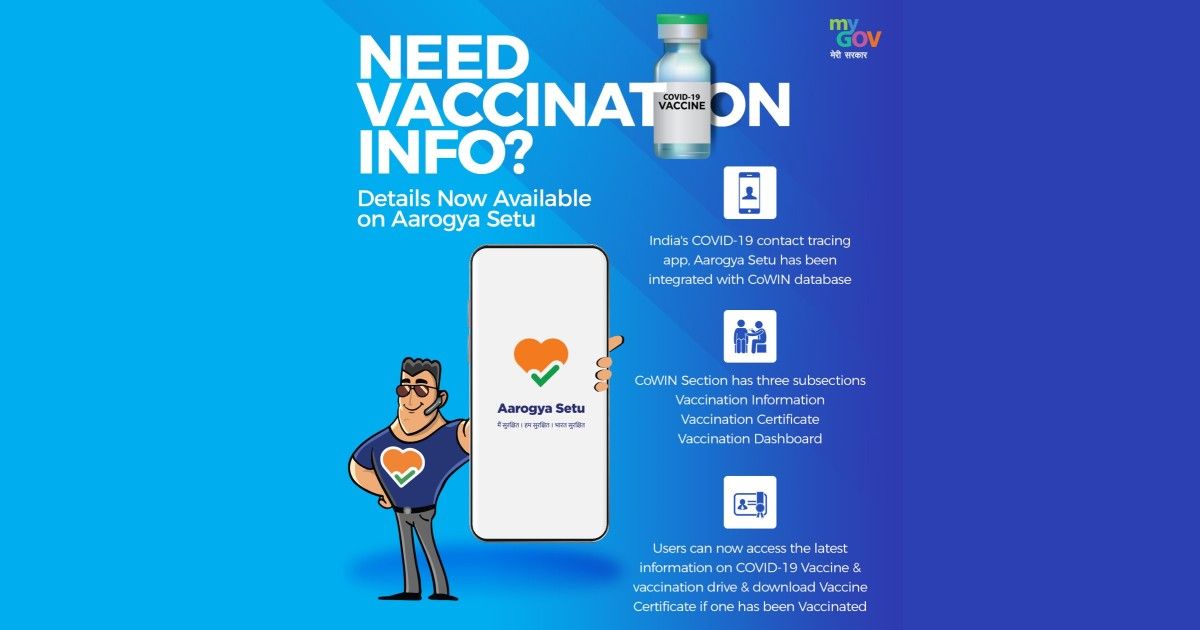 Back in 2020 when COVID-19 was on peak, Indian launched an app called Aarogya Setu, which was providing all the information regarding the virus spread in the country and your locality. The app was also capable enough of arranging a COVID test for the users and helped a lot of people to stay safe. Now the government has added a new feature which will allow users to register for the CoWIN vaccine. The announcement was made official via Aarogya Setu's Twitter handle. Here's a closer look at the new integration.
"Need information on COVID-19 Vaccination. Co-WIN details are live on Aarogya Setu. Access Vaccination Information, view Co-WIN Dashboard and download your Vaccination Certificates if you have received at least one dose of COVID-19 Vaccination," reads the official tweet.
The first wave of COVID-19 vaccination started in India back in January and the government has prioritized the front line workers. This includes health officials, frontline workers, and people who are above 50 years old. Currently, the app comes with three options which include Vaccination Information, Vaccine Certificate and Vaccination Dashboard.
Information regarding COVID19 Vaccination now available on Aarogya Setu. Download Aarogya Setu and get to know all about COVID19 Vaccination. #SetuMeraBodyguard #IndiaFightsCorona #LargestVaccineDrive pic.twitter.com/ldVP7FAVuA

— Aarogya Setu (@SetuAarogya) February 8, 2021
The Vaccine Information option comes with three videos which answers frequently asked questions. Dr Randeep Guleria, AIIMS Director has answered all the questions. Users can also download the 13-page PDF file if they want to read the answers to the frequently asked questions.
Vaccination Certificate is the option for those who have received at least one dose of vaccination. To download the certification users need to provide the 14-digit beneficiary reference ID. Also, do note that users have to use their registered mobile number to complete the entire process and receive the certificate.
The last option is the Vaccination Dashboard which will inform everyone about the status of vaccinated people till the date. The page will show you the number of people vaccinated in all states and union territories. Here's how you can access COVID-19 Vaccination information for your locality or region.
How Access COVID-19 Vaccination Info
To know more about your region you need to tap on 'Click for detailed insights' placed at the bottom of the page.
You will be redirected to a new window where you can select states and districts.
Select your state and district.
Once you're done it will automatically show you the status.
You will get information about the total number of sites, sessions, registered beneficiaries and people vaccinated in the area. Moreover, it will also show the gender of people vaccinated in your region.