Highlights
The Acer Aspire 3 comes with a Ryzen 7000 series processor

The laptop has 8GB of LPDDR5 RAM and 512GB of PCIe Gen 4 SSD

The laptop scored 7 out of 10 in our review.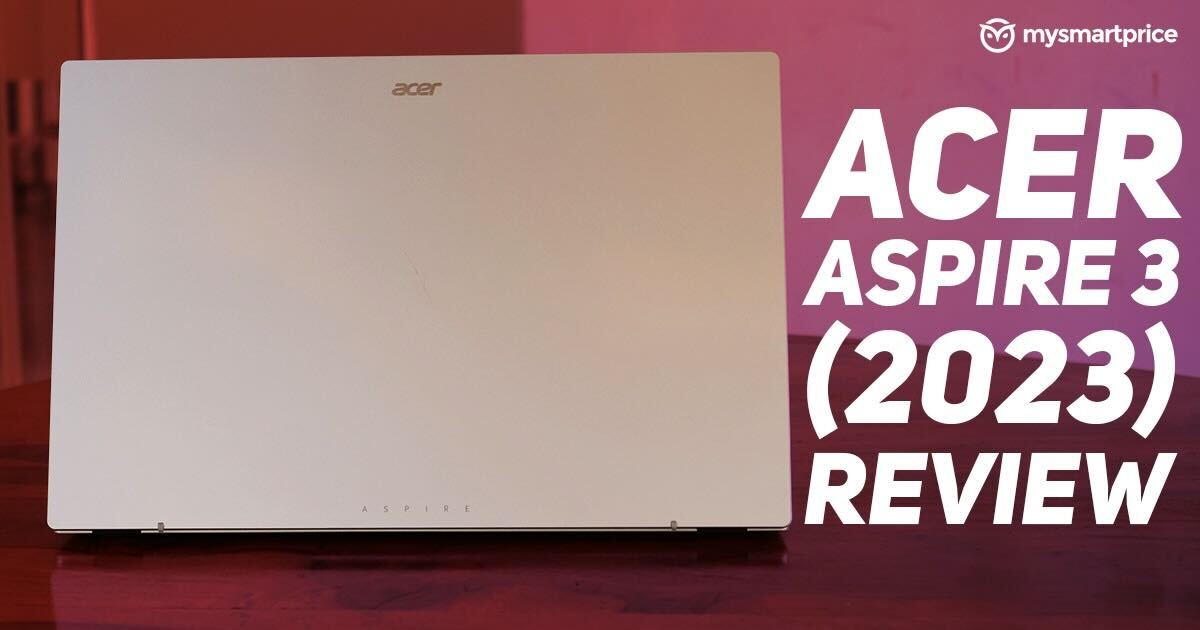 Acer is amongst the first laptop manufacturers to implement AMD's latest series of mobile processors — the Ryzen 7000 in India. While aspiring to include something new is a great thing, it turns out not everything is so fresh in this AMD processor. We'll delve into this deeper later in the review, but first, let's look at what else the Acer Aspire 3 2023 (A315-24P) has in store for us.
The Aspire series has long been serving office-goers and college students. So it's true for this particular refresh, but with a slight price bump. The variant we have today has a Ryzen 5 7520U, 8GB LPDDR5 RAM and 512GB PCIe Gen4 SSD. It also comes with a 15.6-inch FHD display and a price tag of Rs 47,990. With cutthroat competition from Asus, HP, Lenovo and more, can the Aspire 3 aspire to stand out from the rest? Let's find out in our review.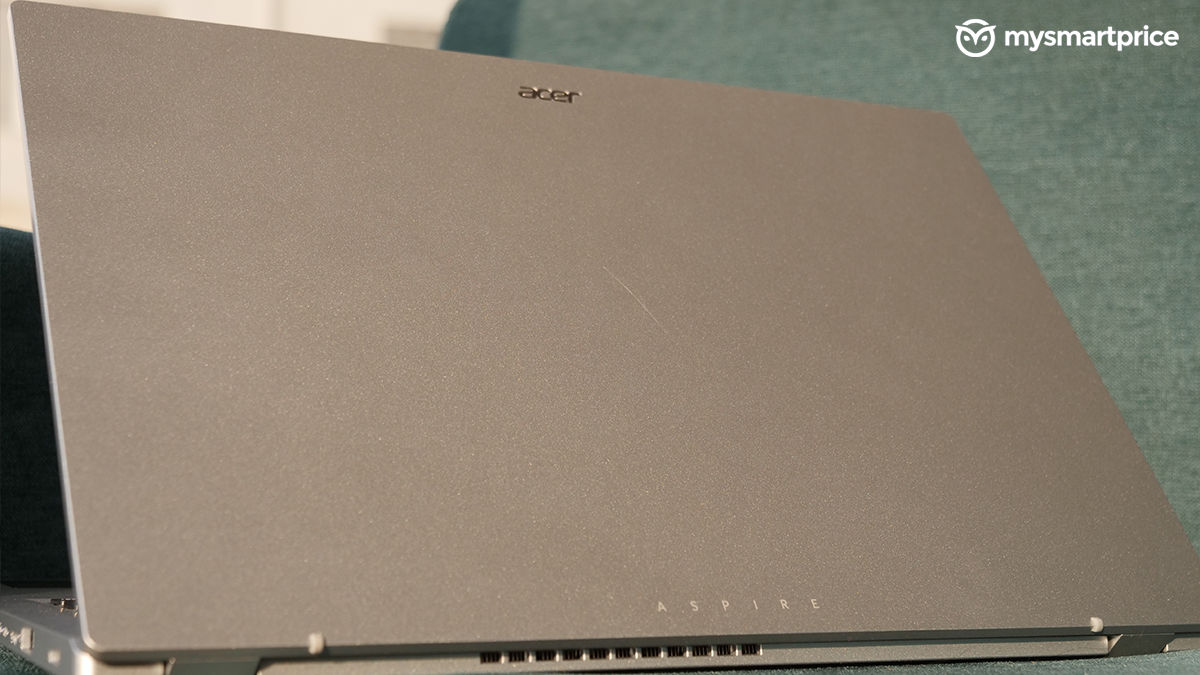 Acer Aspire 3 Review: Design and build quality
If the Aspire 3's design had to be summed up in a single word — we'd choose professional. The laptop looks sleek, neat, and subtle, with a muted look. It has a simplistic Acer logo on the top with a very indistinct Aspire branding at the bottom with some empty space in the middle to doodle. It comes in a bunch of hues. We have the Pure Silver colourway with us.
This is perfect for office-goers and even students who prefer an understated look instead of something in-your-face. The faux metal finish does not invite any fingerprint smudges, either. The entire body is made of plastic, weighing just 1.78kg, but it feels a bit dense for some reason. It's still easy to carry around in your backpack and arms. After using it for a couple of days, to our shock, we managed to scratch the top of the lid quite easily. We recommend using this with a bit of care, especially if you tend to keep sharp stuff in your bag.
Opening the lid with one hand is impossible, partially because of its lightweight. The laptop also has these two little risers underneath the lid, much like the ErgoLift mechanism found in Asus laptops, that help elevate the keyboard for a better typing experience. While that works well on a desk, it ironically started digging into our thighs when using it on our lap.
The keyboard has little to no flex, which is excellent. The screen does not wobble much in general usage, but we noticed it dancing around when trying to type a bit rapidly. Speaking of which, the hinge is also quite sturdy and stays up at acute angles well — unlike the one on the Infinix Zero Book Ultra we reviewed recently. Vents are at the bottom of the laptop and between the hinge. Air blown out of the latter usually tends to go past the display. Luckily, we didn't notice any warming up there. The underside of the laptop has four rubber feet to hold it firmly in place.
The keyboard is pretty average, with nothing to write home about. The keys are convex and have a coarse texture. It has minimal depth but comes with a number pad which is an unusual sight in 15-inch laptops altogether. Sadly, the keys are not backlit, which makes them tough to use in the dark. At this point, it's just nitpicking, but the up and down arrow keys are almost glued together, so using them is really frustrating. The trackpad is fairly large and works well in most cases.
As for the port options, the left side of the Aspire 3 comes with a DC in, USB 3.2 Type-C port, full-size HDMI 2.1, and a USB 3.2 Type-A Gen 1 port. The right side has some LED indicators, a 3.5mm headphone jack, a USB 3.2 Type-A Gen 1 port, and a Kensington lock. Unfortunately, it misses out on an RJ45 port. The laptop also supports Wi-Fi 5, Bluetooth 5.1, and you get MS Office bundled with it.
The Aspire 3 also has a 720p webcam at the top of the display. The output is surprisingly decent, as long as there's an ample amount of light on your face. Acer claims it uses its TNR solution, which helps get rid of noise from the image. The laptop misses out on any biometric options for unlocking the laptop.
Acer Aspire 3 Review: Display and performance
Simply put in a single sentence, the Acer Aspire 3 has a run-of-the-mill display. Perfect for office work and maybe some reading, but not for content consumption — luckily, the former is their target audience. It sports a 15.6-inch Full HD display with a resolution of 1920×1080 pixels. It, of course, runs at 60Hz. With the dated design approach, thick bezels were bound to appear. It uses a TFT LCD panel which results in awful viewing angles and poor colour reproduction. It's just serviceable for office work and school projects. The in-built AMD software can help you to tweak around with the colours and contrast a bit, but we didn't find it much useful.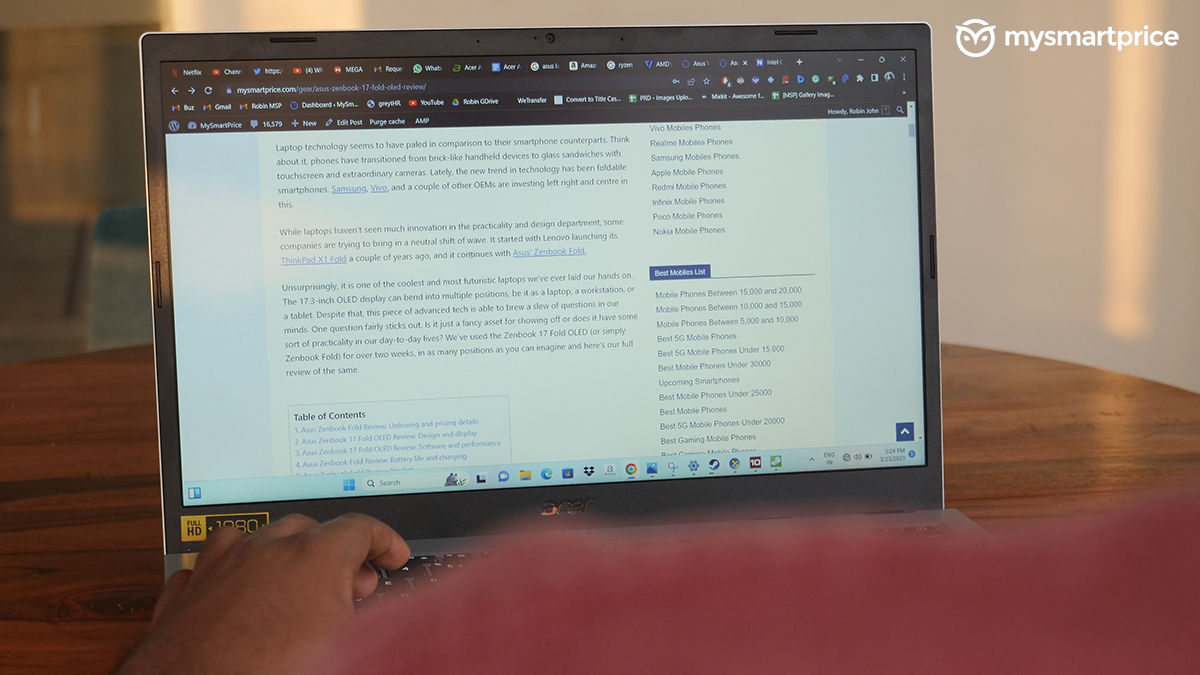 The display is not very reflective; nevertheless, even at full brightness, using it outdoors is tough as the content isn't legible. We won't recommend watching any movies or shows on it unless absolutely necessary, but even if you do — use headphones. The two bottom-firing speakers are not up to the mark, with below-average sound quality. We are not fans of speakers placed on the underside, as the sound gets obstructed whenever the laptop is placed on a desk. We tried watching a couple of episodes of Manifest but had to sit oddly close to it just so we could understand what the dialogues were.
See, AMD came up with a new nomenclature which might help clear some confusion (or maybe create more). The Acer Aspire 3 we are reviewing today is powered by the Ryzen 5 7520U, part of the Mendocino lineup. It's definitely from the new series launched recently, but it's built on the older Zen 2 architecture (launched in 2019) and not the Zen 4 architecture. This is essentially just the rebranding of older processors with newer-gen RDNA2-based Radeon 610M iGPU. These integrated GPUs have 2CUs (compute units). The image below should help you understand how the mobile processors' lineup will be from here on.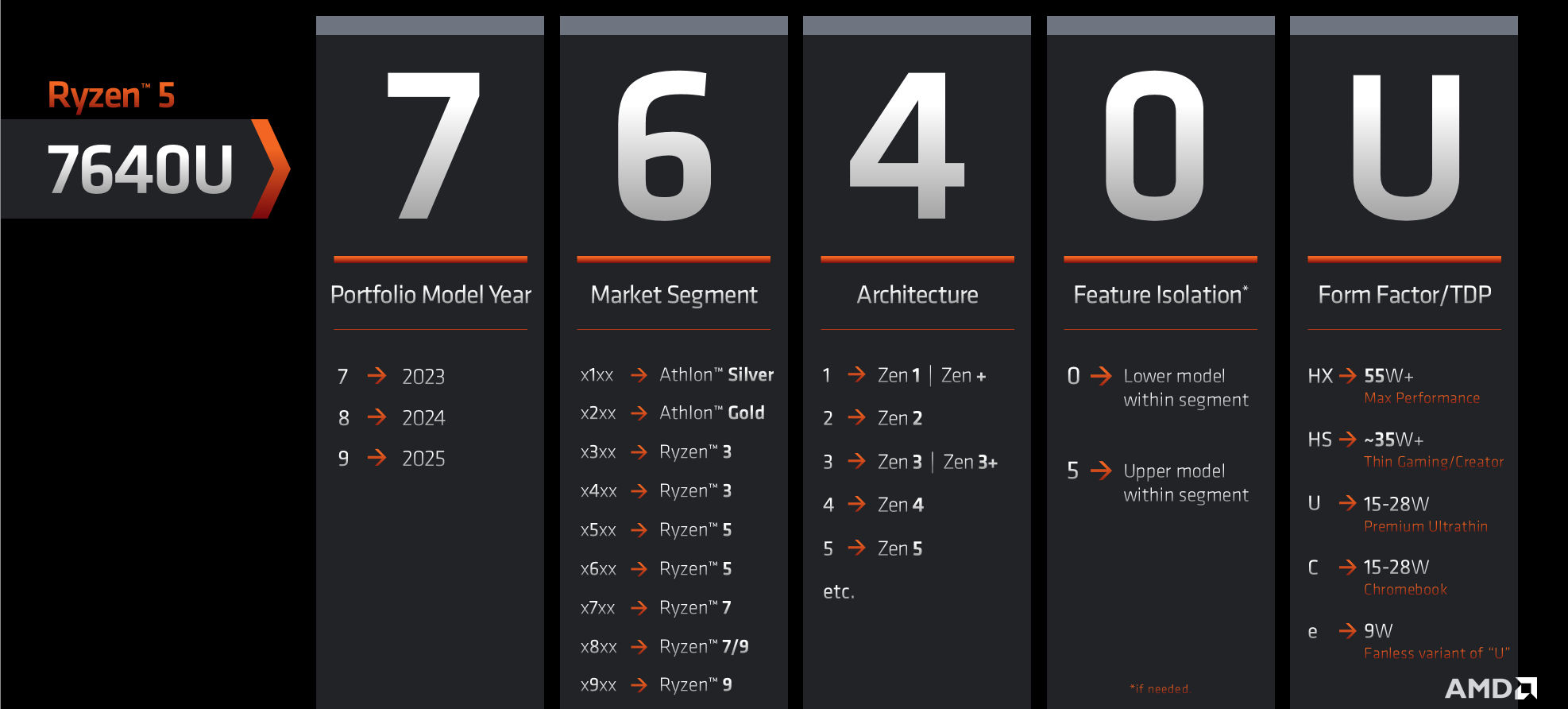 The Ryzen 5 7520U is rated for a TDP of 15W, which is ideal for thin laptops. It's a quad-core processor with a base clock speed of 2.8GHz and a boost clock speed of 4.3GHz, so it goes up straight against the Intel i5-1135G7, which is quite common in this price segment.
The laptop comes with 8GB of LPPDR5 RAM running on dual-channel memory at 5000MHz — which is good. Besides that, it comes with 512GB of PCIe Gen 4 SSD. The RAM is soldered to the motherboard, but you can swap out the SSD for a different one if need be.
With all the technicalities aside, the Acer Aspire 3 is mediocre in performance. While we don't expect a gaming laptop kind of performance from it — minuscule tasks like opening Google Chrome took about 17 seconds. We also noticed slight stutters when a bunch of tabs were running simultaneously. It works well when you throw simple tasks at it, like opening YouTube or Microsoft Excel or even multitasking with multiple folders open. It also helps if there's no application running in the background. But besides that, it's just meh.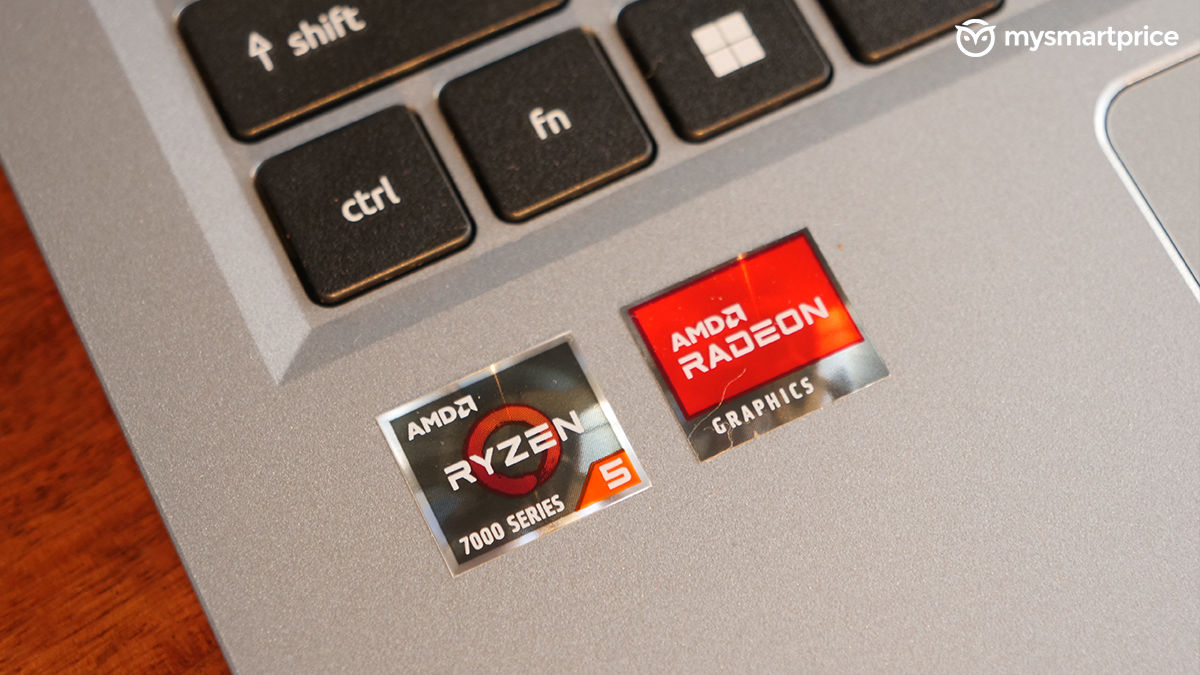 We can't talk for the long term here, but looking at the pattern — this might slow down after a couple of years. If Acer introduced another variant with 16GB of RAM, the issue with multitasking at a large scale would be much lesser, but the RAM is not the only bottleneck.
We ran the Aspire 3 through some benchmarks. It managed a score of 646 and 3279 points in single-core and multi-core tests, respectively. While it would be stupid to compare these to a laptop with Core i9-12900H, let's just bring those numbers in to give you an idea of the performance you can expect. The Infinix Zero Book Ultra returned a score of 1721 and 11924 points in single-core and multi-core tests in the balanced mode.
Coming back to Aspire 3, we got an overall score of 2921 in the PCMark 10 tests. Geekbench 6 came up with 1359 and 4405 in single-core and multi-core tests. We also tested the integrated graphics using 3DMark's Time Spy test. The laptop got an overall score of 554.
The laptop took about three minutes to render a simple 1080p video on Adobe Premiere Pro. Applications such as Adobe Lightroom can work well on it, just don't trust the colours.
We played Counter-Strike: Global Offensive at low graphics and got an average of 38fps which is still more than we expected. It'll be able to render more frames easily at a Very Low graphics preset. We won't recommend playing games on this laptop, but simple titles like these should work well at lower settings. While running all these tests, not once did the laptop starts heating up — neither did we hear any fans running.
Acer Aspire 3 Review: Battery and charging
What the laptop lacks in performance, it makes up for battery life — thanks to the lower-powered processor, which helps the Acer Aspire 3 to run for longer hours. It comes with a 40Wh battery with an included 45W barrel-style adapter. In our everyday usage, the laptop easily lasted 7 hours, and sometimes more with battery saver. The laptop does not give you battery anxiety, and you can even head out of the house without a charger. The charger takes the laptop over two hours and 30 minutes to charge from dead. This data was captured while using the laptop simultaneously. The included USB-Type C port can also be used to charge the laptop. Overall, it's a safe player when it comes to the battery department.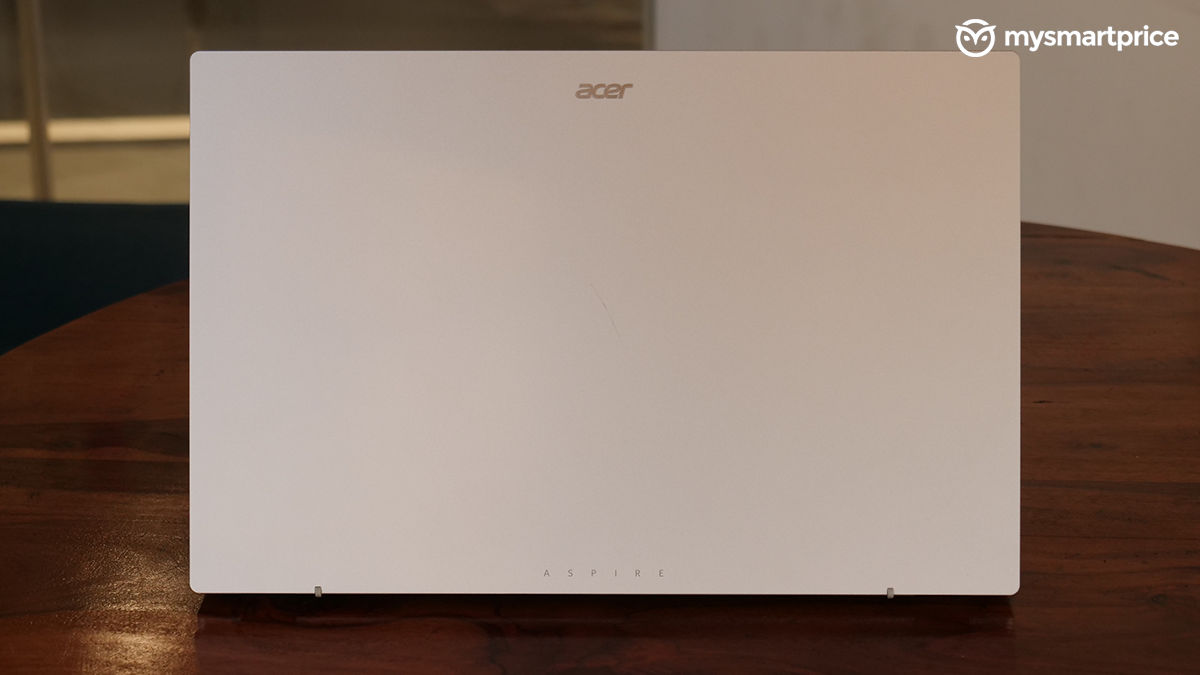 Acer Aspire 3 Review: Verdict
For Rs 47,990, the Acer Aspire 3 is an average and bare-bones device. It's a low-cost and low-power laptop that can easily handle very simple tasks. But throw something fierce at it, and it will crumble. The design is perfect for office-goers, and we quite dig it. However, the poor quality control of the build materials is what worries us for the long term. The display is not ideal for watching content but works fine for data entry or penning an article. What it does best is save up battery without giving you much headache.
The Acer Aspire 3 might be good for businesses buying it in bulk for data-entry jobs, but as an average consumer looking to splurge around Rs 50,000 for an all-rounder — this might not just be it. You can get the Asus Vivobook 16X or HP 15s at almost the same price with better performance. There are also more options, including the Lenovo Ideapad 3, which comes with an AMD Ryzen 5500U.
But, if you want to stick to Ryzen 7000 series notebooks only, the Asus Vivobook Go 14 can also be another option at a slightly cheaper price. However, it uses PCIe Gen 3.0 storage and a 14-inch display, but that's hardly a dealbreaker.
Besides the usual manufacturers, you can also have a look at Realme SlimBook, Honor MagicBook, and Xiaomi Notebook Pro. But you might have to do some research on the after-sales service in your area.
Acer Aspire 3 (A315-24P)
Rs 47,990
KEYBOARD AND TRACKPAD
6.5/10
What Is Good?
Lightweight
Impressive battery life
Subtle design
What Is Bad?
Below-average performance
Frail build quality
Better alternatives available
Poor display
No backlighting on the keyboard