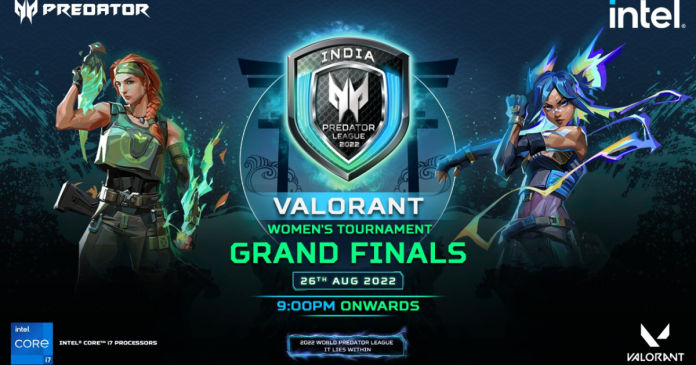 Acer Predator Gaming League India has announced the second edition of the exclusive Women's Valorant tournament with a prize pool of Rs 1,50,000. The tournament will be part of the Predator Gaming League and will be live streamed on Acer India's social and Youtube channels on August 26, 2022, from 8:45 PM onwards.
Valorant is one of the most popular games for esports in India, and for the past few years, the Valorant esports scene in the country has been on the rise. Acer hopes to encourage women's representation in gaming and esports in India with tournaments such as this.
The Predator Gaming League is an annual esports event that reaffirms Acer's commitment to supporting the gaming industry in the Asia-Pacific region.
Also Read: AMD Skyesports Pro Invitational – VALORANT Back with Season 2 and Rs 7 Lakh Prize Pool
Acer Predator Gaming League Women's Valorant Tournament to Take Place Tonight at 9:00 PM
The inaugural Predator Gaming League was held in 2019 and the cross-continent tournament has included more than 10 countries, garnering elite gaming talent in games such as PUBG and DOTA 2.
Valorant is one of the most highly-competitive first-person shooters and its esports scene has birthed some of the finest gaming talents in India. Teams like Enigma Gaming have had successful runs in several esports tournaments and continue to be extremely popular in the country.
Women's representation in gaming and esports globally has grown substantially over the past few months but there is still quite a ways to go in India. Tournaments such as these will certainly help the case and bring forth top-tier women's teams in Valorant.
Esports athletes like C9 MeL and C9 Bob have made a name for themselves in the Valorant arena by displaying elite-level talent through a string of dominant performances. India continues to be a hotbed for gaming talent and one can only hope it won't be long before Indian Valorant teams can throw down with the best teams on the global stage.
Thanks for reading till the end of this article. For more such informative and exclusive tech content, like our Facebook page