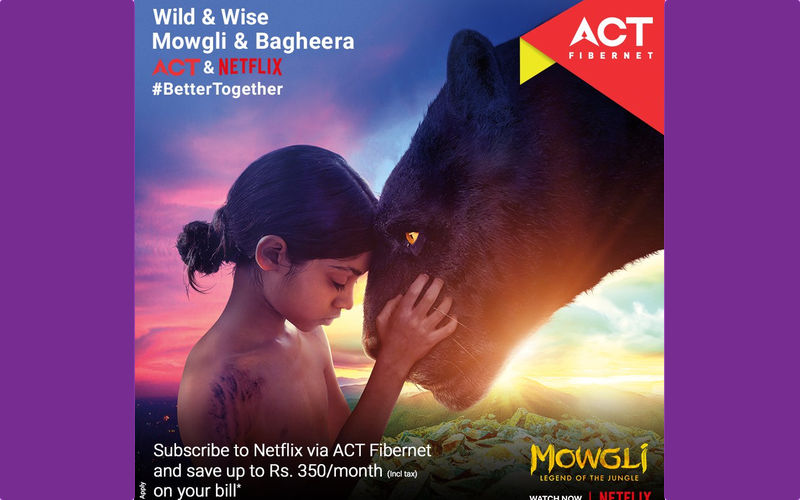 ACT Fibernet (Atria Convergence Technologies) is on the road to expansion. The service provider recently expanded in its coverage in tier-II cities. Now, it is looking at soaring its content partnerships in the entertainment. ACT has partnered with one of the leading content streaming platforms, Netflix. With this partnership, ACT customers will get cashback on their monthly expenditure over Netflix subscription. ACT has stated that its existing and new customers can select from the bi-annual and annual Entertainment plans to adjust their Netflix bill. By paying through ACT, the subscriber would get an assured cashback of up to Rs 350 per month that will be credited to their ACT account.
ACT and Netflix Partnership: Benefits and Cashback For Users
As we mentioned in the beginning, the offer is valid for the subscribers who opt for any of the Entertainment plans. The offer will go live starting tomorrow, i.e. March 7, 2019, in Hyderabad, Delhi, Chennai, and Bengaluru. ACT also plans on extending to other cities that also includes new markets such as Lucknow and Jaipur. Ravi Karthik, Marketing Head, Atria Convergence Technologies stated,"In line with our brand philosophy 'Feel the Advantage', we are excited to partner with Netflix, one of the most preferred choices of entertainment for our customers, and provide exceptional benefits and convenience to our users who will now be able to stream and enjoy the best of 4K and HD content seamlessly." ACT Fibernet also promoted the new partnership via doodle on Twitter.
/n**£!!!!!! pic.twitter.com/g6JPkujFvj

— ACT Fibernet (@ACTFibernet) March 6, 2019
Subscribers opting for the offer will have to link their Netflix account with their ACT bill. After paying the monthly for both the services through ACT Fibernet, users will get a cashback of up to INR 350 in their ACT account that can later be utilized to make next month's payment.
ACT and Netflix Partnership: Eligible Plans For Variable Cashback Offer
In Bengaluru, the offer is valid for ACT Storm, ACT Lightning, ACT Incredible and ACT Giga broadband plans. In Hyderabad, ACT A-Max 1050, A-Max 1299, ACT Incredible and ACT Giga will be eligible. ACT Blast Promo, ACT Storm, ACT Lightning, ACT Thunder, ACT Incredible and ACT Giga plans will be valid for Chennai while ACT Platinum Promo and ACT Diamond broadband plans will be eligible in Delhi. Besides, cashback would vary as per the plan. You'll find the information in the table below.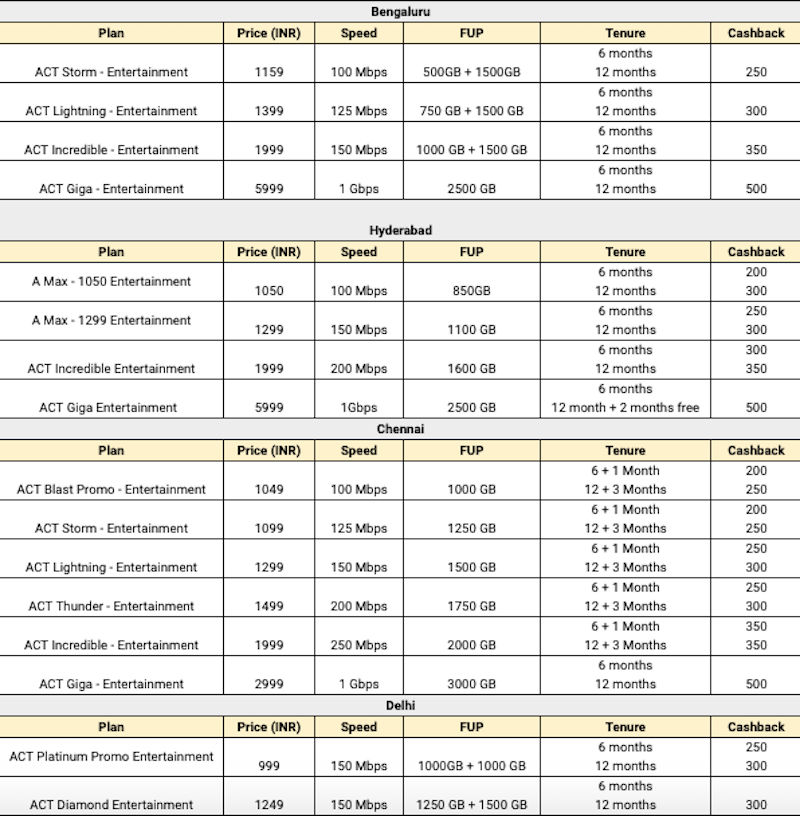 Furthermore, the offer is only valid on 6-month and 12-month plans. Along with the Netflix offer, subscribers of eligible plans will also get additional benefits. In Bengaluru, users will get additional data of 1500GB over the existing limit and they will even get up to two months of free service.
Well, the offer does look rewarding for the subscribers who go for long-term broadband plans. It could also lure subscribers to opt for bi-annual or annual plans to get the benefit. What's your say on this offer by ACT Fibernet? Share your thoughts in the comments below.