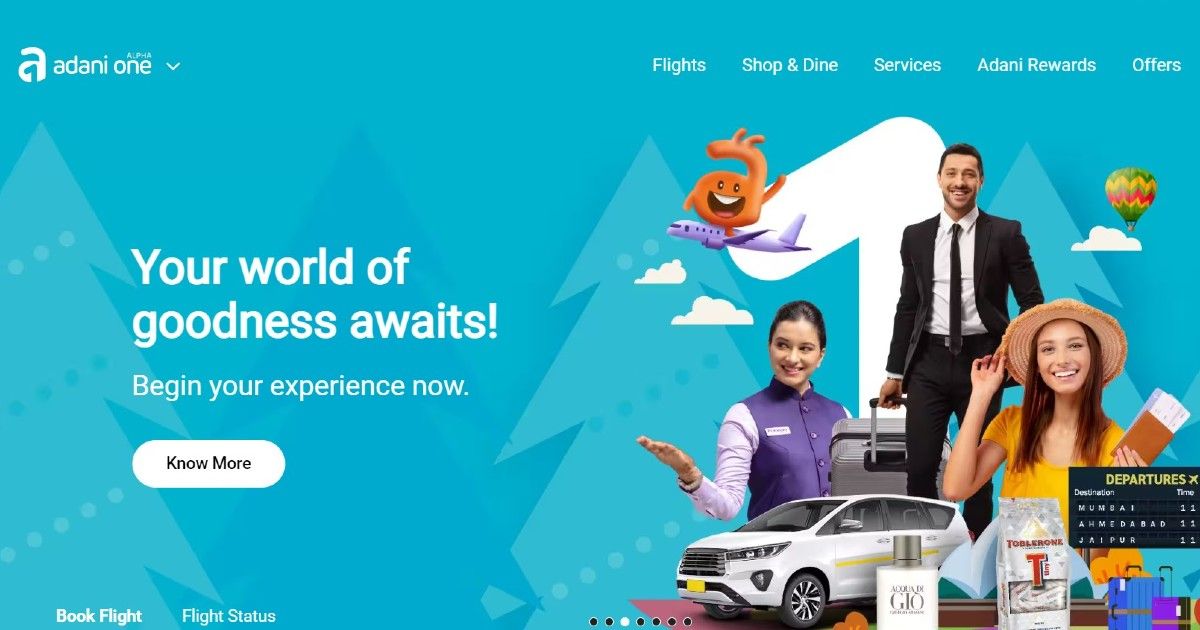 Adani group has launched the first of its integrated platform for its airport services, Adani One. Through this, you can book flight tickets and airport cabs, check flight status, access lounges at airports, buy duty-free and duty-free products, book Pranaam meet and greet service and more. Adani One brings a loyalty programme that rewards users for all purchases, and it also has a variety of different offers for first-time users and regular users alike.
Adani One is available as a website and an app on Play Store and App Store. Let us talk about everything to know about Adani One, including the services it offers, its loyalty programme, offers and more.
Services of Adani One Website and Application
Book Flight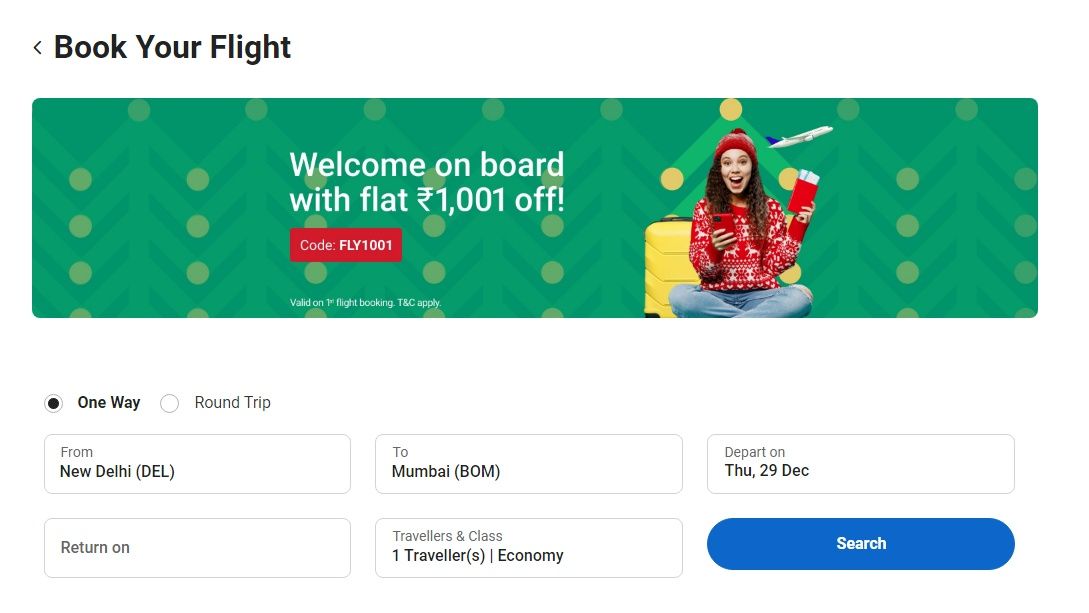 The prime feature of Adani One is flight booking. You can book flights on the Adani One app or website like you usually do use other apps.
As the availability of the Adani One app is shown only for limited cities, you might think that you can only book from the Adani airports. Adani app lets you book flight tickets to and from any airport. You also get to use the Rs 1001 discount on booking those bookings.
Flight Status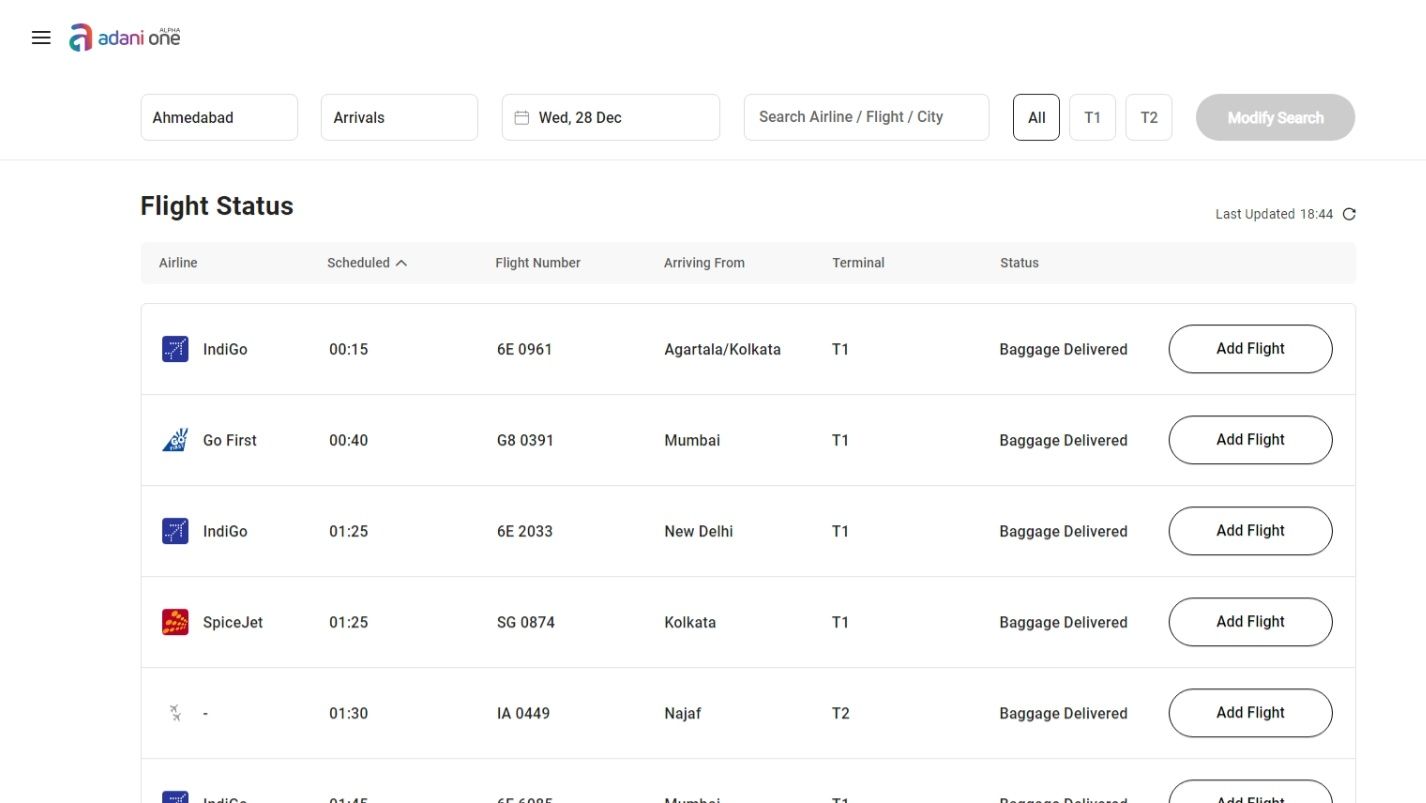 Flight Status lets you track any current arrivals and departures. You can search the flights by selecting the airport first, picking the date, and entering the city. You can also select the flights shown on the page too.
Pranaam Service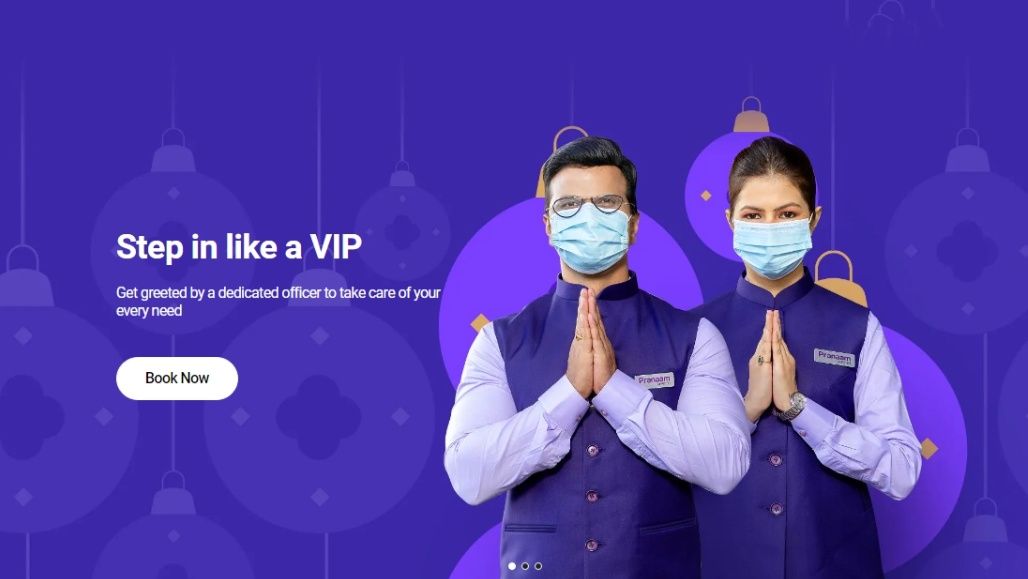 In Adani Airports, you can book premium meet and greet service, with which a dedicated officer will meet you or your guest upon arrival.
Pranaam service has these benefits:
Warm welcome – Pranaam officer will meet and greet at the meeting point.
Baggage collection – You or your guest will be escorted to the baggage collection area, and the assigned porter will collect the baggage.
Shopping assistance – You will also be assisted in shopping at the airport.
Escort till parking – Pranaam officer will escort you or your guest to the vehicle and sign you off.
You can book Pranaam service in various packages such as Elite and Platinum. You can also select Pranaam service for Departure, Arrival, Round Trip and Transit.
This is a premium service, and you can book this service now using Adani One.
Duty-Free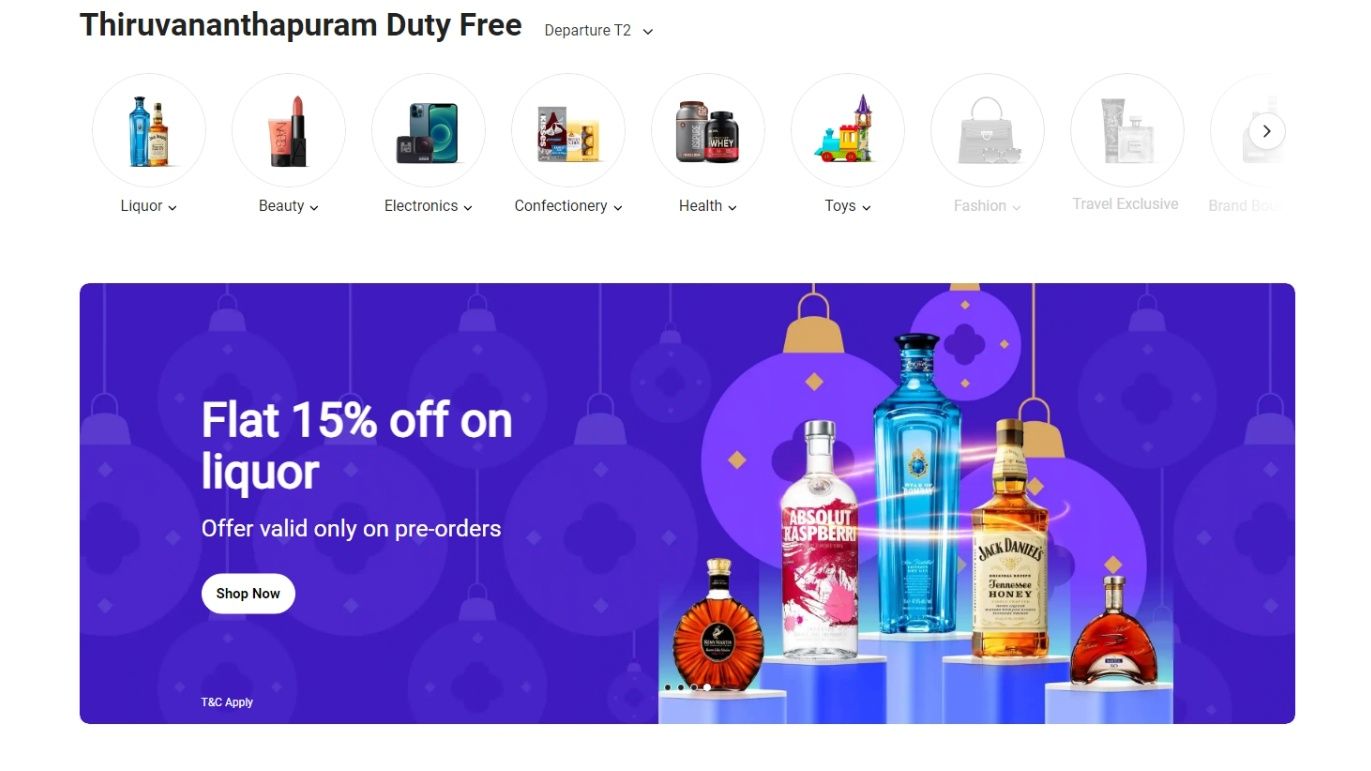 You can now shop for Duty-free products using the Adani One app. You will not get the deliveries to your home, as it is available only to collect Duty-free.
You can shop Duty-free products in Adani One for upto 30 Days and 1 hour before your flight. You can make the payment in the Adani One app and collect the package at the counter.
Cabs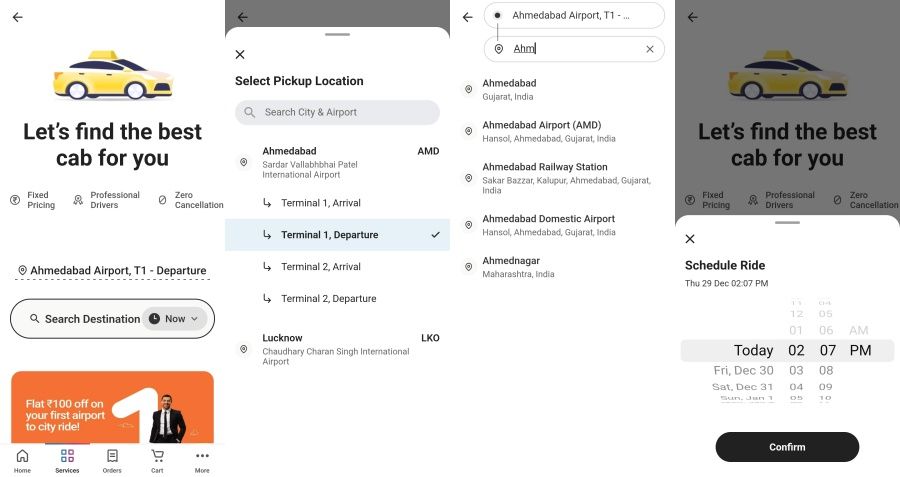 Adani One lets you book airport cabs from the Adani One app, like booking an Ola or Uber. To book an airport cab, you must go to the Cabs section in the Adani One app. Select the terminal from the pickup location. Then select the destination and schedule the ride time.
Other services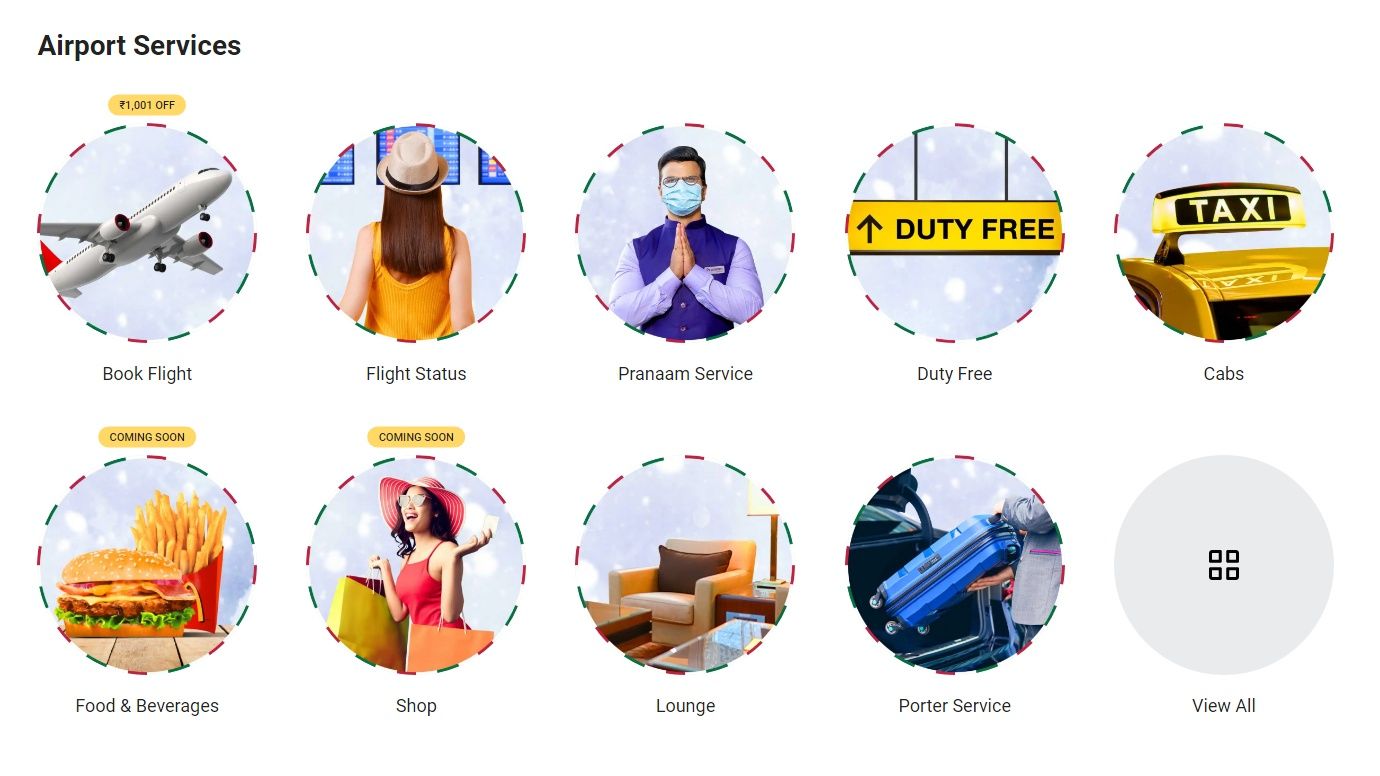 More services are mentioned in Adani One, but you can only avail of them at the airports. You will not be able to book these services or pay for these services using the Adani One app currently. But the app shows you contact details, location, and instructions on how to avail of each service at the airport you selected:
Cabs
Lounge
Porter Service
Baby Care
Parking Facility
Baggage Trolleys Sevices
Smoking Zone
Prayer Rooms
Special Assistance
Charging Points
Airline TIcketing Counters
Baggage Wrapping Services
Tourist Counter
Lost and Found
Forex
Information Desk
ATM
Medical Centre
Wi-Fi
Telecommunication Services
Coming Soon
Two services are listed as coming soon on Adani One app, but it doesn't have anything listed under the links:
Food & Beverages
Shopping
What are Adani Rewards Points?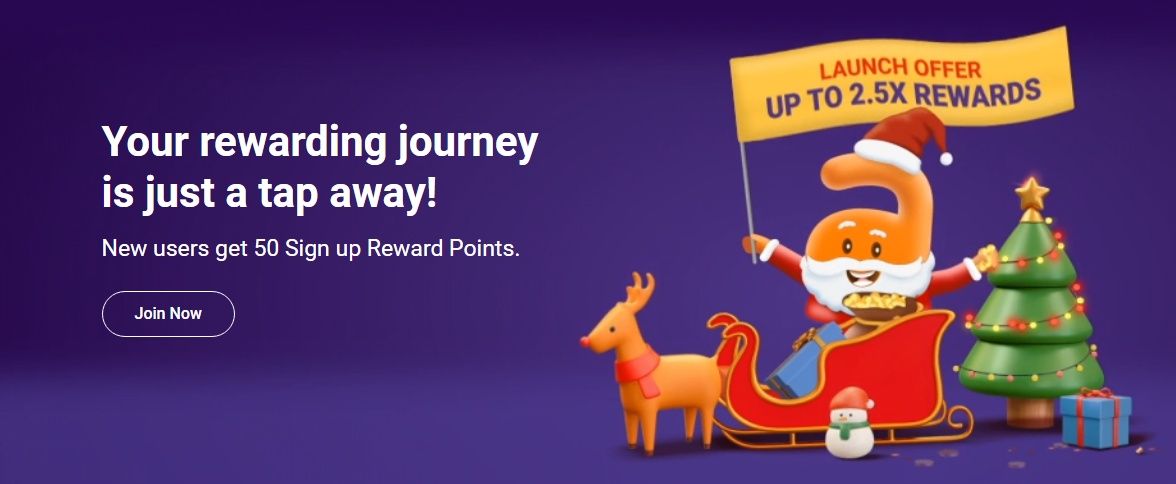 Along with the launch of Adani One, the Adani group has also introduced Adani Rewards. It is a loyalty programme that rewards you for each purchase made on the Adani One app.
Features of Adani Rewards
Earn up to 5% on all spends on the Adani One app.
You can redeem 100% of the Rewards points on a purchase.
Get up to 2.5X extra reward points as a launch offer.
Sign-up bonus Reward is set at 50 points.
Refer and Earn
Adani Rewards also includes a refer-and-earn program, which grants 150 points for every referral. You'll get 50 points on your account when they join and 100 more when they make the first transaction.
List of Available Cities in Adani One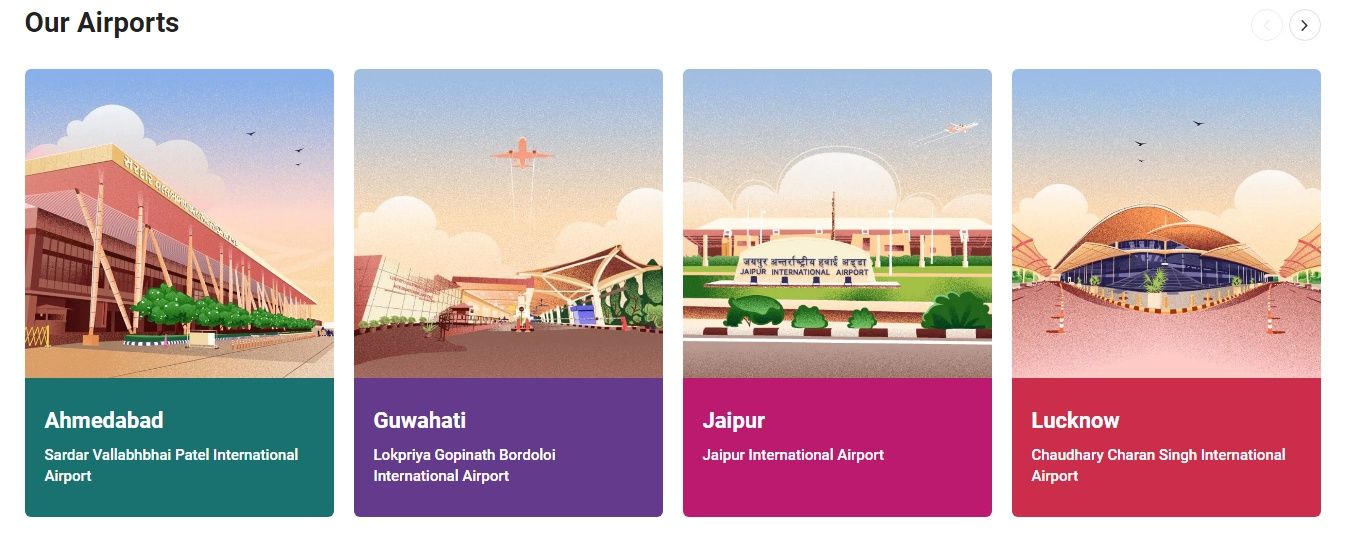 Adani One services are available in select cities where Adani Airports are functioning. All the features other than Flight booking are available in these cities only. Here is the complete list of all cities available in Adani One:
Allahabad
Guwahati
Jaipur
Lucknow
Thiruvananthapuram
Mangaluru.
As all the services are related to the Adani-controlled airports, more cities will be added when Adani adds more airports to its umbrella. These are the airports supported by Adani One:
Sardar Vallabhbhai Patel International Airport, Allahabad
Lokpriya Gopinath Bordoloi International Airport, Guwahati
Jaipur International Airport, Jaipur
Chaudhary Charan Singh International Airport, Lucknow
Trivandrum International Airport, Thiruvananthapuram
Mangaluru International Airport, Mangaluru
Adani One Flight Welcome Offer
Adani One is making headlines for its welcome offer, which shaves off Rs 1001 on the first flight booking. It is an instant discount, and the interesting bit is that there is no minimum value for the transaction for applying the discount.
How To Save Rs 1001 On Flight Ticket Booking From Adani One?
Here's how to get a discount of Rs 1001 using Adani One on flight booking:
Open the Adani One app or website. You can see the offer displayed prominently on the homepage banner itself. Click on the banner or click on the Book Flights option.
Search for the Flight you want to get tickets for.
Select the 'Apply Coupon Code' option on the checkout page. If you haven't logged in to your account, you'll be prompted to do so before applying the coupon.
If you did not get the coupon code applied from the list, use this code to get the discount: FLY1001.
You'll see the discount applied to the total fee.
Click on the Continue button and make the payment.
Adani One Offers and Deals on Flight Booking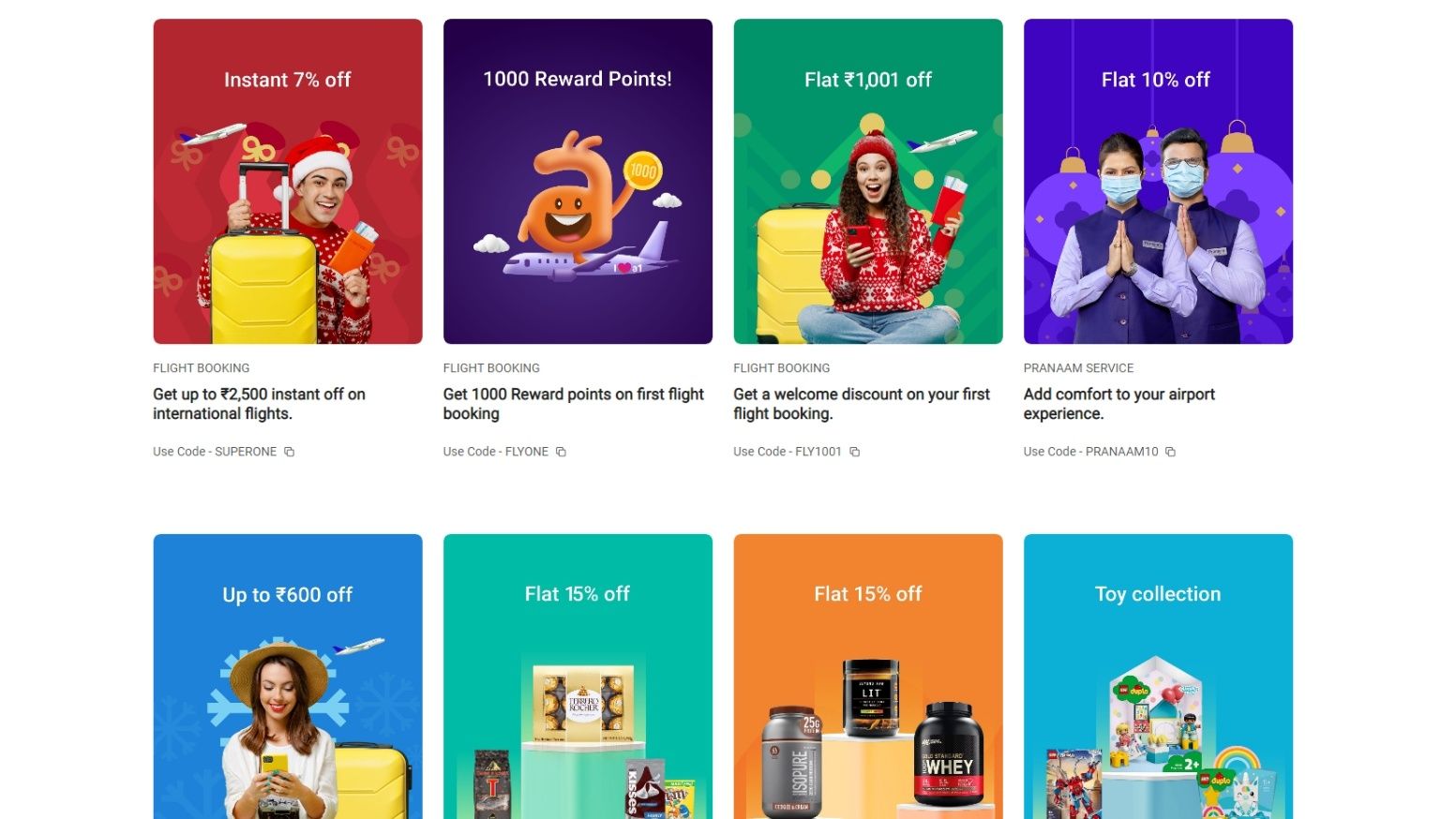 The flat Rs 1001 offer isn't the only deal on Adani One. There are a lot of different deals available on Adani One; let us take a look at all the deals available on Adani One app and website.
Coupon Codes on Flight Booking:
Here are the coupon codes that you can use for Flight booking on Adani One:
FLY600: Flat 12% discount of up to Rs 600, valid for up to 5 domestic bookings per month.
FLYONE: Earn 1000 bonus reward points on the completion of your first domestic trip, only for the first flight.
SUPERONE: 7% off discount of up to Rs 2,500 on international flight bookings.
KOTAKDOM: 15% instant discount of up to Rs 1,500 on domestic bookings, valid once a month. Only available on Kotak credit cards.
KOTAKINTL: 15% instant discount of up to Rs 7,500 on international bookings, valid once a month. Only available on Kotak credit cards.
SCDOM: 15% instant discount on domestic flight booking, valid once a month. Only available on Standard Chartered credit cards.
SCINTL: 15% instant discount on international flight booking, upto Rs 7,500. Only available on standard chartered credit cards.
Adani One also gives you access to these rewards on flight booking:
Gaana – 3-month subscription
Cult.fit – Free access to 21-day online fitness classes.
Cult.fit – Free fitness classes for 7 days at any centre.
UpGrad – Flat Rs 5,000 off on any course
Eyemyeye – Get free Eyewear worth up to Rs 1,100.
Adani One Deals on Duty-Free
Flat 750 Off on Duty-Free: On the first order in Duty-Free, you can get a flat Rs 750 off. Use this coupon code: DF750.
Flat 15% off on liquor: 15% off on liquor on pre-orders.
Flat 15% off on beauty products: 15% off on beauty products on pre-orders.
Flat 15% off on confectionery: 15% off on confectionary products on pre-orders.
Flat 15% off on health and wellness products: 15% off on pre-orders of health and wellness products
Adani One Deals on Cabs
CAB100: Flat Rs 100 off on your first airport-to-city ride. Only available on the Adani One app.
Adani One Deals on Pranaam service
PRANAAM10: Flat 10% off on booking Pranaam service from Adani One app or website.
Frequently Asked Questions (FAQs)
How do I earn Adani Reward Points?
You can earn Adani Reward Points on every purchase made using the Adani One app or website.
How do I create an account on Adani One app/website?
You can create Adani One account using your phone number.
Can I book flight tickets for infants on Adani One app/web?
Yes, you can.
How to download e-tickets from Adani One website/app?
After booking a flight ticket from the Adani One app or website, you can go to the Orders section, select the booking you made, and download the e-tickets.
How can I change the mobile number associated with the Adani One account?
You cannot change the mobile number associated with an Adani One account. The account is bound with a mobile number, and the app or website seems to have no option to change it.